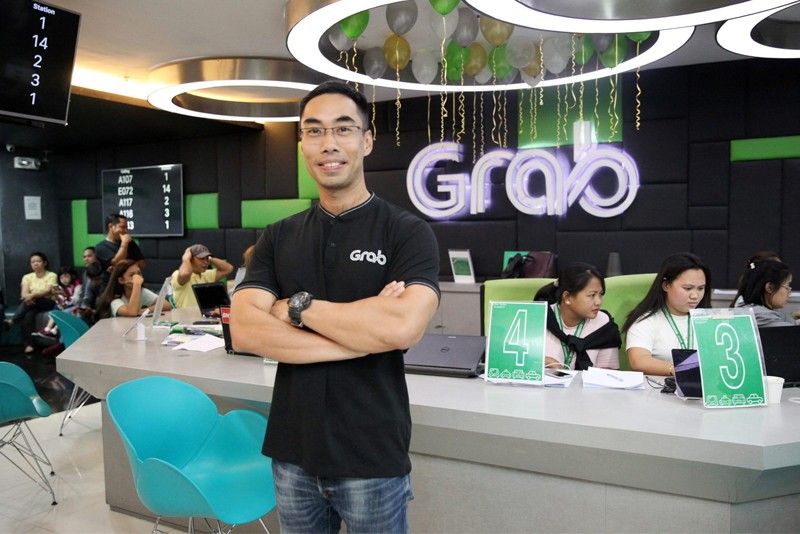 The fast and the curious: Grab Philippines president Brian Cu at headquarters in Wilcon ITB Hub: "We don't claim that we can solve traffic. When we started Grab, it was about providing safety, convenience, and cars arriving quickly."
Photo by Bening Batuigas
The driving force behind Grab
The next time you're riding an MRT home after work, look around: Grab Philippines president Brian Cu might be that overly curious guy standing next to you, looking at your phone screen.
"First, I'm looking for the Grab app!" he says with a laugh. "But generally, I'm curious: are they watching videos on the train, or playing games?"
Mingling with the public flow is part of Cu's research, but he admits, "I'm an obnoxious person to stand beside on a train, because if they're playing word games, I'm going, 'This word, that word...' The guy will ignore me, but then he chooses the words I tell him."
Today, Cu, dressed in T-shirt, jeans and sneakers, looks even younger than his 37 years; the beard he's sported for six months is shorn; even his daughter did a double take when she saw him without it.
As Grab celebrates a six-year anniversary in the Philippines (seven since it began in Malaysia under Nissan scion Anthony Tan), as well as hitting three billion kilometers locally, it's shifted from being just a car-hailing service that ended up absorbing competitor Uber, to a platform for delivering food, water, packages, payments, to just about anything you can imagine — through your phone. Cu walks us through the changes at the 12th floor offices in the Wilcon IT Hub.
In Chinese characters, "crisis" is said to also mean "opportunity." I ask Cu how Grab managed to view the Metro Manila traffic situation as an opportunity.
"The opportunity we saw was really a crisis in terms of trust and public transport, more than a crisis in traffic. We don't claim that we can solve traffic, not with the current blockages that we have in the way we can roll out our technology," he says. "When we started Grab here, it was about providing safety, convenience, and cars arriving quickly."
Remember those long queues everywhere? The cabbies who'd refuse customers? GrabTaxi tried to bypass that through downloaded personal apps, giving the customer more power. "The distrust with transport was really around safety. Being able to record fraudulent activity. That's why we created the feedback mechanism to allow passengers to get back to Grab if drivers are misbehaving."
Not that there haven't been bumps in the road. The shift from Uber to Grab was "not smooth." Not enough drivers at first, higher rates than Uber, the LFTRB cap on license plates, customer complaints. "Post-merger, you could see the love for Uber from all the passengers, and the hate for Grab, which just shocked me," he says now.
Grab had to start from scratch. Last May they launched "100 Days of Change" to address those customer concerns as transparently as possible. "We did it to really build trust in the platform," says Cu, "because there was a lot of noise around drivers — some rightfully so, others were misconceptions about choosing drivers." Now, there's a balanced system of "both carrots and sticks" to give incentives to top-tier drivers, and customer-driven warnings to those who underperform.
It's important to remember that this $10 billion Singapore-based company relies on human behavior: it's only as good as its drivers. You can see Grab Philippines has a lateral, involved approach to its workforce when you visit the 12th floor — a hive of activity where in one area drivers fill out application forms; elsewhere they attend training sessions; in other rooms people with headsets and laptops work on platforms, while one IT area deals with customer service issues in real time; even their food canteen features vendors linked to the Grab Food app.
Ride-hailing epiphany
Cu had an "epiphany" about how ride-hailing could work here after living in Singapore for six years and meeting with Grab's founder Tan in Manila. "He talked a lot about the social good of an app like this that I could bring to the drivers. So it's sort of rounded out my view on convenience to passengers and his view on better income for drivers. So, hitting both sides. A more holistic approach."
That holistic approach means Grab has had to balance customer satisfaction with drivers' livelihood. Towards that end, Cu talks about "Making Tech a Force for Good," a three-pronged advocacy for the company.
One, Grab wants to be "hyperlocal." They fight for better driver fares, help drivers' wives with financial planning and skills development (weaving, soap-making), to help increase income. On a practical, CSR level, Grab recently used its trike force to address the water shortage, loading up Grab drivers for water delivery in Mandaluyong ("The hard part was getting enough water containers," Cu notes); when a fire hit Cebu a few weeks back, razing 1,000 homes, Grab allowed its customers to donate points to send proceeds to affected families; they did a similar direct-assist when an earthquake hit Pampanga, sending their drivers out to deliver relief items. This is crowdsourcing used to help in a very quick, local, mobilized way.
Secondly, Cu says, "We want to support the tech ecosystem. We're looking to partner with a local school to really get involved with the curriculum around tech and engineers to see how we can train the next generation of CTOs and start-up cofounders." No names yet, but you can imagine a Grab Campus or think tank emerging in the next few years.
And third, Grab works closely to improve safety, now training some of its drivers in first aid (they even provide kits for some Grab cars) and roadside assistance. "We have a program called Grab Driver Academy where road safety and defensive driving techniques are taught," he says, and they work with the Highway Patrol Group so drivers can help in spotting car-napping incidents and other road crimes.
Up next: Grab groceries & Grab medicines?
With a popular app and a growing roster of services — GrabPay, GrabAssistant, in addition to GrabTaxi, GrabCar, GrabShare, GrabExpress, GrabFood and others — I ask, what else is left to deliver?
"Groceries. Medicines. You don't want someone sick going out of the house and taking a jeep to order pills they need." There's still the whole issue around prescriptions to figure out, and grocery profit margins tend to be minuscule, but it's still a big market.
"Food is exciting," Cu continues, "much more exciting than other things." With about two million people in CBDs and offices eating breakfast, lunch and merienda daily in the Metro, you can see why: "That's 10 million eating opportunities every day — and we're barely at 100,000!" Thus, GrabFood took off with its patrol of motorbikes, a market that's now joined by lots of other competition.
On the merchant side, "We're trying to focus the app more on the micro-entrepreneurs" such as food stalls Sisig Sa Rada and Adobong Pusit Sa Jimenez. "A lot of these guys at street stalls cook really great food but can't operate a restaurant or don't have working capital, staff or inventory. But they cook really good sisig! So how do we give them the scale of a restaurant without the headache?"
Answer is: include them in the Grab app, so people can have food delivered from those street vendors. "We call it an online storefront," says Grab PR manager Krhizzy Pasigan. Being available on the app means "they're actually open to potentially thousands of consumers."
I ask Cu what kind of Metro Manila he hopes to see for his two daughters (and one on the way) by 2020 or 2030. "I want to be able to tell my kids they can take public transport without fear of getting back home safely. That's my wish, more than they can get home in 10 minutes because there's no traffic, but I want them to be able to commute across different modes of transport."
Cu, who stays fit by golfing and going to a gym three times a week, may like to hop on a jeep or the MRT for research. But it's not something he'd advise his daughters or wife to do. Though there was that one time… "My wife hates me for this, but one time she asked me to pick her up — this was before Grab — and I told her to take the train." He laughs. "I almost ended up not having a wife!"