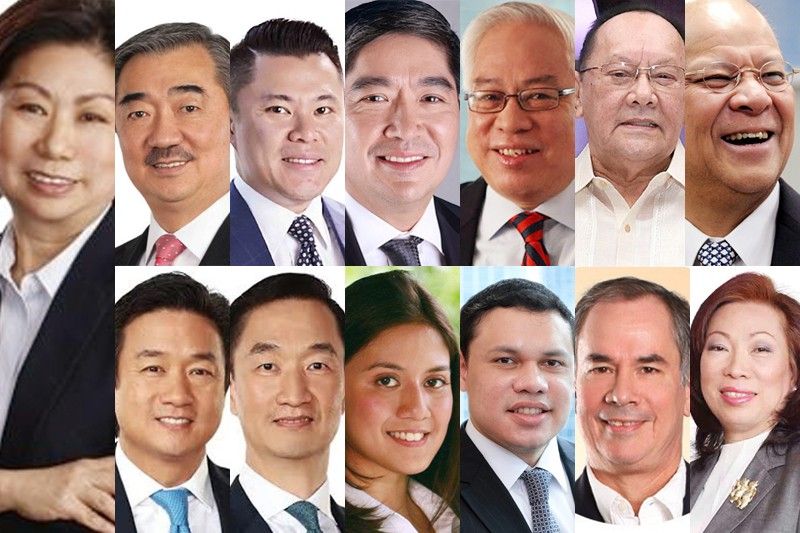 Teresita Sy-Coson, Clockwise from upper left: Hans Sy, Kevin Tan, Lance Gokongwei, Jonathan Gotianun, Eduardo Cojuangco Jr., Ramon Ang, Josephine Gotianun Yap, Sabin M. Aboitiz, Paolo Villar, Camille Villar, Arthur Ty, Alfred Ty
Passing the Torch: Successful succession in Henry Sy, Gokongwei, Ayala, Aboitiz, Villar, Andrew Tan, Gotianun, George Ty, Danding clans
Since time immemorial, whether in Asia or the west, one major challenge for leaders in business, politics and other fields is how to prepare for successful and smooth succession. At what time should the boss — usually the founder — relinquish some or all power? How can messy, destructive and toxic family squabbles be avoided? How can competent and mature successors be chosen, and given the adequate authority to lead? And how to prevent the catastrophe of incompetent, unreliable and entitled heirs or heiresses from ruining a family business?
Years ago during a trip to Guam, I asked Lucio C. Tan — whom I believe is one of the country's top three wealthiest billionaires — who would be his successor. He half-jokingly replied: "I will just sell off my businesses, in order to live a few more years longer."
Top business families with impressive succession plans
Based on my informal survey, the following top business families in the Philippines have already gained the confidence of the business community, especially local and foreign investors, as well as bankers, for successful succession planning and implementation. They are (not in any order):
• Henry Sy Sr. family of SM Group, BDO and Chinabank with the collective leadership of six children led by Tessie and Hans, and with the support of professionals like former top SGV leader and Washington SyCip protegé Jose Sio (chairman of holding firm SM Investment Corp.).
• John Gokongwei Jr. family led by his younger brother James Go and his heir Lance Gokongwei. When, years ago, I told self-made entrepreneur and philanthropist John Gokongwei, Jr. that he has become the same as his talented 19th century immigrant "rags-to-riches" great-grandfather Pedro Lee Gotiaoco, he said there was a difference. His ancestor had failed in succession planning, so that, by the fourth generation, the family fortune was already gone. That's one of the reasons Gokongwei has always been very conscious about the paramount importance of succession planning, to ensure that his businesses will last.
Gokongwei told me that he learned a valuable lesson from his friend Prudential Guarantee & Assurance, Inc. CEO Robert Coyiuto, Jr., whose late father Robert Sr. was ousted as leader of their family's Pioneer Insurance by the elder Coyiuto's brothers who all had equal shareholdings, so the dad gave his own company's 51 percent shareholdings to handpicked successor Robert Jr. to back up his authority with shares. In Gokongwei's case, he told me he gave his son Lance 50 percent shareholdings. He also believes that a leader should be given the shares to back his authority.
• Ayala Group led by brothers Jaime Augusto Zobel de Ayala and Fernando Zobel de Ayala, supported by high-caliber professionals like Bobby Dy.
• Aboitiz Group led by the fourth-generation Sabin Aboitiz. Aboitiz & Co. (ACO) chairman Mikel Aboitiz and Aboitiz Equity Ventures (AEV) chairman Endika Aboitiz said: "A significant factor in our group's success over the past 100 years has been one of seamless succession and transition to the next generation of leaders, ensuring the continuity as well as the evolution of our culture, our policies, and how we do business."
• The late George S. K. Ty of Metrobank Group had children led by Arthur Ty as the new boss and his younger brother Alfred Ty, supported by topnotch professionals like Fabian Dee.
• Manny and Cynthia Villar's family with sibling successors Paulo and Camille (brother Mark Villar has exited business operations to serve as DPWH secretary).
• Andrew Tan of Alliance Global Group, Megaworld and Emperador. He has already handpicked eldest son Kevin as his successor, after having Kevin apply for work and then train for some years, like any ordinary employee, under then Megaworld executive and Ateneo professor Eric Soriano (now still a company director, a family business expert and book author).
• Filinvest/East West Bank's matriarch Mercedes Tan Gotianun has children led by Josephine Gotianun Yap and Jonathan Gotianun.
• Eduardo "Danding" Cojuangco Jr. has a very unique and extremely ingenious succession path based on pragmatism and his high-level wisdom: he handpicked the honest, loyal and brilliant engineer Ramon S. Ang as his successor and relinquished control of San Miguel Corp. to this visionary leader who is like his very own son. San Miguel Corp. has since grown phenomenally into one of Asia's most dynamic and largest conglomerates.
Sources tell me that when Danding Cojuangco went to California for a week for medical treatment a few years ago, Ramon S. Ang left all of his many corporate responsibilities here to be by the side of Danding throughout that period.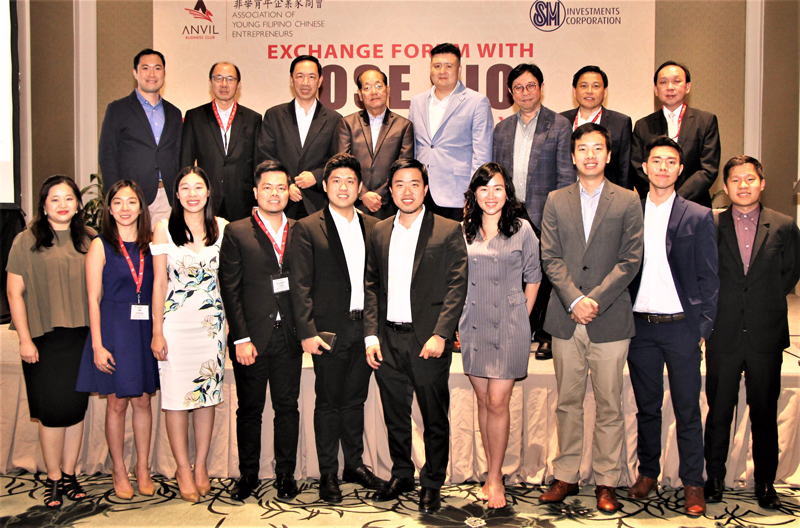 SM Investment Corp chairman Jose Sio, 4th from left 2nd row, with officers of Anvil Business Club. Photo by Nilo Odiaman
SM & BDO: 6 Henry Sys and 18 members of third generation
More than his top rank in estimated net worth or personal wealth, more than even his stunning achievements in growing SM Group and BDO into the No. 1 biggest in Philippine retail and banking industries (his China Bank is also the sixth biggest bank), the most impressive accomplishment of the late immigrant "rags-to-riches" entrepreneur and philanthropist Henry Sy, Sr. was his having raised and trained six children — Tessie, Henry Jr. Hans, Elizabeth, Herbert and Harley — who have become responsible, diligent, disciplined and down-to-earth successors.
SM Investment Corp. chairman Jose Sio told the June 6 dinner forum of Anvil Business Club's young Filipino Chinese entrepreneurs at Makati Diamond Residences Hotel: "When the late SM founder Henry Sy Sr. passed away, the succession was smooth, as if nothing happened; there was not even a ripple. He and his wife Felicidad Tan Sy had raised six Henry Sys in their six children. They are all hardworking, simple-living, peace-loving and God-fearing people. They do not drive Mercedes-Benz or luxury cars, because the late Henry Sy also didn't drive luxury cars."
Weekly family board meeting for major business decisions
Sio also shared that, unlike in other families where one heir or heiress is anointed as the boss with the biggest shareholdings in family enterprises, the late Henry Sy, Sr. bequeathed his fortune equally among all his six children.
It was also the trusted Sio, a former top partner of Asia's biggest accounting firm SGV Group, who suggested to Henry Sy, Sr. that a family board meeting be held with him and his six children every week. All major business issues, like going into a new business or acquiring companies, are discussed and debated within this weekly meeting, then a vote is held.
Anvil Business Club vice president Hubert Chua asked, what about the inevitable and natural human tendency for people to disagree, argue or have divergent views?
Jose Sio said it's expected that there will be disagreements, especially among smart and ambitious individuals like the talented and driven Sy siblings, but he pointed out the SM practice of their weekly family board meeting (no excuses, no absences) is the only place for debates — and once a vote is made, the consensus is implemented.
Don't force heirs or heiresses to run business, ensure they're good shareholders
Anvil president Patrick Cua asked: "What about the third-generation grandchildren of Henry Sy Sr.? Who among them can in the future take up the mantle of leadership of the Philippines' most successful business conglomerate?"
Sio said: "Of the 18 grandchildren, six are already now working for the SM Group. If we can get nine of the 18 to be involved in the businesses, that's all right, because I do not believe it is good to force heirs to work in the business. Not all heirs and heiresses should manage a family business, (though) they can be trained to be good, responsible shareholders and owners."
* * *
Thanks for feedback at willsoonflourish@gmail.com. Follow @wilsonleeflores on Instagram, Twitter, Facebook. Buy PhilSTAR's Tagalog tabloid "Pilipino STAR Ngayon" every Friday and read my column "Kuwentong Panadero." Read also https://investment.fwd.com.ph/experts/asia-s-business-leaders-and-what-we-can-learn-from-them