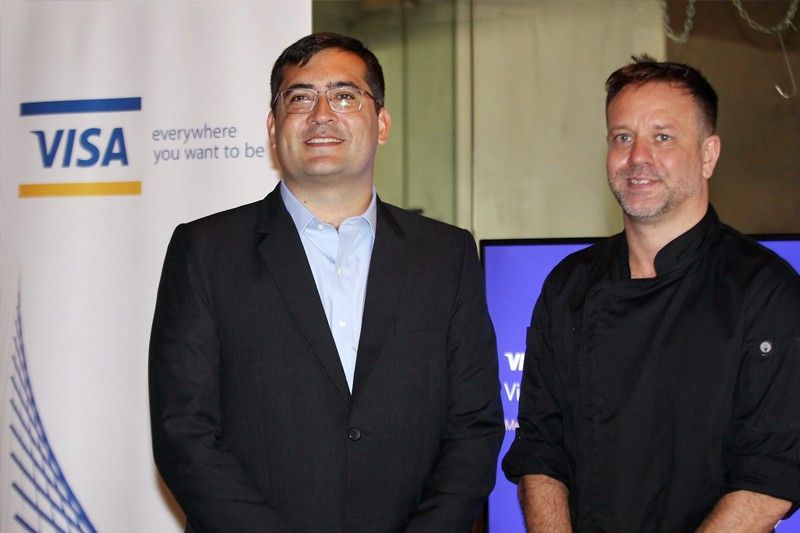 Visa country manager for the Philippines and Guam Dan Wolbert joins Smith Butcher & Grill chef Tom Hines to roll out the last Visa Epic Experiences offerings.
Photos by Jun Mendoza
Visa serves up sizzle with latest Epic Experiences launch
MANILA, Philippines — For Visa Epic Experiences, the stakes are higher in 2019. And over at merchant partner Smith Butcher & Grill in Makati, where the launch was held, the steaks are juicier.
Visa Epic Experiences kicked off this year's exclusive dining and travel privileges program with a rollout at Smith Butcher & Grill Room, where chef Tom Hines prepared a special feast of US prime Angus rib-eye, Irish grass-fed organic sirloin and char-grilled Norwegian king salmon.
Over 30 new dining and travel deals in favorite destinations such as Boracay, Palawan, Cebu, Batangas and Baguio have been added. Now in its sixth year, one big change this year is that both local and international Visa cardholders can enjoy discounts and benefits in the Philippines; likewise, Filipinos will find it easier to locate discounts at hundreds of merchant partners throughout the region when they use their Visa card (use the free Visa Digital Concierge app to help pinpoint those deals).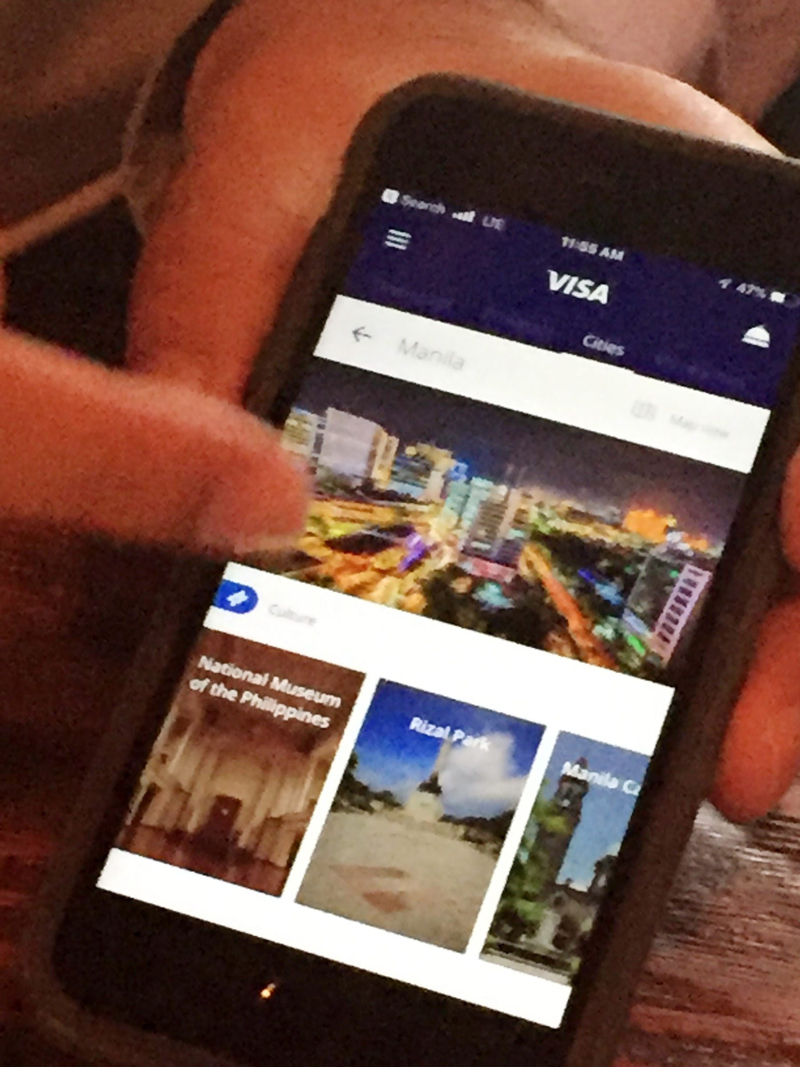 Wolbert shows off the new Visa Digital Concierge app, linking you into meal and travel deals around Southeast Asia.
As Visa Philippines and Guam country manager Dan Wolbert explained at launch — er, lunch — the program is spreading outside of Metro Manila with newly added restaurants Cichetii, Ani Restaurant, Dayun Lounge and Uma in Cebu; Fomo Osteria and Indigo in Boracay; and Santis Deli in Cavite. Also new to Metro Manila are Tomatito and Ministry of Crab, among others.
Some of the most popular travel destinations outside Metro Manila are also in on the program this year, including The Farm at San Benito; The Manor in Bagiuo City, The Forest Lodge at Camp John Hay; and El Nido Resorts Apulit Island, Misibis Bay and Crimson in Boracay. (For a full list of participating venues and restaurants, go to www.visa.com.ph.)
Speaking of discounts, the launch venue Smith Butcher & Grill, a Visa partner for four years, has an ongoing offer for Visa cardholders: you get a free (pre-selected) bottle of wine with a meal spend of P6,000 minimum. Something to think about this Father's Day.
"One of the important things is to provide benefits for all cardholders, so when tourists come in it's a great opportunity to highlight what Visa can offer in the Philippines as well," says Wolbert. Visa cardholders just need to present their card at purchase, and any available discounts will be applied to their spend. "That makes it really seamless, because whether you're a Filipino or international cardholder, you're able to avail. So a lot of the categories and merchant partners will hit both."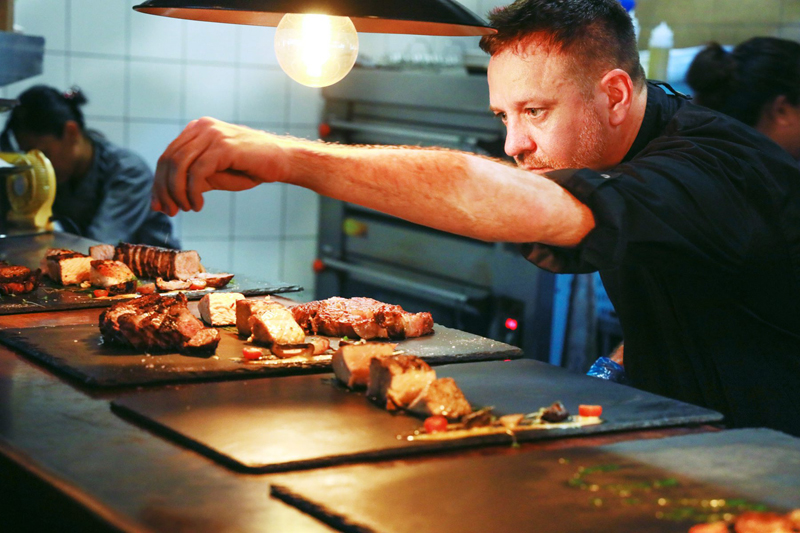 Chef Hines spoke about the ingredients and flavors of each dish as it was served.
It's now about moving from cash to easier purchases that sync in with available discount offers, whether it's meals or travel to Philippine locations or abroad to Bangkok, Hong Kong and other regional destinations. Says Visa Worldwide Pte. Limited manager Grace Tan, "We look at the spending habits of Filipinos, and they're now preferring cards to cash, so cash use we expect to decline in the next few years. Also, using apps like Digital Concierge for a 'frictionless' spending experience for travel and dining is a trend."
"A great all-in-one feature when you're traveling is being able to show all the benefits for each location," adds Wolbert. "There are great benefits for Filipinos traveling domestically, but also if you want to go to Bangkok or Hong Kong you can tune in right away to what offers there are in merchant locations abroad. Being present in an app, it's a lot easier for consumers to digest it all."
Speaking of digesting, after chef Hines introduced his menu — an amazing array of air-flown baked oysters Rockefeller, roasted tomato and Manila clam chowder, a Butchers Block steak platter of seven-day wet-aged tenderloin and rib-eye, steak rice and truffle jus — we learned how digital ease of purchase is now driving discretionary spending among Filipinos even higher.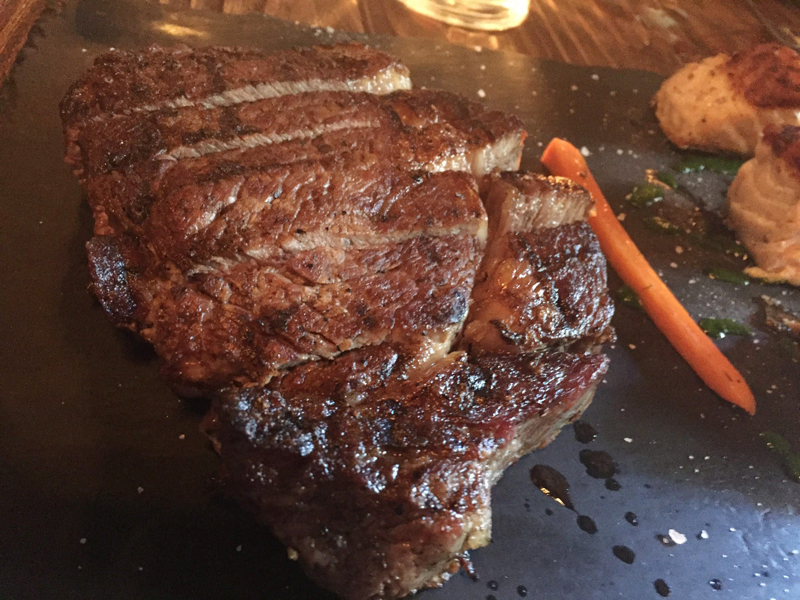 Happy Father's Day: Pair that Smith Butcher & Grill seven-day wet-aged rib-eye with a free bottle of wine with a Visa swipe of P6,000 or more.
"Visa Epic Experiences has been a great way for cardholders to enjoy life and experiences with their friends and family," says Wolbert. "Today, we see that dining and travel spend amongst Filipinos is increasing at close to 20 percent year-on-year, and we're confident this growth will continue."
He adds, "Businesses that are on the platform benefit greatly and have seen an increase in revenues and customers. Travel partners have seen close to 50 percent growth in transactions between 2017 and 2018 since they partnered with Visa."
So yes, the stakes are higher now for Visa, and the benefits for cardholders are even better.
* * *
For more information, visit www.visa.com.sg, http://visaapnews.asia/ and @VisaNews.