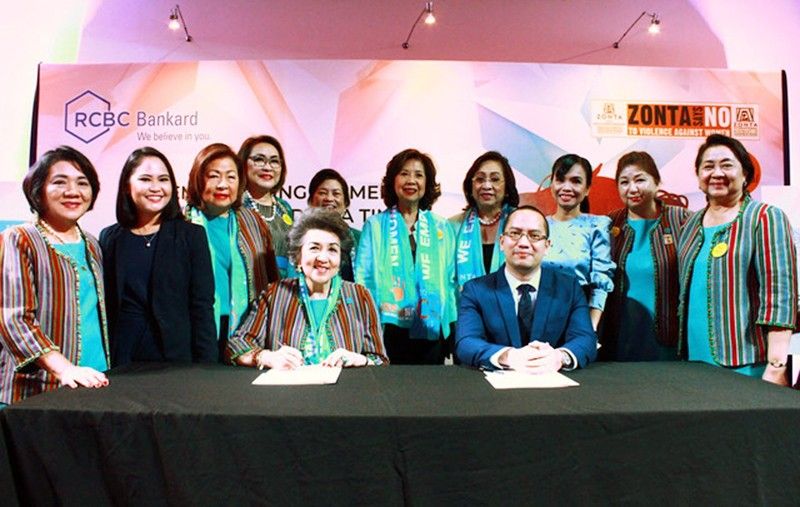 Signing of MOA between Zonta International and RCBC Bankard: (seated left) Maritess Pineda, president of Zonta Club of Makati & Environs Inc ; Simon Javier Calasanz, president and CEO RCBC Bankard; (standing) Project Zonta International (ZI) District 17 and RCBC Bankard Project Teams Lizette Lim, past club president; RCBC Mylene Pico, SVP & segment head; Rita Dy; Virma Vergel De Dios and Atty Daisy Arce, past international directors; Olivia Ferry; Primitiva Perez Sison, Immediate Past District 17 governor; RCBC Angela Mirasol, first VP Marketing Group head; Susan Lim, ZI Area 5 Director; Flerida Jimenez, ZI past area director
Zonta International & RCBC Bankard present 'Beautiful: The Carole King Musical' to empower women
MANILA, Philippines — Carole King is the four-time Grammy-winning singer-songwriter, whose first hit single in the 1960s was her recording of the song Will You Love Me Tomorrow. She went on to write songs that were recorded by popular performers such as James Taylor (You've Got a Friend) and Aretha Franklin (You Make Me Feel Like a Natural Woman), among many others. In 2014, Beautiful: The Carole King Musical, opened on Broadway.
On June 16 at 2 p.m. and on June 22 at 8 p.m., Beautiful: The Carole King Musical will be presented at the Meralco Theater in Pasig City, through the co-sponsorship of RCBC Bankard and Zonta International.
"Zonta International will be celebrating its centennial anniversary in November this year," said Rita Dy, Zonta Club of Makati-Ayala immediate past president, and CAEC regional representative and benefit shows chair. "Last year, our past international president, Olivia Ferry (the first and only Asian to hold that post), asked me to help in our Centennial Anniversary Endowment Fund Campaign (CAEC). For the past so many years donations would mostly come from Zontians. I instead suggested a more sustainable method in fundraising by widening the base of donors through selling a show or shows. We all agreed to try this out."
It took them a year to source a suitable show. Beautiful: The Carole King Musical is the true story of Carole King, a teen songwriter who rose to fame breaking the glass ceiling during her time," Dy relates. "It is a story of woman empowerment, to inspire every Zontian in their work in empowering women through service and advocacy."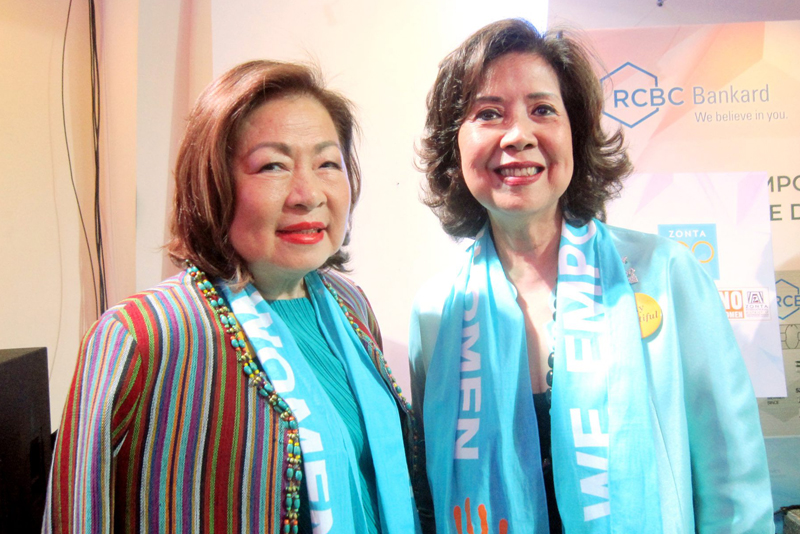 Rita Dy, past Zonta club president and project chair, and Olivia Ferry, past international president and chair of the Centennial Endowment Fund Campaign
There are 1,200 Zonta clubs in 63 countries around the world. "Zonta is an international service organization dedicated to working for a better world for women, because a better world for women is a better world for all," Ferry remarked. "Zonta Says NO to Violence Against Women" is a Zonta International campaign to raise awareness and increase actions to end violence against women and girls around the world. From 2018 to 2020, Zonta is giving special focus on projects to end child marriage and teenage pregnancy.
"Women continue to suffer from abuse in various regions around the world," Ferry says. The statistics are staggering. It is estimated that 35 percent of women worldwide have experienced physical or sexual violence or harassment at one time in their life. Three out of four girls are child-trafficking victims; 200 million girls and women alive today have undergone genital mutilation. Almost 650 million women alive today were married before their 18th birthday. An estimated 280 million more girls are at risk of becoming child brides.
"If this current trend continues, it is estimated that the number will reach one billion by 2020," Ferry noted. "That is the extent of the problem that many do not realize. These are great violations on the rights of girls and women and we would like to help prevent this." There are seven in the team involved in the show project chaired by Dy, namely Olivia Ferry and Primitiva Perez, immediate past district governor; Virma Vergel De Dios and Atty Daisy Arce; past international directors; and Maritess Pineda and Eleanor Soriano, club presidents. They paid for the two shows in advance because they are confident it will be successful.
"We sourced for sponsors and were recommended to RCBC Bankard as we are two like-minded organizations working for charity," says Dy. "RCBC Bankard donates to Gawad Kalinga's Kusina ng Kalinga."
Dy continues to be as committed and hardworking as she was during her long career in the hospitality and travel industry, which included stints with Singapore Airlines and Philippine Airlines in Europe, as well as with Manila Peninsula and Manila Hilton. Aside from her active involvement with Zonta, she is also currently president of Pico de Loro Beach and Country Club. "I hardly have leisure time," she says. "There's always something to do. It's never-ending."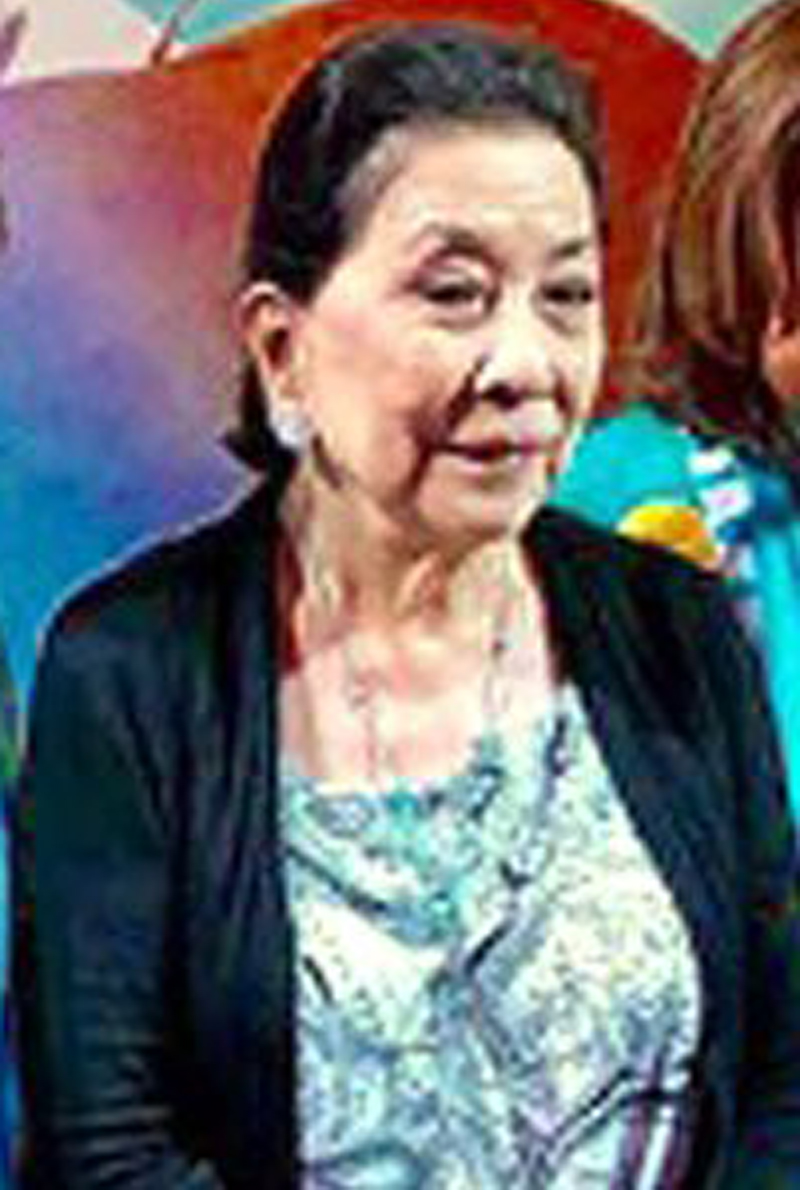 RCBC chairperson Helen Yuchengco Dee
"The empowered Zontian is empowered to help," Ferry says, "but we also need a dedicated partner who serves beyond profits." Apart from co-presenting with Zonta the two shows of Beautiful: The Carole King Musical in June, RCBC Bankard has also signed up Zonta International to be a partner in its Most Flexible Rewards Program. "With this agreement in place, RCBC Bankard cardholders will be able to donate the peso value of their rewards points to Zonta International, thereby supporting the noble projects of the organization," explains Mylene Bico, RCBC Bankard senior vice president and business segment head. For every 800 points earned, cardholders are entitled to P200 worth of credits. To convert rewards points to donations, cardholders simply have to call RCBC Bankard Customer Service.
RCBC Bankard cardholders will enjoy a 10-percent discount on show tickets, while RCBC Diamond Mastercard cardholders can enjoy a 15 percent discount. In addition, Marco Polo Ortigas, which is near Meralco Theater, the show venue, offers a 20 percent discount on food and beverage purchases, as well as special overnight Superior room rate of P5,200 net for ticketholders on the show dates upon presentation of show tickets. Proceeds from the shows will be deposited to the endowment fund of Zonta International.
"Zonta's programs at both local and international levels are aimed at realizing its vision of a world where women's rights are recognized as human rights and every woman is able to achieve her full potential," Dy noted. "It's a vision of a world where no woman lives in fear of violence."