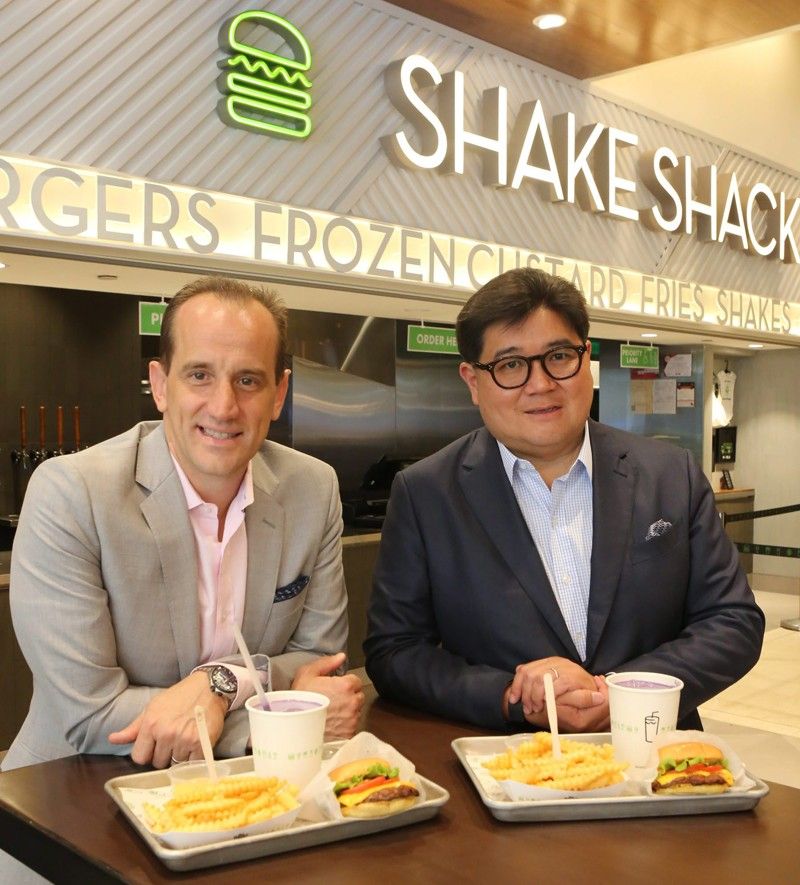 Shake Shack CEO Randy Garutti and SSI president Anton Huang: "We're just here to do good things, and eat good food with good friends."
Photo by Walter Bollozos
'Shake Shack is a small company but a huge brand'
'The partnership is what matters the most and this is clearly a great one we created. When companies share their ethos and beliefs, they do things the right way. And here we are,' say Shake Shack CEO Randy Garutti and SSI president Anton Huang.
No other "fine casual" restaurant opens the way cult-favorite Shake Shack does. When it opened its first branch in the Philippines last Friday at 11 a.m., hundreds of people were already lined up — with the first one staking his spot at 10:30 p.m. the night before at Central Square in BGC.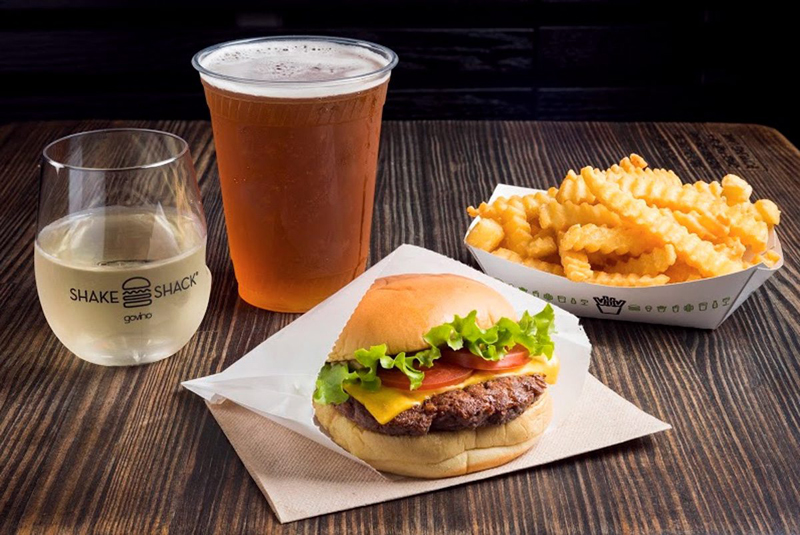 "Fine casual" dining: Shake Shack burger and fries with wine or craft beer
When it opened its Palo Alto branch in December last year, 1,200 people lined up, says Shake Shack CEO Randy Garutti, who's been credited with the expansion of what was originally a kiosk at Madison Square Park in 1999 and founded by Danny Meyer, founder of Union Square Hospitality Group (USHG), whose main business is fine-dining restaurants.
US Ambassador to the Philippines Sung Kim and Rustan Commercial Corporation chairman and CEO Zenaida Tantoco
Garutti says of the crowds on opening day, "It's incredible. The Palo Alto opening, especially since Shake Shack isn't new in the US."
SSI president Anton Huang, who brought Shake Shack to Manila, says, "Shake Shack is an incredible brand and concept. Having personally experienced it myself — the first time in New York — I felt very strongly that it would resonate with Filipino consumers. This is what SSI does; we bring in brands that Filipinos would enjoy."

Shake Shack officially opens its doors to endless queues of Pinoy burger lovers.
Huang and his team at Specialty Food Retailers Inc. first reached out to Garutti's team six years ago but at the time, Garutti says, Shake Shack wasn't ready — it opened its first international branch in Dubai in 2011 and its first in Asia in Tokyo in 2015 (they now have 12 branches in Japan), and two weeks before Manila they opened in Singapore.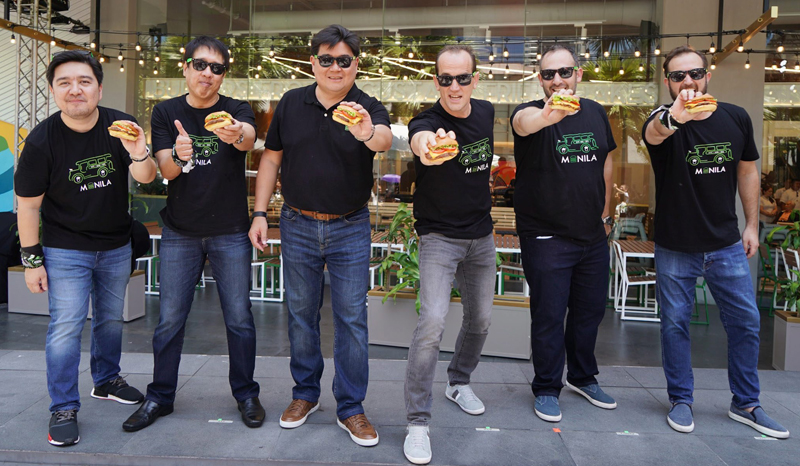 Specialty Food Retailers Inc. business development head MJ Tantoco, Specialty Food Retailers EVP Steve Sarmenta, SSI Group president Anton Huang, Shake Shack CEO Randy Garutti, Shake Shack chief global licensing officer Michael Kark, and Shake Shack managing director for Asia Pacific Sean Wagner take first bites of the ShackBurger.
"Shake Shack is still a small company today, but we're a huge brand," says Garutti. "We're in 15 countries but we only have 225 Shake Shacks and that's actually not that big compared to the many brands you see. It took us a long time. In 2013, which was the last time I was here to meet with Anton and his team, we still had a lot to learn, like how to do a global supply chain. When we were ready, we were fortunate they didn't go 'marry' someone else."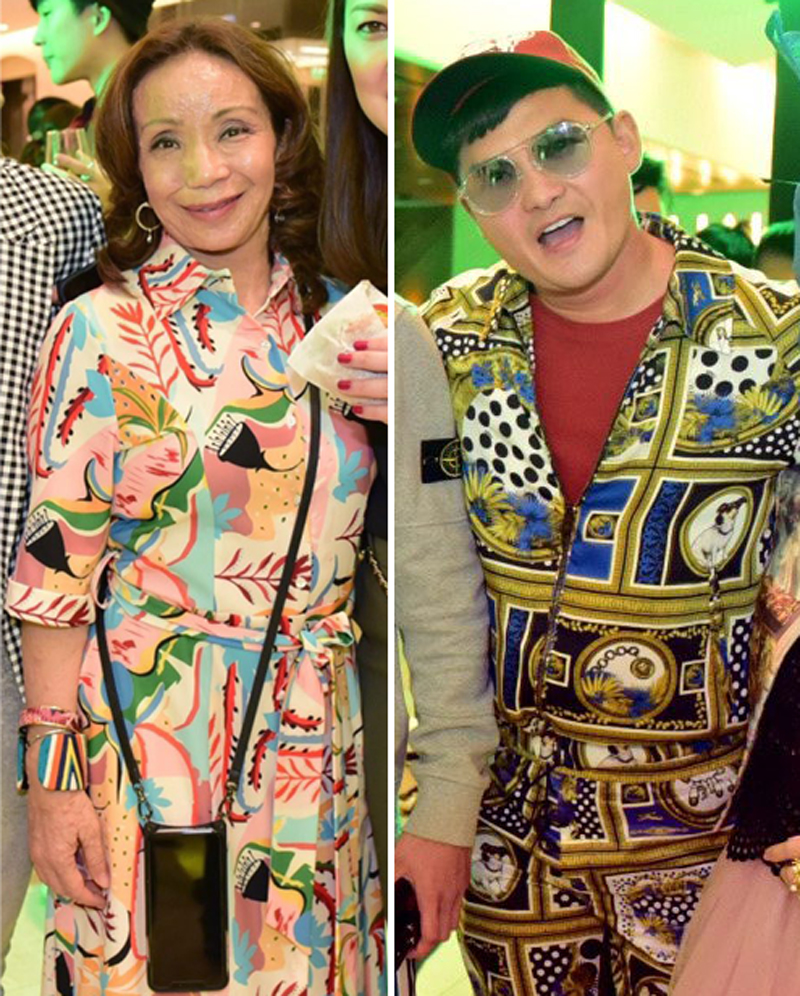 Rustan's Maritess Tantoco-Enriquez(left), Tim Yap
"I think it was the other way around," says Huang.
"We did have a lot of offers but we always end up making the right decision. The partnership is what matters the most and this is clearly a great one we created. When companies share their ethos and beliefs, they do things the right way. And here we are," says Garutti.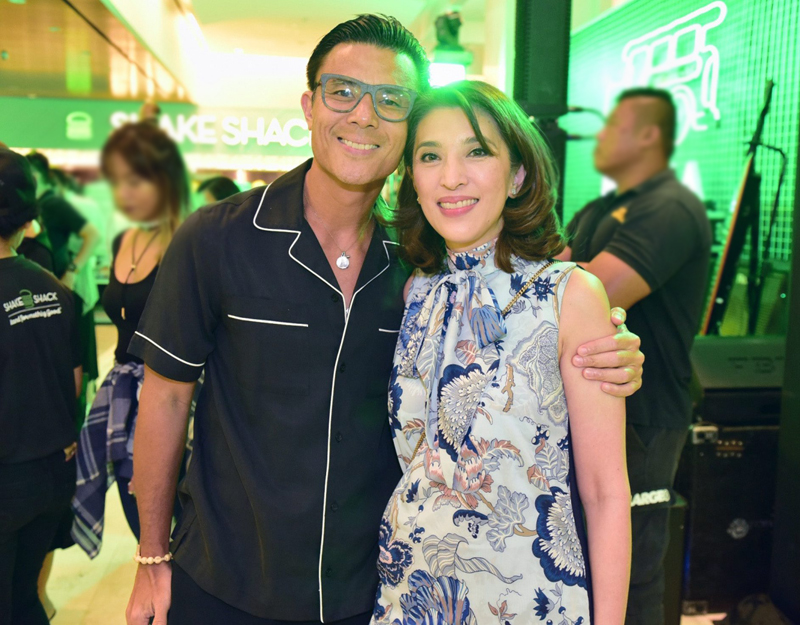 Rustan Commercial Corporation president Donnie Tantoco and Crickette Tantoco
"As far as training goes, Randy's team has been incredible. In retrospect, I do appreciate the time it took. Just making sure we had the sourcing of ingredients in place, finding the right kind of people, because the culture of Shake Shack is in fact very different in terms of service," says Huang.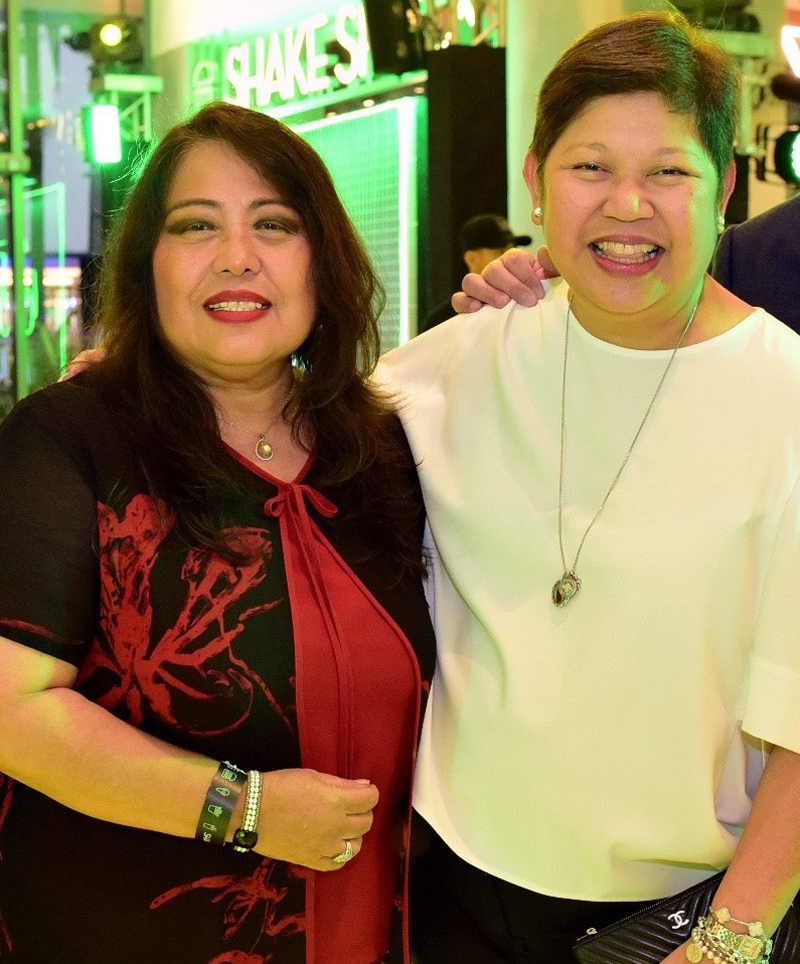 SSI Group, Inc. executive vice president Elizabeth Quiambao, Ayala Malls group head Rowena Tomeldan
Why is it important for Shake Shack to bring in American culture in its identity? "You have to go back to the American roadside burger stands, the classic burger shacks in the '50s and '60s in the United States. It was a post-World War II rebirth of America, and it was the place to go with your girlfriend, your friends and your family. Then fast food changed that — they made it fast, they made cheap products. And we said, why can't we go back to the way it was — cooked to order with really good ingredients and served by really nice people? We did that and that's how we got here."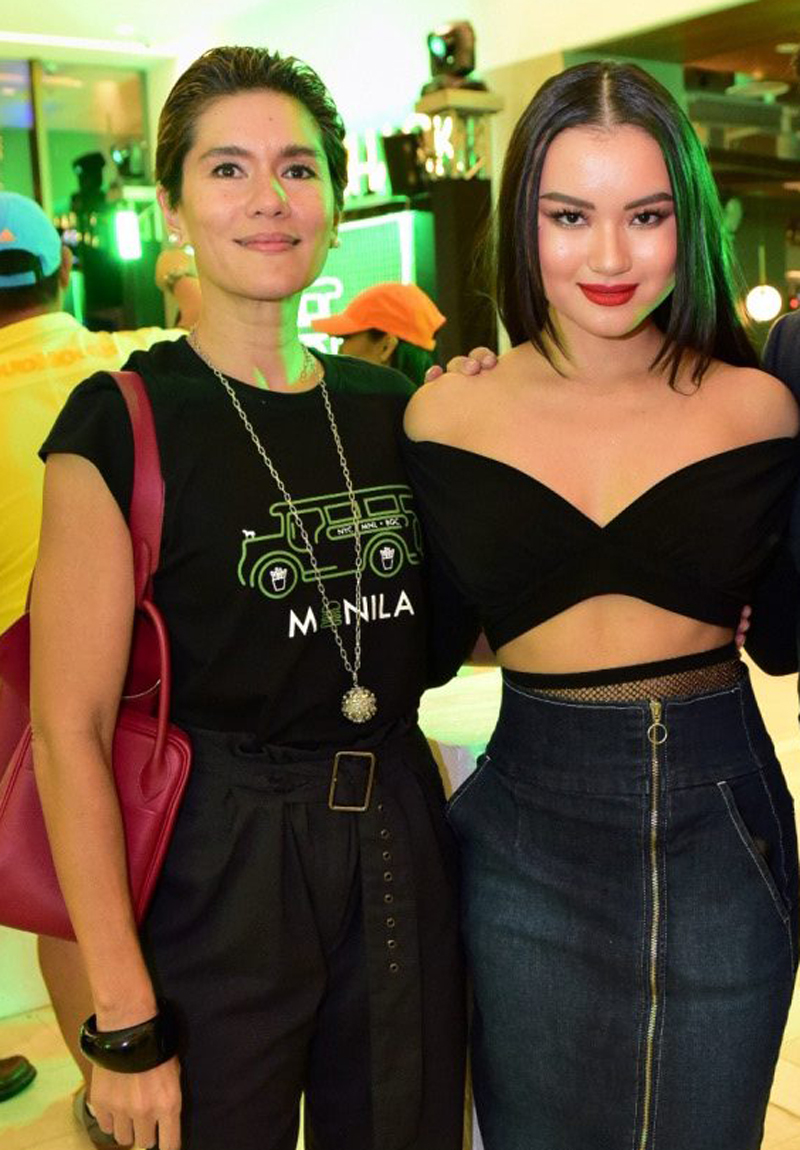 Nina Huang and Nikki Huang
In every city where Shake Shack opens, it brings a taste of local flavors to its menu. In Manila, they have ube and calamansi in their custards and milkshakes. They've brought in the doggie treats as well. "The original Shake Shack was in Madison Square Park, where there was a dog run, an area to take your dogs. In fact, one of the ideas for the name of Shake Shack was The Dog Run. If you look at the original menu sketch that Danny did in pencil, that was one of the names. We started the Poochini treats there, and here we have a little company making the dog biscuits so we have little Shack Burger Biscuits."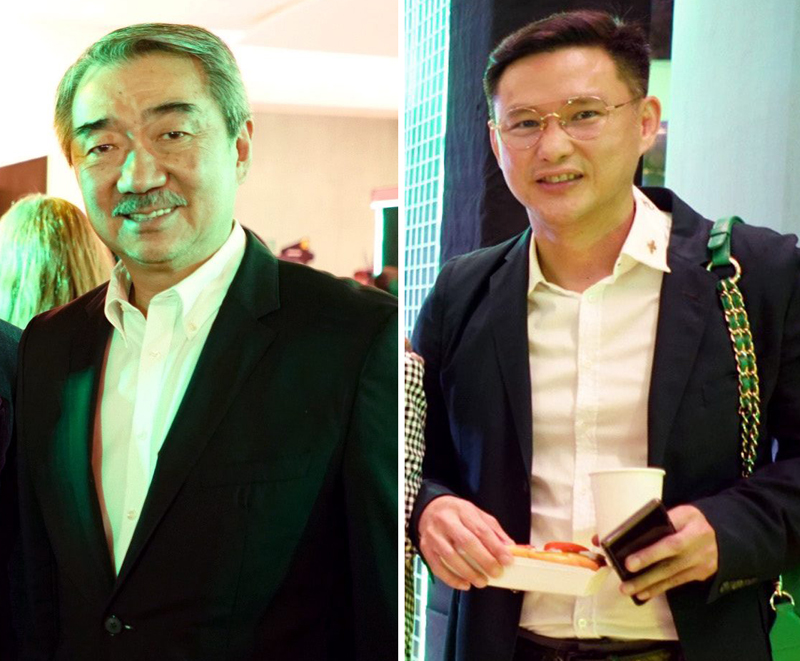 SM and China Bank boss Hans Sy(left), SM Supermalls COO Steven Tan
Garutti was born in New York City and has worked in over a hundred restaurants in his lifetime. He was hired by Shake Shack 20 years ago as general manager when he was 24 and by 32 he was chief operating officer. "I fell in love working in restaurants when I was 13 in a bagel shop in New Jersey. I would come in at 5:30 a.m. and make bagels. I worked in restaurants because of the places it took me and it just makes me happy to give other people pleasure in hospitality."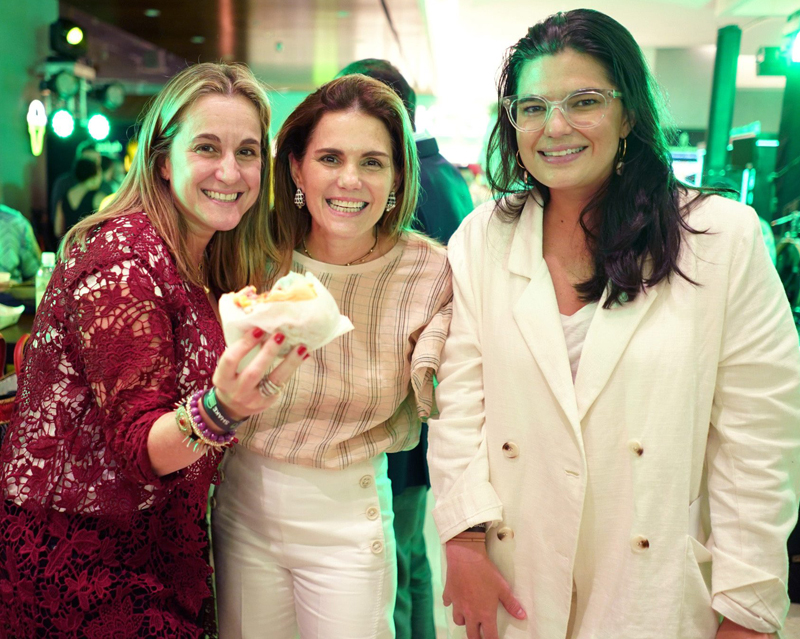 Sofia Zobel Elizalde, Lizzie Zobel de Ayala and Mariana Zobel de Ayala
At the heart of Shake Shack is what founder Danny Meyer calls "community wealth." Garutti expounds on that, "We believe that the first thing we have to do is to take care of our team. Then when we do that, our team needs to take care of our guests, our communities — our suppliers who bring us the great food — and ultimately our shareholders will benefit as well. Lots of companies put the shareholders first, but for us, if we do not enrich our team and community, it doesn't work. And that's been the beauty of Shake Shack. I think it's part of why it resonates with people around the world — we're just here to do good things, and eat good food with good friends."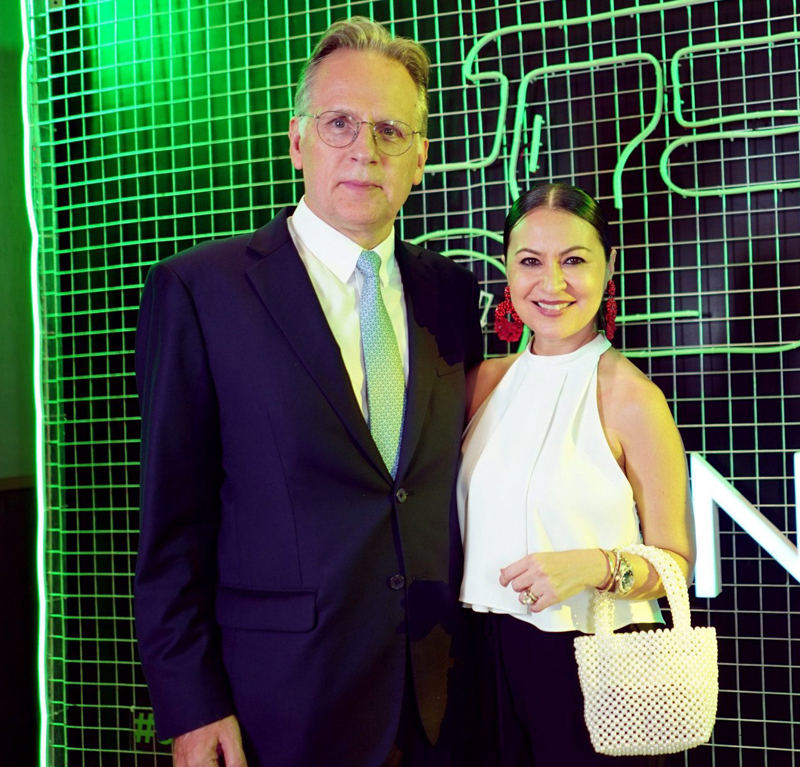 David and Marilu Batchelor
* * *
Shake Shack is located at Central Square, BGC.
Visit the author's travel blog at www.findingmyway.net. Follow her on Twitter and Instagram @iamtanyalara.