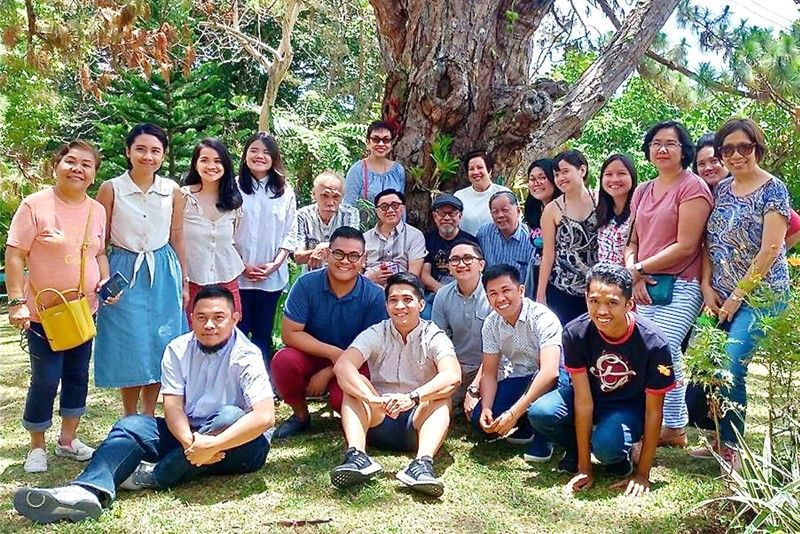 The 2019 workshop fellows, panelists and staff at the Writers' Village
A week of a word feast in Dumaguete
Last week was a fine time to be refreshed once more with the strength of lifetime friendships with poet-writers of the Visayas and Mindanao. The opportunity came courtesy of the first half of the 58th Silliman University National Writers Workshop in Dumaguete, which started on Monday, April 29.
The happy reunion among the senior panelists involved poet Anthony L. Tan of Siasi, Sulu and Iligan, this year's Resident Director for the workshop; the eminent writer-scholar and newly-minted National Artist for Literature Resil B. Mojares of Cebu; poet-essayist and retired judge Simeon "Jun" Dumdum, also of Cebu; Dumaguete's resident sage, poet-fictionist and professor Cesar "Sawi" Ruiz Aquino, originally of Pagadan thence Zamboanga; and this regular panelist from Pasig.
Our junior fellow panelist was fellow STAR columnist and creative non-fiction writer Rica Bolipata Santos, of Marikina and a literature professor in Ateneo de Manila University. A guest and observant was Jun's better half Gingging Dumdum, herself an author of collections of haiku and tanka in English.
Workshop coordinator was SU's Lady Flor Partosa, while the secretariat was composed of J Marie Maxino, Hellene Grace Piñero, Kacyee Melon, Flordeliz Mate and John Edgar Rubio.
The 58th batch of twelve workshop fellows for SUNWW 2019 were: Arielle Arconado Abrigo, AB Literature graduate of University of Santo Tomas; Kaisa Aquino, graduate student of UP-Diliman; Catherina Dario, AdMU Creative Writing graduate; Tara Eunice R. De Leon, Biology major at Silliman; Jefferson del Rosario, English Literature graduate of Cebu Normal University; Tiny Diapana, UP-Cebu alumna; Samuel Evardone, AB Communication Arts graduate of UST; Donna Patricia Manio, lifestyle writer and PR professional; Jhudiel Brigid L. Plando, Creative Writing senior at Silliman; Dave T. Pregoner, who teaches in Sacred Heart School – Ateneo de Cebu; Riddick Recoter, Editorial Process Manager at De La Salle University Publishing House; and Ria Valdez, who teaches Creative Writing and Creative Nonfiction at Davo City National High School.
The screeners for the manuscript submissions this year were professors Tan, Aquino and Casocot, together with Dumaguete poet-author Myrna Peña-Reyes.
For much of the first week, the regular venue was the Rose Lamb Sobrepeña Writers' Village at Camp Lookout in the foothills of Mt. Talinis, above the town of Valencia.
A special feature for Tuesday's morning session was the conversation with Resil Mojares and Simeon Dumdum Jr. on the "Balak" or Cebuano poetry. Wednesday, the out-of-town session was held at a beachhouse in Amlan. Thursday after lunch, the fellows were brought down to the city for the afternoon session in the SU campus, as a lead-up to the evening's special literary event, the launch of Cesar Ruiz Aquino's eighth poetry collection, Figures in a Long Ago Mirror. This was held in conjunction with a welcome dinner hosted by Dumaguete Mayor Hon. Felipe Remollo at his residence.
On our last afternoon, Rica Bolipata Santos delivered a lecture, titled "Love, Desire, Creative Nonfiction, Etc." at the American Studies Resource Center, Robert and Metta Silliman Library. This was followed by the "ELT Lecture Series: A Conversation with Anthony Tan, Cesar Ruiz Aquino, Alfred Yuson, Resil Mojares, and Simeon Dumdum Jr. on the Literary Legacy of Edith Lopez Tiempo."
It must be noted "Mom" Edith, co-founder of the workshop with her husband Edilberto K. Tiempo, way back in 1962, had her centennial birth anniversary last month, when the ELT Lecture Series started, with talks by Parts Partosa and Ian Rosales Casocot on aspects of her writing. A graveside commemoration on her birthday on April 22 had white umbrellas bearing Mom E.'s image distributed as a special memento. And a week before the workshop started, an evening's tribute was also held in her loving memory.
Next week, the regular panelists will be fiction writer and former SUNWW resident director Susan S. Lara and poet-biographer Marjorie Evasco. Resident panelist Ian Casocot is a novelist and SU film, literature and creative writing teacher, while guest panelist Grace Monte de Ramos is a poet who has taught at SU and UP Los Baños and served as panelist at both the Silliman and Iyas Writers Workshops.
May 9 will have the Dumaguete launch of Anthony Tan's poetry book, Crossing the River. That evening, the COPVA Music Sala will host what's billed as "For Ernie: A Piano Concert by Niccolo Rocamora Vitug and a Reading of the Poetry of Ernesto Superal Yee for His 10th Death Anniversary."
Ernie Yee was a Dumaguete lawyer, poet and concert pianist who was much loved by Mom E. We all carry on in keeping the workshop torch alive to honor their memory, as well as Dad Ed's and everyone else who has supported and savored its beneficence each Maytime.