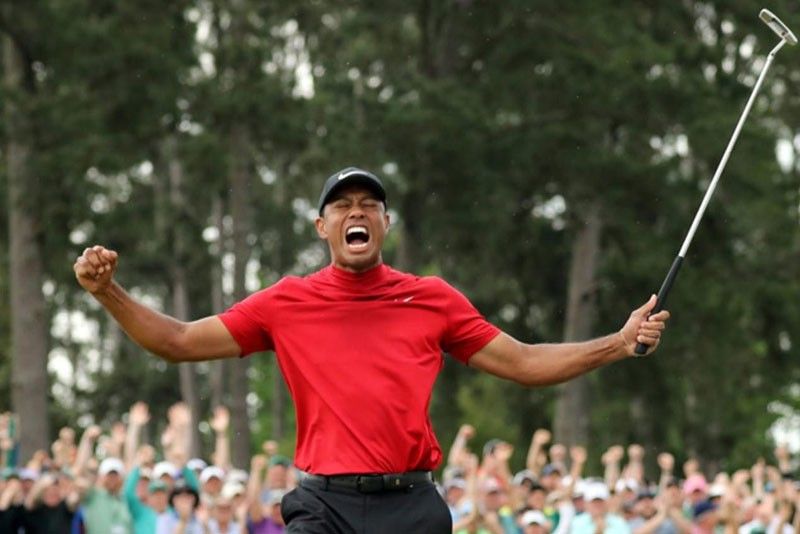 Tiger roars again: After 11 years in limbo, Tiger Woods' stunning comeback as Masters champion shows us that success is the best revenge.
Tiger Woods and the art of the comeback
Ford Motor Company founder Henry Ford once said, "Failure is only the opportunity to begin again, this time more intelligently."
After 11 years in limbo professionally as an athlete, and also emotionally due to marital woes, 43-year-old Tiger Woods recently made a stunning comeback to become once again a Masters Tournament champion. His amazing story is not only an inspiration for sports-loving people but for all of us, whether business people or professionals confronting arduous challenges.
What is a greater comeback story in the entire history of the world than that of Jesus Christ, a humble carpenter's son who was persecuted, crucified on the cross, died, but came back from death on the third day, Easter Sunday?
In business, some of the numerous comebacks worldwide include the late Steve Jobs and his iconic firm Apple, Inc.; Marvel Comics, which was bankrupt 20 years ago and is now a winner. Starbucks was also financially troubled in 2008 during the US economic crisis, and CEO Howard Shultz had to rebuild it back to what it was. The world's biggest toy company, Lego, was in trouble 10 years ago, but has accomplished a comeback.
In the Philippines, many of the biggest successes in business survived horrible crises and came back wealthier than ever, such as Manny Villar of Vista Land, Andrew Tan of Megaworld and Alliance Global Group.
The more dramatic and difficult comebacks are the "riches-to-rags-to-riches" stories, or people born into wealthy families who lost their family fortunes, then had to struggle up again, like John Gokongwei Jr., Roberto "Bobby" Ongpin and Mercedes Gotamco Tan-Gotianun.
Here are some of my thoughts on why and how to make a comeback professionally, financially, emotionally, even politically:
Never give up. As long as there is life in us, as long as we can still breathe, there is no such thing as "hopeless" and we shouldn't write off anyone, including ourselves.
Here are a few quotes to remind us that we should never give up.
Football athlete and coach Vince Lombardi once famously said, "Winners never quit and quitters never win."
Robert Brault said, "Stubbornly persist, and you will find that the limits of your stubbornness go well beyond the stubbornness of your limits."
A Japanese proverb admonishes: "Fall seven times, stand up eight."
One of my favorite "never give up" quotes was by Lady Aberdeen, who said, "The difference between the difficult and the impossible is that the impossible takes a little longer time."
Have a positive attitude. One of the best ways for a person to get up from falling down and picking up the pieces to restart anew is to have a positive mindset. Let us all have a positive attitude. Instead of mourning losses or wallowing in regret or self-pity, think of all mistakes or bad things as valuable lessons or difficult tests to make us, our business or vocation better.
Whatever unfortunate or negative things happen to us, let us always try to find the positive sides to them. For example, a person has a thriving business with a business partner who owns minority shares. Suddenly that business suffers an accidental fire that wipes out assets and totally disrupts production, thus causing recurring operational and other losses. Instead of wanting to help raise funds to reinvest, months later the minority partner says he wants to sell his minority shares, thus forcing the entrepreneur to raise money for the buy-out.
What are the positive sides to this series of setbacks? The entrepreneur can view the huge losses as an opportunity to start anew, to invest in new equipment and technologies for better-quality and higher-volume production. It was an opportunity to buy out the minority partner, who had never agreed with his more aggressive style of doing business and taking risks for future expansion.
There are always positives to almost all the negative or bad things that happen to us.
Enjoy what you're doing. One good way to motivate ourselves to make a comeback or recover from any setbacks is to sincerely find joy and meaning in what we're doing.
Let us learn to love what we are doing. I think it was Confucius who said, "Choose a job you love and you will never have to work a day in your life."
Be with positive people or friends. When a person has suffered setbacks or defeat, few friends and relatives will remain or be around — that is just human nature. The world and people generally love winners or people with wealth, power or fame. A former president once told me that some siblings and in-laws tended to avoid their family during their worst political crisis, when her husband was in prison.
I think that one good way to recover is to be with positive people, whether kin, friends or colleagues, during or after a crisis. Do not be discouraged or demoralized by critics, naysayers and foes. Let their criticisms or negative words fuel your passion and determination.
The best revenge is success. One of the best ways to rise again and make a real comeback is to take out any bitterness or hard feelings: forgive but don't forget. Let us also not be tempted to exact revenge on those who have wronged us or didn't assist us, because such negative thoughts might result in more negative things, even if you succeed in your vengeful plans or wishes.
Why isn't revenge an efficient way to rise up again? I believe that negative thoughts or feelings like vengeance are not only inefficient and tend to weigh us down too emotionally in looking back, but forgiving others (even if we do not forget our tormentors or critics, even if they do not deserve forgiveness) is also healthy for our emotional and physical well-being.
If we do not harbor negative feelings or thoughts, we can enjoy better health and a good sleep every night. I recall once asking the late Philtrust Bank and Manila Bulletin chairman Emilio Yap what his secrets were to longevity. Yap smiled and replied in Hokkien: "Have a clean conscience, so one can sleep soundly every night."
Let us think proactively in a positive way that achieving success is ultimately and more satisfyingly the best revenge!
* * *
Thanks for your feedback at willsoonflourish@gmail.com! Follow @wilsonleeflores on Instagram, Twitter and Facebook. Buy PhilSTAR's Tagalog tabloid Pilipino STAR Ngayon every Friday and read my column "Kuwentong Panadero." Read also https://investment.fwd.com.ph/experts/asia-s-business-leaders-and-what- we-can-learn-from-them.