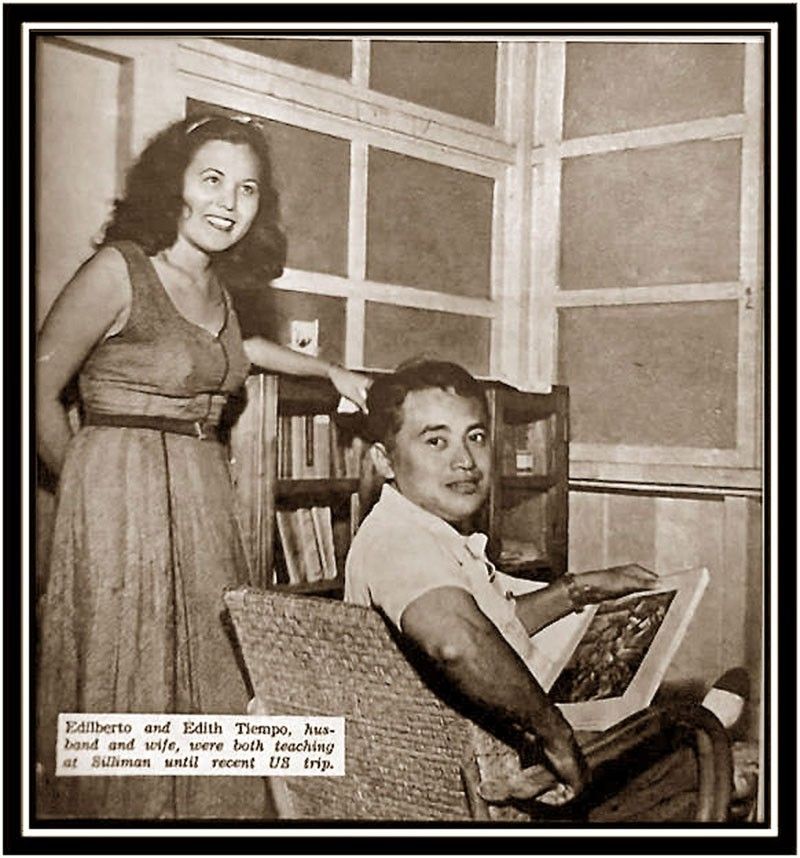 Edith and Ed Tiempo at Silliman University in the 1950s
Honoring Edith L. Tiempo on her centenary
It will be the centennial birthday of the late and much-beloved National Artist for Literature Edith L. Tiempo exactly a week from now, on April 22.
Several activities have already honored her, preceding Dumaguete's and Silliman University's own series of programs starting next week. Over a weekend ago, the CCP led off with its Performatura Festival 2019. The festival's third day on April 7 featured a day-long series of programs in tribute to "Mom" Edith, as orchestrated by Vim Nadera and Beverly Siy.
Poets Jaime An Lim and Ramil Digal Gulle spoke on her life and works, while sets of readers read her poetry in three separate programs held at various venues in the CCP. These readers, all of them participants at the Silliman University National Writers Workshop through the years, included Peachy Paderna, Mikael de Lara Co, Padmapani Perez, Alma Anonas-Carpio. Patricia Evengelista, Noel Pingoy, John Labella, Gémino H. Abad, Susan Lara and this writer
A related art installation, calligraphy exercise, podcast, and workshop on teaching Tiempo's poetry as material for speech choir performance involved Merlon Hacia, Lexter Victorio, Peter Sandico, Chloe Arun, Elyss Punsalan of the Podcast Pakinggan Pilipinas, and Dr. Belen Calingacion, respectively.
A book discussion on Tiempo's stories was led by Gege Sugue and Orly Agawin of Flips Flipping Pages, while film expert Ed Cabagnot discussed the documentary A Nation is Born by David Griffin, the first film shot in Dumaguete, and which featured the young Edith in its opening frames.
The opening ceremony unveiled the Centennial Exhibit "Hymn, Sob, Psalm," curated by Danilo M. Reyes and Gwen Bautista. Musical compositions by Carlos Pizarro were performed by Jay Gomez, Michelle Nicolasora and Alyssa Liyana Dioquino, while dance performances were rendered by Kalayag Dance Company led by Aiken Emmanuel Quipot.
The closing program had a projection show by Annie Dennise Lumbao highlighting dancer JM Cabling, while musical numbers were performed by Katrina Marie Saga and Jasper Domingo.
A pity that Edith's daughter Rowena Tiempo Torrevillas couldn't proceed with her homecoming for the CCP's tribute as well as Dumaguete's upcoming centennial celebration for her mom. The family's response to conclude the CCP program was supposed to be delivered by her brother Maldon, but he too couldn't come over from Dumaguete, so this proxy had to read it for him, as follows:
On behalf of Mom's family, thank you for this tribute. I had e-mailed Danny Reyes yesterday that I would have wished for nothing more than to be at this event myself — as Rowena is not available as well. But scheduling conflicts with my work have made it impossible for me, and I explained as much to Ms. Siy and Danny Reyes.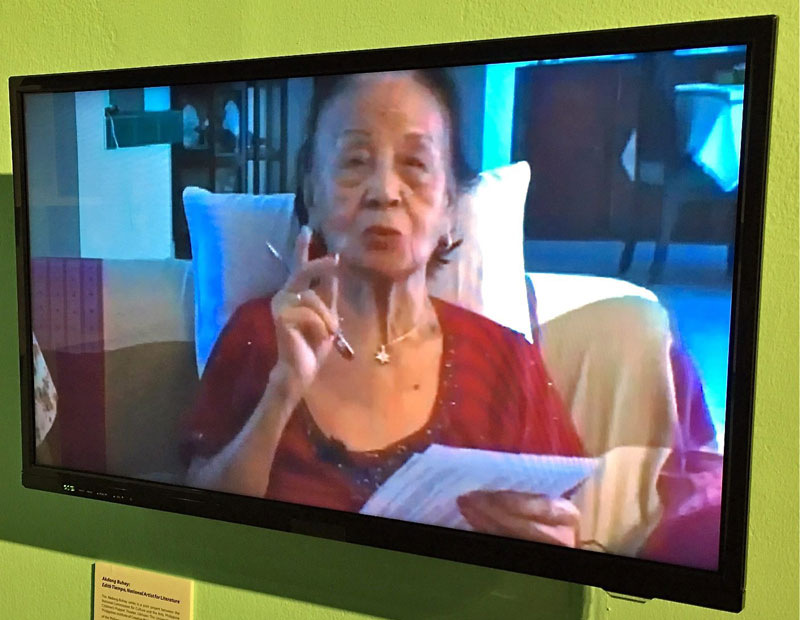 A video clip of "Mom" Edith was part of the Centenary Exhibit at the CC P.
As I write this, I am about 12 kilometers away from Central Mindanao University, in Bukidnon, where Dad served as its VP for Academic Affairs from 1980 to 1981 when Silliman University let him go for a time. I had the opportunity to visit him there for a week. I mentioned Dad because neither he nor Mom could be mentioned without the other in the same breath. They were two peas in a pod, and as this tribute is given to Mom, I know that she'd accept it for Dad as well.
During my visit, I recall Dad telling me that in his later years, he would have worked for SU for free. I know that Mom felt the same way; such was their commitment to the school, but even more than that, to their craft and to those who had the good fortune of being mentored by them. Many of them are here, and are my folks' extended writing family. Mom and Dad's life was enriched because of them. They told me that a good writer never stopped being curious — inquisitive — about all things around them, and this is reflected in their work. This included a genuine interest in the budding writers they mentored and who would eventually become a part of their family. They were so proud of each of them. I also recall how I'd be awakened at 3 in the morning by the sound of dueling typewriters coming from the annex — a small house with their bedroom and a study lined with books, filing cabinets and their typewriters — across the lawn from the main house.
I heard some time ago — it must have been at a funeral, unfortunately — that when someone such as Mom or Dad passes on, a library is lost. I remember one afternoon at Mom's house, I was sitting on the larger of the three balconies overlooking the ocean, when she came out and sat down at a table holding a pen and a few sheets of bond paper. She must have been 89 years old at the time. I asked her what she was writing and she told me that she had been asked to create a syllabus for the writing program at SU. With nothing more than a pen and paper, she wrote down book titles, chapters from other books, and authors, from memory — creating an entire syllabus on a late afternoon. I know she may have forgotten more than what I will ever know or remember.
It wasn't all about craft. Mom had quite a sense of humor — something she and Dad had in sufficient amounts. The writers can attest to that. A joke by either of them would often result in them laughing, with and not at, the person at whose expense the joke was told. In a tribute to my Dad on his 100th anniversary, writers told stories about their sense of humor. I could tell you a few, but that would take time and something might be lost in the retelling.
It is heartwarming to know that the knowledge that Mom and Dad possessed lives on in their writing family.
Mom had a certain way of showing her appreciation; a 'thank you' from her seemed to convey so much more. I am ill equipped to do that. I can only offer my gratitude to all of you who have organized this tribute and given life to her — and Dad's — memory.
Most respectfully, Don L. Tiempo.