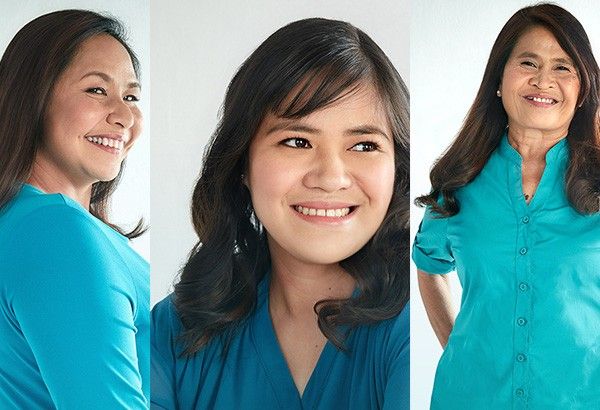 From left: Aimee, Andrea and Bea
Photo release
International Women's Month: 3 Filipinas share real-life victories
(Philstar.com) - March 13, 2019 - 7:25pm
MANILA, Philippines — In celebration of Women's Month, three Filipinas recalled their hardships and how they prevailed.
Bea, 54
Some entrepreneurs give up on their dreams when their livelihood loses momentum. But not Bea, an independent mother and budding businesswoman from Taguig. A year ago, her small garment business almost folded due to lack of capital. But through a small loan, Bea was able to breathe new life into her apparel business. She feels proud when customers wear her garments, and it shows in the smile that she wears on her face.
Andy, 31
Moms make amazing sacrifices when it comes to their child's welfare. For Andy, it meant giving up a lucrative overseas job to take care of her son at home. She did a bit of freelancing to support her kid. But despite her efforts, money still fell short at times.
"As a freelancer, collecting fees can be a challenge. Pay is often delayed, and that really messes up the household budget," says Andy. "There are times when I thought about drawing from the account I've set aside for my child."
Luckily, Andy discovered that through making small loans, she can beat payment deadlines.
Aimee, 42
There are good entrepreneurs. There are good housewives. Aimee is the special type of woman that is good at both, and she represents the growing number of women that have been empowered by microfinance.
Aimee grew a small loan into a business venture that made her a financially independent housewife. She invested her first P1,000 to sell packed food, then reinvested what she earned until her business took on a life of its own. Now, her business has grown to include frozen food, beauty products, and even a small micro-lending operation of her own. She has many more ideas in her head, and none of them include asking her husband for money.
"Real smiles are drawn from happiness, and nothing inspires happiness more than the feeling that you're trusted and empowered," said Angelo Madrid, Country Manager for Tala, a California-based company that develops a money lending app that has reportedly provided loans to over 2.5 million people worldwide, including women in countries like Mexico, India, Kenya, Tanzania, and the Philippines, cultures where women have traditionally limited roles in the family's income generation.