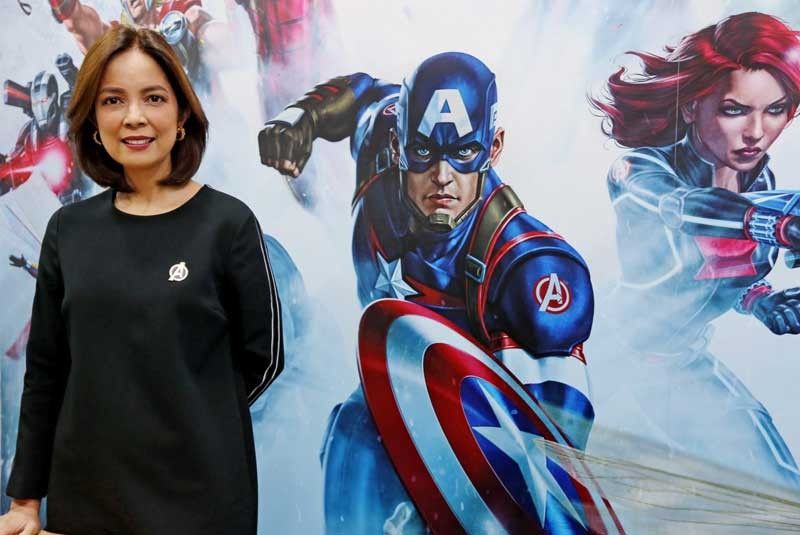 Walt Disney Company Philippines country head Veronica Cabalinan in the Marvel conference room at Disney headquarters in SM Aura Premier.
Photos by Walter Bollozos
It's official: Filipinos are the biggest Marvel fans
One thing's clear if you look at the last decade: Marvel action movies have owned local box office, holding five of the top 10 grossing titles ever in this country.
Why?
You've no doubt heard that Filipinos are huge Marvel fans, from the movies to video games to merchandise to online content. Now there's data to back that up. Sitting down with Walt Disney Company Philippines country head Veronica Cabalinan, we quickly learn that Marvel brand awareness among Filipinos is at an incredible 98 percent. That means only two percent of Filipinos don't know who the Avengers are!
Here are some more salient data points:
• Disney Philippines has sold over 1,000 Marvel movie tickets every hour here.
• Avengers: Infinity War, from 2018, became the No. 1 biggest-grossing film of all time in the Philippines
• Disney's Beauty and the Beast actually came in as No. 2 among Filipino audiences.
• Other top 10 Marvel releases (in order of box office): Captain America: Civil War, Avengers: Age of Ultron, The Avengers, Iron Man 3, Black Panther, Thor: Ragnarok, Thor: The Dark World, Guardians of the Galaxy 2 and Captain America: Winter Soldier.
• Close to 2,600 hours of Marvel content appear on TV and mobile phones per day.
• 1.4 million Marvel-related games were downloaded in 2018.
• Marvel merch experienced double-digit growth here in 2018 over the previous year, with over 15,500 products sold daily.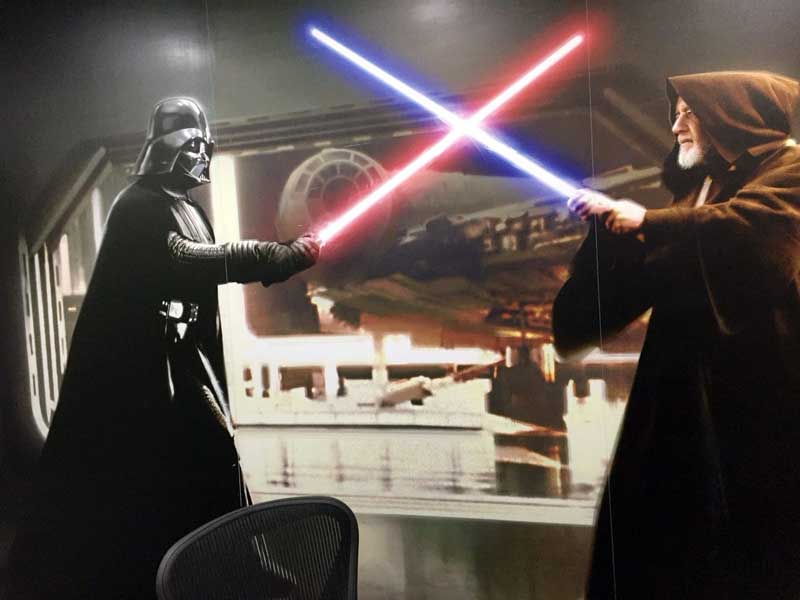 The StarWars-themed conference room at Walt Disney offices in BGC.
Ever since the Walt Disney Company acquired Marvel as a brand four years ago, there's been an avalanche of content — from the Avengers saga, to new character franchises, to games and fan events. Here in the Philippines, that effort has been spearheaded by Cabalinan, a savvy former retail-licensing manager for Click Licensing Asia and Pacific Licensing Studio (she's also a licensed dentist who decided to shift careers). Her brand skills led her to join Disney in 2013 as head of Disney Consumer Products, before becoming country head in 2017.
This means she's been at the forefront of Marvel's dramatic rise within the expanded Disney roster. Why does Marvel resonate so much with Filipinos?
"When we started here in the Philippines four or five years ago, our focus was to set up Marvel to be part of the everyday lives of Filipinos," Cabalinan tells us in a conference room at Disney's local headquarters in SM Aura Premier Tower. "As you know, Filipinos have a strong affinity for action, adventure and the superheroes genre, and that really translates."
Is it the not-so-secret prevalence of Filipino artists behind some key Marvel Comic concepts (not to mention Pixar and Disney) that drives this local fanaticism with Marvel? Yes, but that's not all.
"With Filipinos, it's more of how we really look up to, basically, the principles of Marvel," says Cabalinan. "It's an epic storytelling of the human spirit. Filipinos relate very well to Marvel's stories and characters. I think the qualities the films have — openness intensity, levity, great action — Filipinos love that."
Not to mention heroes and villains. And, now that I think of it, what are the Avengers if not one big, messy barkada?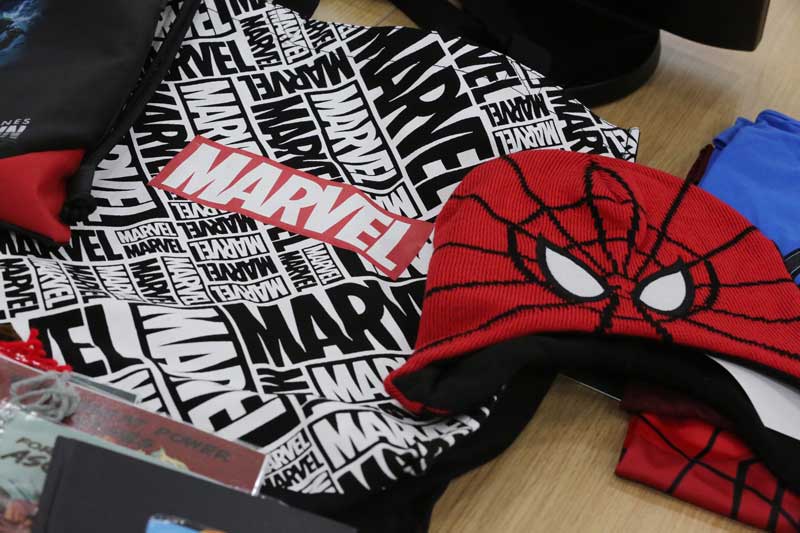 Retail partnerships are a huge part of Marvel's outsized role in brand awareness here.
Another possible reason: a connection with the United States. There was a flood of American TV shows aired here in the '70s and '80s (The Incredible Hulk, Amazing Spider-Man), plus a vocabulary of shared pop culture references, English language, and historical ties that somehow link Marvel and Filipinos.
All this has made the Philippines a sweet spot for Marvel. Or vice versa.
But it doesn't come automatically. Cabalinan helps Marvel build its brand here through careful partnerships (Globe, SM and others) and regular events to showcase Marvel — and local fan — talent.
"Last year was an epic one for Marvel," she says, with the release of blockbusters Avengers: Infinity War and Black Panther. "So we invited 500 Marvel fans to an SM mall where the Disney team surprised them with a live-streaming interactive event featuring Avengers stars and director Joe Russo. We had Benedict Cumberbatch, Karen Gillan (Nebula in Infinity War) — they didn't expect that! These are priceless, money-can't-buy experiences."
Marvel also held the first Marvel Run in Southeast Asia last July at SM Mall of Asia, with some 7,000 fans participating; and they held their Marvel Creative Day Out, a biannual event this time staged at College of De La Salle-College of Saint Benilde, where local Marvel artists spoke about their artistic journeys to encourage budding comic artists and fans.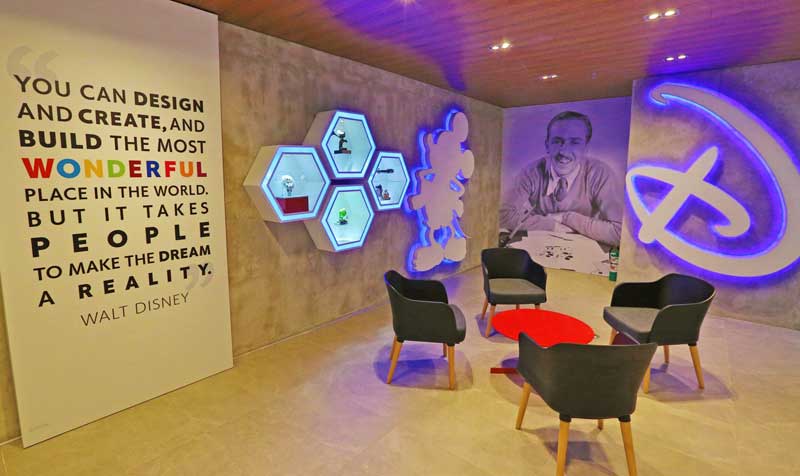 The Walt Disney Company Philippines offices
Speaking of fans, one might picture the average Marvel film-goer as a rabid fanboy, ready to spill his popcorn while explaining the superiority of Captain America: Winter Soldier over Avengers: Civil War. Uh-uh, say the data: gender breaks down to 51 percent male, 49 percent female. "Well, all of the films relate equally to male and female audiences," clarifies Cabalinan. But with so many female Marvel fans, it's no wonder Marvel plans to launch not one, but two female franchises on the horizon: Captain Marvel (with Brie Larson) arrives on screens this March; while Black Widow (with Scarlett Johansson) finally gets her origin story, possibly in 2020.
Disney's brand awareness easily matches Marvel here. In fact, last year Disney Philippines was able to convince MMDA Danilo Lim to let them affix Mickey Mouse ears to traffic lights at strategic (and random) spots across the Metro. Pretty cool to see that red light turn to green, and recognize Mickey's ears above it. Disney also continues to hold world-class lighting displays (its Ayala Festival of Lights was mentioned as one of the "most stunning Christmas lights displays in the world," according to Variety), and BGC Pixar Town, in which people here dress up as Pixar characters for a day.
For Cabalinan, Disney was the ultimate job, growing up. "I grew up with Disney and loved the characters. When I was working in the licensing industry, I was in awe. I always wondered how Disney was able to create characters that are instantly relatable. When you see a character like Mickey Mouse, there's instant joy."
Marvel certainly adds to that roster. Does it help that Marvel occupies most cinema screens here at a given time?
"Oh, yeah," agrees Cabalinan. Demand definitely pushes supply here in the Philippines. "We are the No. 1 entertainment brand in terms of a franchise."
And, as the Avengers saga winds down, concluding with Endgame this April, it's worth pondering what Marvel will do next. "We're just going to keep outperforming," says Cabalinan. "The movies we make, we'll keep coming out with content that our fans want to watch and look out for, for as long as we can. With all the upcoming titles we have, I'm sure fans won't be disappointed. There will be more to come, surely."
And Filipinos will surely fill those seats.