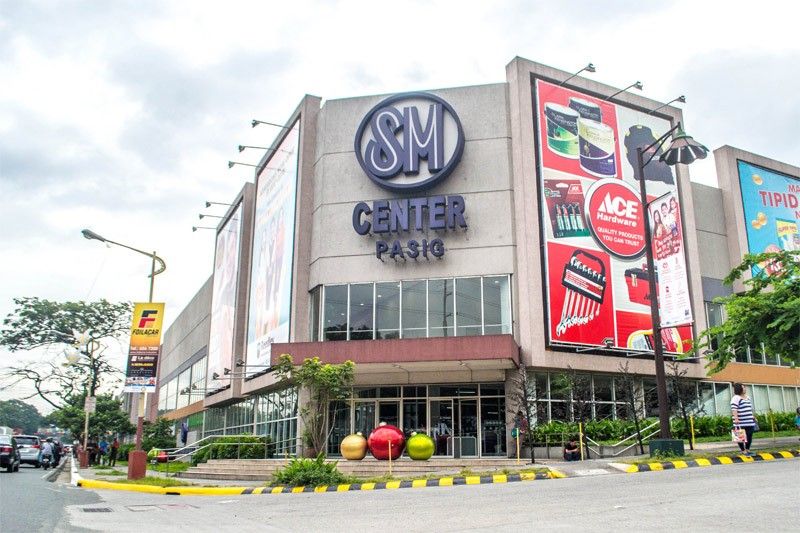 SM Center Pasig is a well-loved mall that houses a Hypermarket and several boutiques.
Released
Let's eat: A community of holiday feasts at SM Center Pasig
MANILA, Philippines—SM Center Pasig is a well-loved and much-appreciated community mall along the C5 corridor. With a floor area of around 29,000 square meters, it is home to a large, well-stocked SM Hypermarket and a diverse array of service boutiques, making it a one-stop shop that caters to a wide variety of Pasigeños' wants and needs.
With its assortment of restaurants and snack stores located within one convenient level, SM Center Pasig has built a reputation for itself as a community where people from all walks of life can have a delightful and fulfilling feast no matter the time and occasion.
Favor-eats
Tong Yang Shabu Shabu Express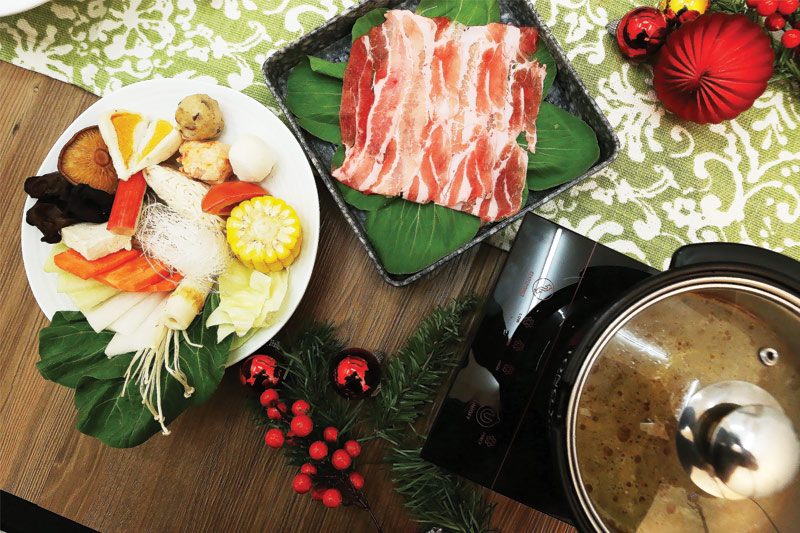 Satisfy your craving for Shabu-shabu at Tong Yang. Mix an assortment of greens, corn, udon, sotanghon, black fungus, enokitake, shitake, mushroom balls, lobster balls, fishballs, fish roe roll, chikuwa, crabsticks, and tofu in a hot satay broth brought to a boil right on your table.
Tel. no. 234-2789
New York Slice by Motorino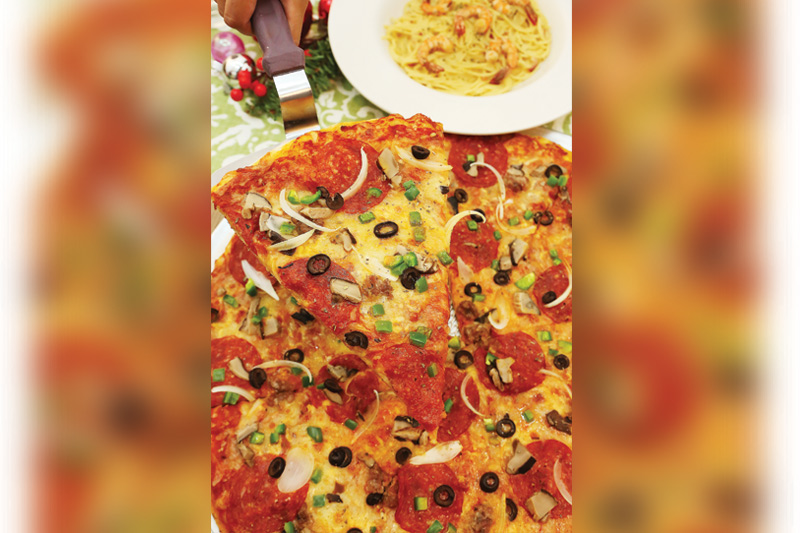 Savor a bite of the Big Apple at New York Slice by Motorino. Its Motorino Special is made with a large thin crust, pepperoni, Italian sausage, white onion, green peppers, black olives and mushrooms. Best eaten with a serving of milky sweet Alfredo with Shrimp.
Tel. no. 584-8708
Buffalo's Wings N' Things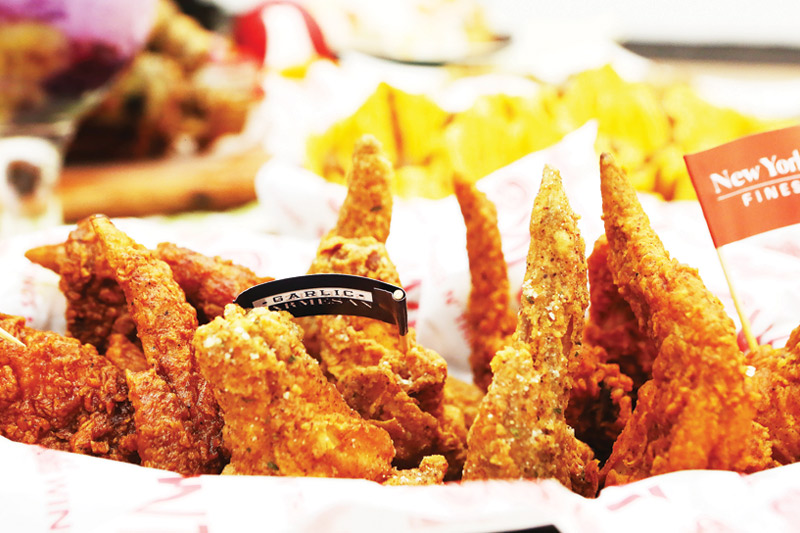 Grab a bite of good old American cooking at Buffalo's Wings N' Things, best known for its Triple Sampler Chicken Wings that comes in three flavors: New York's Finest, Garlic Parmesan, and Honey Barbecue. Pair it with a hefty serving of Chili and Cheese Nachos.
Tel. no. 570-8176
Banh Mi Kitchen
Nibble on the Vietnamese experience with Banh Mi Kitchen's selection of sandwich creations like the traditional The Classic, Wagyu Tapa and Vegetarian Satay. Complete the experience with Thai Milk Tea or its signature Damn Strong Coffee.
Mobile no. 0918-4803963
Hanako
Authentic Japanese cuisine need not be expensive. Hanako lets you have a delectable Japanese dining experience with dishes like the sweet and salty Torched Cheese and Salmon Sushi or the Salmon Teriyakidon, which is rice topped with sautéed salmon, teriyaki sauce and bean sprouts.
Tel. no. 584-8708
Asian Delights
Kanzhu Hand-pulled Noodles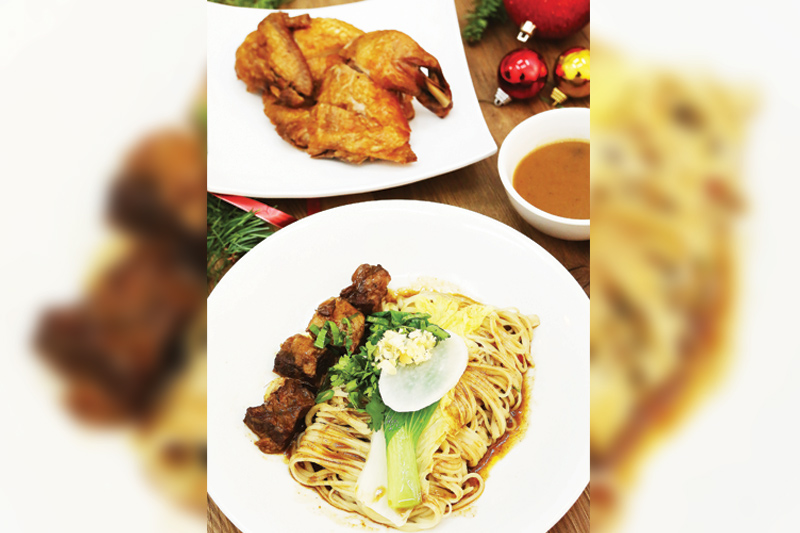 Firm and tasty dry noodles carefully pulled and cooked by skilled hands and topped with juicy and flavorful braised beef. Fresh whole chicken deep-fried to golden brown perfection and served with black pepper gravy. Only Kanzhu Hand-pulled Noodles serves this authentic Chinese dining experience.
Tel. no. 570-6069
Jin-Zai Takoyaki
Japanese takoyaki made just like in the streets of Osaka is what Jin-Zai offers. Have everything freshly made like the Big Tako Rice, Kaarage Rice Box, and Baby Takoyaki, then eat it on the spot or have it on the go. Pair it with their sweet Matcha Latte.
Classic Savory
Give your family gatherings and special occasions a truly homey feel with Classic Savory's selection of time-honored dishes like the thick and flavorful Classic Savory Lomi and the juicy, tender Savory Chicken.
Tel. no. 706-3164
Western-inspired
Auntie Anne's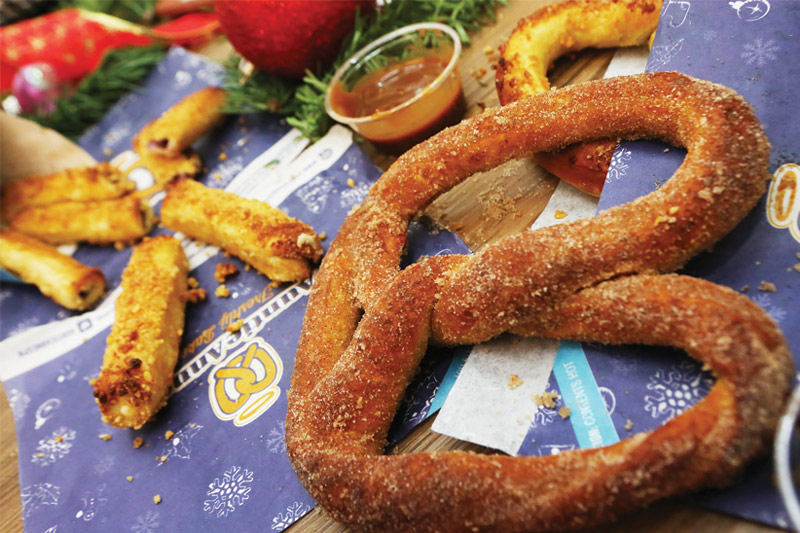 Give yourself a sweet gift this Christmas by indulging on your guilty pleasure for Auntie Anne's pretzels. Take home an Almond Pretzel or two, or a box of Blueberry Cream Cheese Sticks, along with the complete set of chocolate, caramel and cheese dips, and enjoy!
Mobile no. 0933-0586594
Kuya J Restaurant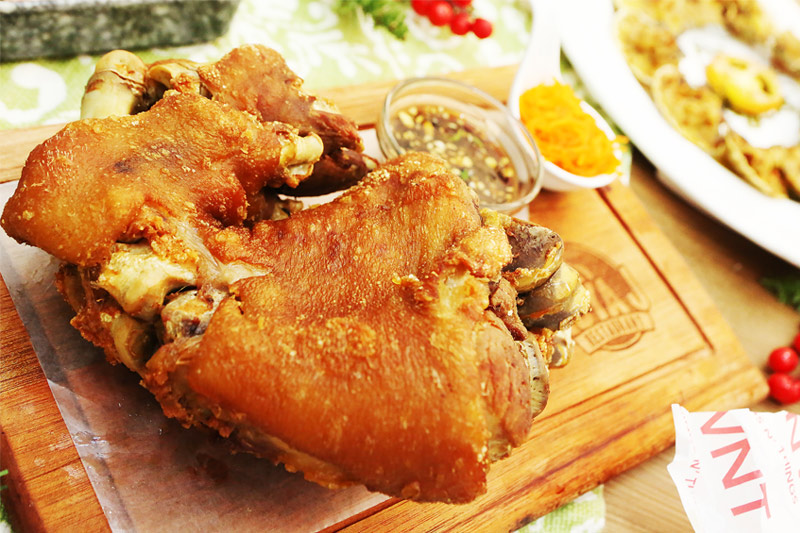 A hearty home-cooked Filipino meal just like your brother used to make — that's what Kuya J has been known for in every feast it serves, from the tender, golden brown Kuya J Crispy Pata and Roasted Chicken to the succulent Grilled Scallops and Bulalo.
Tel. no. 650-4438
The Burger Joint
With dishes that can fill more than enough space in your tummy — such as the meaty, juicy All-American Burger, the smoky-sweet Southwest Barbecue Burger, and the tender-to-the-bone Solo Ribs in hickory barbecue sauce — The Burger Joint captures the best of American dining.
Tel. no. 631-1299
Taste Asia
For people who have no time to cook, Taste Asia offers a great selection of freshly caught seafood like Salmon Steak, Salmon Belly, Red Snapper, Milkfish and Shrimp, which can be prepared and cooked at either Hap Chan Express, Reyes Barbecue or The Kitchen Table.
Tel. no. 635-2104
Krispy Kreme
Be merry and bright with Krispy Kreme! Celebrate this season with these special Holiday Doughnuts and the all-time favorite Original Glazed Doughnut.
Tel. no. 7-9000
Pazzo Rollio
Pazzo Rollio makes creative versions of Italian dishes. Its Wild Truffle Mushroom Pizza Roll is made from thin-crust dough topped with mushrooms, cheese and truffle oil and rolled with alfalfa sprouts and arugula leaves. Pair it with an ample serving of Fellini's Capellini pasta.
Tel. no. 570-7801