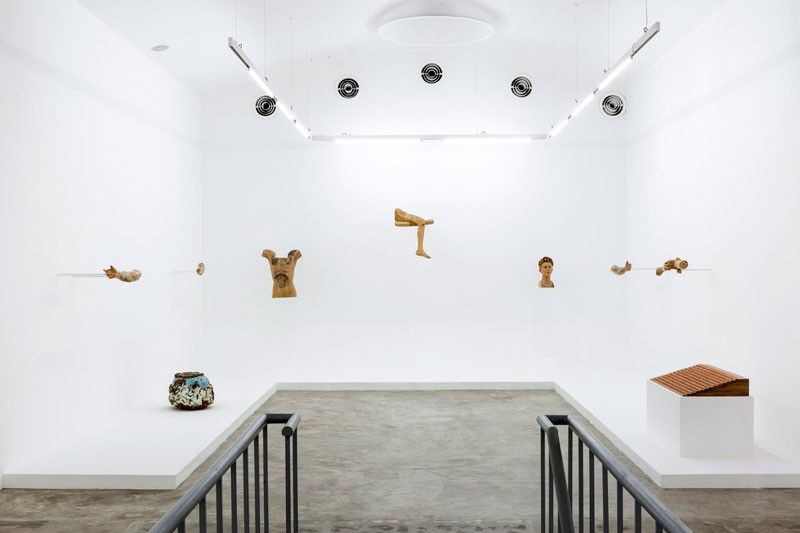 Installation view of "Incarnator" by Paul Pfeiffer at Bellas Artes Projects Outpost. Photo courtesy of At Maculangan and Bellas Artes Projects, Manila
Lost and found in translation: 'Incarnator' by Paul Pfeiffer
Paul Pfeiffer's latest exhibition, "Incarnator," currently on view at the Bellas Artes Projects Outpost in Makati is an amusing and chilling take on the production, translation, and repetition of pop culture in the 21st century.
"Incarnator" was born out of Pfeiffer's January residency at Bellas Artes Projects in Las Casas Filipinas de Acuzar in Bataan. Pfeiffer is an artist familiar with different mediums, including video, sculpture and photography, with a practice mostly involving the manipulation of mass media and a certain fascination with celebrity culture in examining collective consciousness.
Encarnador is a Spanish term used for the carvers of the santos we see often in churches and processions. The encarnador is specifically responsible for the final stage of santo production, where they paint the figure to give it a lifelike quality.
When we enter the space, we are confronted by various disembodied wooden body parts — a leg, a torso, and a finished bust of Justin Bieber. At first, it feels a bit eerie and reminiscent of a church's museum filled with figures of santos. But at the same time, there's something very familiar and odd about pop star Bieber's presence.
Alongside the wooden figures, Pfeiffer exhibits footage from his time in Bataan. In this video, we see children of woodcarving craftsmen interlaced with found footage of random people around the world singing a cover of Despacito by Luis Fonsi ft. Daddy Yankee, which later on, was re-released as a remix featuring (again) Bieber.
Pfeiffer likes to talk about "Incarnator" as an exploration of a foreboding power inherent in pop culture. As a pop icon, Justin Bieber seems to have control and influence over a wide range of people, even evangelizing young teens into joining Christianity. In his video, Pfeiffer takes notice of the Bieber-ish hairstyles of the children, and found footage reveals crazed, charismatic followers of Bieber's work. To me, however, Pfeiffer's work is interesting not just as an exploration of power, but as a discussion on repetition and translation. "Incarnator" is a translation that continues to be retranslated so that in the end, is distant from the original text.
In Pfeiffer's footage, he uses computer imaging to capture the form of the children, which he uses to make busts. The busts seem to be glitched and incomplete, possibly as a result of the technology's inability to fully capture the image of a human perfectly. In the same video, he shows people around the world covering the Spanish-pop song Despacito, mixed in with a plethora of other foreign accents. Despacito itself as a Spanish-pop hit was translated and re-released as a remix to include Justin Bieber. Translation is never perfect, and Pfeiffer makes this clear in his work — they're impure, unfinished, and fractions of a whole. The errors and imperfections in translations become essential to the work and the process.
In all the good ways, this exhibition reminded me of a quick Google Translate. In translation, often there are many aspects, words, cultural signifiers lost and unaccounted for. It is in these missing gaps that Pfeiffer's work sits and takes root.
* * *
"Incarnator" by Paul Pfeiffer is currently on display at Bellas Artes Projects Outpost, 2/F The Alley at Karrivin, 2316 Chino Roces Ave. until Oct. 6. For information, visit: http://www.bellasartesprojects.org/.