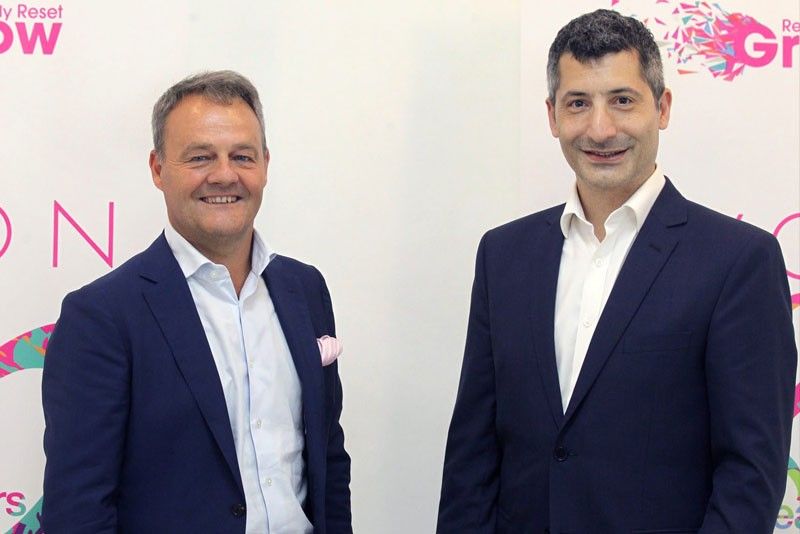 Avon CEO Jan Zijderveld and Avon Philippines general manager Razvan Diratian
Photo by Jun Mendoza
CEO Jan Zijderveld: 'We're building a new Avon'
'We want to drive ecommerce through the Avon lady. To have high-touch, high-tech — to turn Avon into a digital social selling company.'
Avon's celebrating its 40th year in the Philippines and my immediate thought was, has it really been only 40? It seems like it's been around longer in this country where everyone either knows an Avon lady or knows someone who's bought beauty products from one.
But, yes, that's four decades and hundreds of thousands of families whose lives have been changed by earning opportunities — whether it's to augment their incomes or to help them escape dire situations with financial freedom.
Avon CEO Jan Zijderveld — who took the helm in February this year — was in Manila recently to hear those stories and be part of "BeYOUtiful with Avon" event, which showcased new and existing products and to recruit new reps.
Avon sold its US business in 2015, restructured the company, moved its global headquarters to London (it kept its New York R&D department) and has since been going digital, a move that Zijderveld sees as crucial to realize his ambition of doubling Avon's $2.5 billion business to benefit its six million representatives worldwide.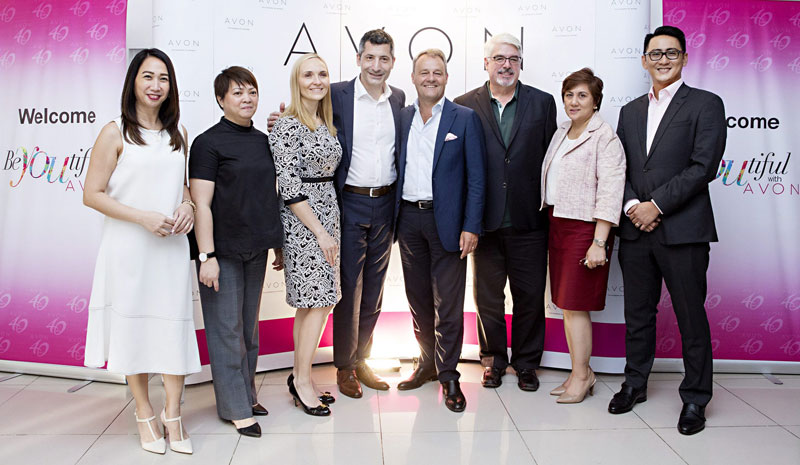 Avon's Faith Mondejar, director for communications, APAC and Philippines; Ruthie Ayalin, head of PMO; Agnieszka Isa, executive director for marketing, Philippines; Avon Philippines general manager
Razvan Diratian; Avon CEO Jan Zijderveld; Bill Rahn, GVP for APAC; Christine Eugenio, director for channel enablement; and Ronald I. Martinez, director for business integration, Philippines
"We're building a new Avon," Zijderveld says. "This is the new Avon — fast, entrepreneurial and dynamic. I think the company's a jewel that just needs to be polished again. It's a great brand globally, an iconic brand — in China 89 percent of the people there know Avon. Isn't that amazing?"
Zijderveld knows very well the business of building (or reinventing) brands. He's spent his entire career in consumer products, 30 years with Unilever where he headed the company's $14-billion European business and oversaw operations in 34 countries, including North Africa and the Middle East.
"Why I'm excited about Avon is the direct experience with the customers, we are much closer to our market. We have the biggest group of micro-entrepreneurs and if we invest in them to be ambassadors of our products, to tell our story, that's very powerful."
He adds that the company is investing heavily in technology, making the business more digital to make it convenient and faster for their customers.
"It's rebooting the representative experience," he says. "We want to turn Avon into a digital social selling company. Our reps can now send the brochure via SMS or Whatsapp, a customer just presses a product photo and the order goes back to the representative and it's done. We rolled this out to 26 countries in three months.
"Big brands cannot be trusted anymore, but you trust your Avon lady. If you have a problem with the product you go back to her. In a world where trust is less and less, you trust the people around you more and more. I really believe in that. What you see globally is that social selling is growing. The proposition for the representative is very strong from an earnings perspective and a trust perspective. The challenge is — how do we digitize that? We want to drive ecommerce through the Avon lady, that's what we're doing in Argentina, Brazil, the UK and increasingly here. To have high-touch, high-tech. Sometimes you visit, sometimes you do it over the phone."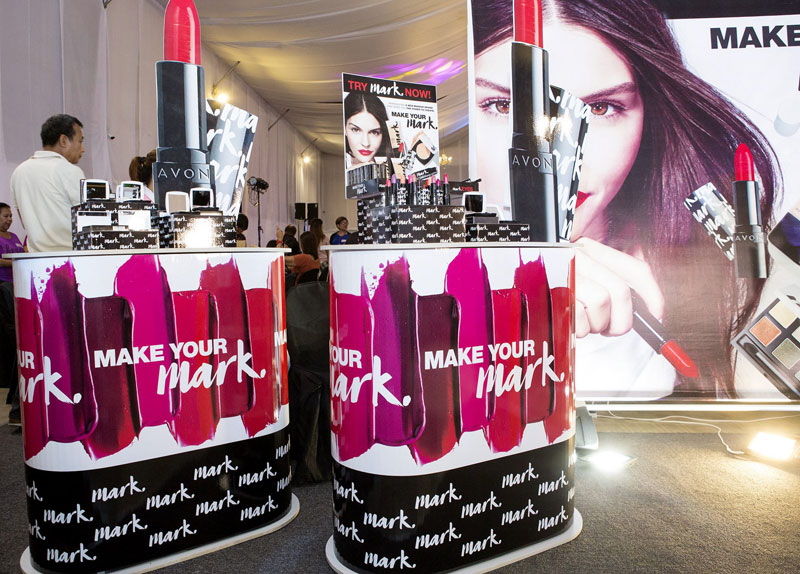 Avon products on showcase at the recent Avon Academy
Avon Philippines GM Razvan Diratian adds, "With the traffic situation in Metro Manila, going digital means our representatives don't waste their time, and they can sell to anyone not just in their area. At the same time, we never want to break communities, because these are what the Avon representatives have with their customers, they have made friends and created communities."
The Philippines has consistently been one of Avon's biggest markets and Zijderveld says, "We have a slightly unique model here with the Avon branches, which is very interesting. In our branches we teach people to sell not just the product customers came for but to sell products around it and serve customers better."
So it's no surprise that the No. 1 category is not cosmetics (No. 2), where it started from, but intimate apparel. GM Diratian says, "When I say No. 1, I mean the entire market not just direct selling. We're proud that we're creating trends. Last year, we had one big campaign, and we were selling 33 brassieres per minute."
Zijderveld says that going around the world visiting the Avon markets has shown him that Avon's not just about selling but about changing lives, whether it's the lives of women living between the Turkish and Syrian border drinking tea together and talking about beauty, or an ex-teacher in South Africa who's become a sales leader, or battered women in so many countries having the courage to leave their unhappiness because they now have the means to feed their children.
"I've had more people crying in meetings in the last six months than I've had in my whole career," Zijderveld says. "People come up to you and hug you and sit with you to tell their stories. I've had a mother and daughter team with the daughter wanting to do everything digitally and the mother wanting to do it with the catalogue, and I said, we can help you both.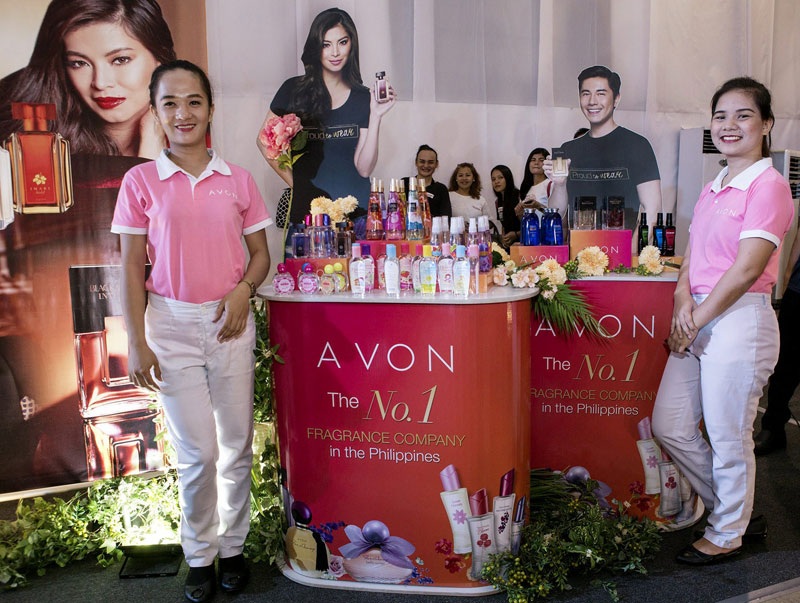 "We do our business through the representatives, always. Our aim is for them to be more successful, because then the business grows. A world without Avon would not be a great world."
* * *
To know more about Avon, log on to www.avon.ph.
Check out the author's travel blog at www.findingmyway.net. Follow her on Instagram and Twitter @iamtanyalara.