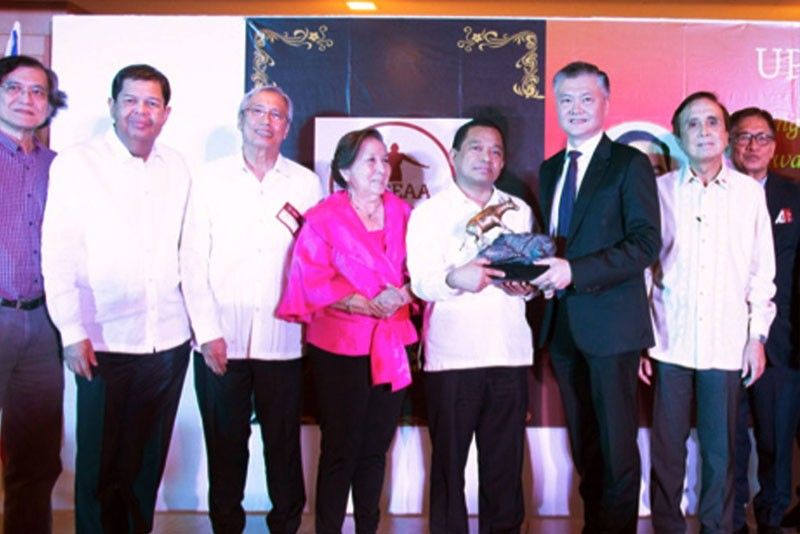 University of the Philippines School of Economics Alumni Association president Jeffrey Ng gives the Distinguished Service Award to National Economic and Development Authority deputy director general Rolando Tungpalan. Also in photo are Bangko Sentral ng Pilipinas Governor Nestor Espenilla Jr., Socio-economic Planning Sec. Ernesto Pernia, former NEDA secretaries Emmanuel Esguerra, Solita Monsod, Felipe Medalla, and Dante Canlas.
Unsung heroes of the Philippines' fast-growing economy
It is not true that most government leaders hide wealth with questionable SALNs, nor that most hanker for media publicity to advance their political ambitions. There are also many low-key and diligent leaders in government who heed the noble calling of genuine public service.
Let us not forget to honor and give thanks to these numerous unsung and often not highly compensated heroes of the Philippines' fast-growing economy, which has been one of ASEAN's most resilient and bullish.
Recently I was invited to a reunion dinner of the University of the Philippines School of Economics Alumni Association (UPSEAA) at the function hall of the Manila Golf Club in Makati City, where two outstanding unsung heroes were thankfully honored.
Economic managers of the past six decades
It was an unprecedented gathering of the country's top economists and the government's topnotch economic managers of the past six decades, from the Marcos era, like former prime minister and finance minister Cesar E. Virata, NEDA secretaries Emmanuel Esguerra, Solita Monsod, Felipe Medalla and Dante Canlas, all the way to the present Duterte-era cabinet officials: Budget Secretary Ben Diokno, Bangko Sentral Governor Nerstor Espenilla Jr., Trade Secretary Ramon Lopez, to NEDA Secretary Ernesto Pernia.
Businessman Jeffrey Ng, a cum laude economics graduate from UP Diliman, now heads the UPSEAA as its president.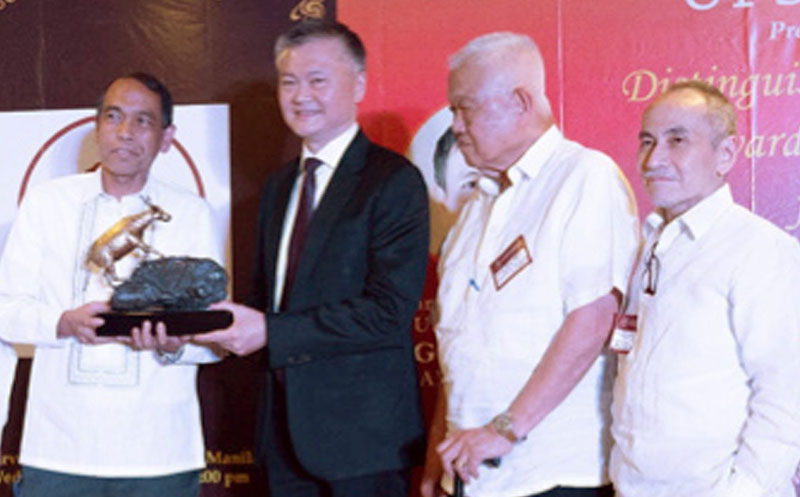 President Rodrigo Duterte graces the launch of the first Kapatid Mentor Me Program in Davao last October 2016. Also in photo are Trade Secretary Ramon Lopez and micro-entrepreneur Imelda Basilan.
Honored with the UPSEAA Distinguished Service Awards — recognizing their decades of outstanding professional and consistent efforts to support Philippine socio-economic development, regardless of the country's often topsy-turvy politics — were National Economic Development Authority (NEDA) deputy director general Rolando G. Tungpalan and Department of Finance (DOF) Undersecretary Gil S. Beltran.
It was heartening to hear former UP Economics classmates as well as NEDA and DOF colleagues recount touching, sometimes humorous anecdotes paying tribute to the personal sacrifices, the tireless and often unrecognized work done by these two technocrats, Tungpalan and Beltran. Their bosses through the decades were usually more famous, high-profile political appointees of various incumbent presidents.
Rolando Tungpalan and Gil Beltran personify the many rank-and-file professionals, technocrats and bureaucrats in government who are no less important heroes of the ongoing Philippine economic boom beyond the visionary, risk-taking tycoons and CEOs of giant corporations.
They are no less crucial as the headline-making political leaders and cabinet secretaries, or top bankers and financiers. These technocrats, plus their legions of good staff, factory workers, private office employees, rural farmers, fishermen, truck drivers, engineers, construction laborers, etc., all contribute to the Philippines' success as ASEAN's emerging "economic miracle."
Search for new philippine business heroes, icons & role models
PLDT Group senior vice president and enterprise business group head Jovy Hernandez and PLDT first vice president and SME Nation head Mitch Locsin said their firm is open to public nominations for businessmen and businesswomen for their annual MVP Bossing Awards, which recognizes businesspeople from big corporations to micro-, small- and medium-scale enterprises (MSMEs) for their different success stories.
Nominations can be sent via www.pldtenterprise.com/mvpbossingawards2018 and the deadline is on Aug. 31.
* * *
Thanks for your feedback! Follow @wilsonleeflores on Instagram, Twitter, and Facebook. Read Pilipino STAR Ngayon every Friday for my column "Kuwentong Panadero" on inspiring stories.