In this digital age, it's not just about the Michelin or hotel star ratings anymore, but about how Filipinos can immortalize their experiences by sharing it to the people who matter, and even to the rest of the world.
How technology seamlessly upgrades hotel and restaurant businesses
(philstar.com) - June 1, 2018 - 1:33pm
MANILA, Philippines — Exploring destinations around the country, trying out new food concepts, attending international musical productions, and even following the latest in tech and fashion — Filipinos have indeed become empowered in their life goals.
For hotel and restaurant businesses, this means the need to provide Filipinos with better, if not best, services and offerings. And in this digital age, it's not just about the Michelin or hotel star ratings anymore.
One can taste excellent dishes and sleep on plush beds only to be disappointed with bad internet connection. It's about how Filipinos can immortalize their experiences by sharing it to the people who matter, and even to the rest of the world.
It's time for hotel and restaurant owners to maximize technology to upgrade their businesses in seamless ways.
Globe myBusiness is a key enabler and partner for digital transformations. From the moment a customer searches for a hotel or restaurant, to the time he checks in, stays and eats, up until his payout and feedback, and even on his return, Globe myBusiness has a service for every step of the way.
Stronger online presence
Who will know about your hip hostel or must-try coffee if it isn't discoverable in the internet? Globe myBusiness can help your business be known with credible and strong online presence.
Start with myWebsite, which allows you to build a website in just a few clicks, even without coding skills. Optimized for any device, myWebsite offers secure payment options such as credit card, online banking and cash on delivery, should you choose to offer your service online through your newly created website!
For Micro, Small, & Medium Enterprises (MSMEs), use DigiAds to reach and acquire potential customers online. In partnership with AdSpark, a subsidiary of Globe, it offers advertising opportunities on Facebook, Instagram and Google Search through a monthly subscription.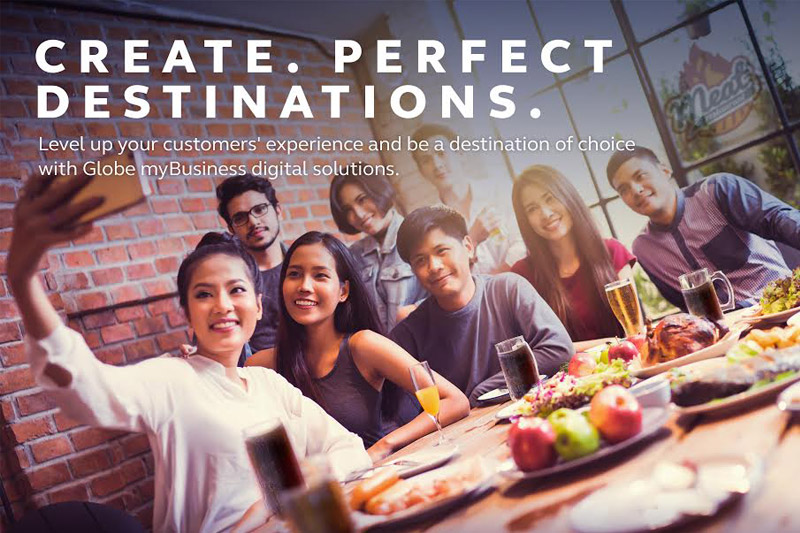 Improved business operations
Improve your business operations to enable customers to check-in to their desired accommodation, or order their desired food or products more conveniently.
Start by digitizing your paper forms with GoCanvas. This is best used for gathering data for check-ins. For collecting data sales faster and more accurately, use Cloud POS. This cloud-based solution backs all data real-time on the internet so you don't have to worry about system crashes. It is also cheaper and easier to maintain.
By using Cloud POS, you can also focus on more important things such as knowing the best-selling item on the menu, or the best performing stores. You can even access your data on mobile anytime, anywhere.
Globe myBusiness can also solve a common business problem, long lines. With queuing solution Queen, you can finally better manage your hotel and restaurant traffic and save your customers' time.
Fast and reliable internet connectivity
A strong and stable internet connection can keep customers coming back to your business.
Avail of Globe myBusiness Broadband + Basic Managed WiFi and have your diners rave about your best selling dishes online. With an extended coverage area, the plan can connect up to 100 guests without the internet slowing down.
You can also manage your bandwidth, and control the speed and browsing time for each guest, or generate PINs or limit access to paying customers only. Be in control of your connections and make the most out of your plan.
Suited for hotels is Direct Internet via Radio, which treats up to 600 guests with fast and uninterrupted internet connection. Direct Internet via Radio is available in most areas in the Philippines including key remote tourist destinations. It has a dedicated connection that has 99.6 percent service availability and priority service handling.
Convenient payment, check out and feedback
To complete a seamless experience, enable customers to conveniently pay for their accommodation or food orders. For this, you can make use of GCash, the most innovative mobile money platform in the country to date.
Using GCash scan to pay method is like a walk in the park. A customer with a smartphone only needs to either download or update to the latest version of the GCash App, create an account and fund the GCash wallet through cash-in centers located across the country. Once done, the customer just has to tap on Scan QR and point the phone's camera at your restaurant's QR code to pay.
And don't be afraid to ask your customers for feedback when they check out using GoCanvas. Get insights on satisfaction, and how to improve your food and services to create a much better experience when they return.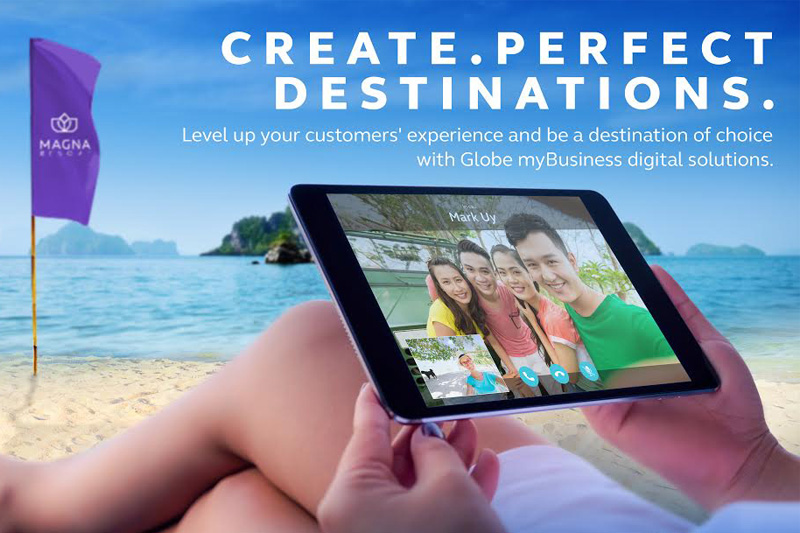 Earn customer loyalty
Finally, earn returning and loyal customers with Globe myBusiness solutions especially designed for restaurants and hotels such as Restograph, Amber, TxtConnect and RUSH.
Restograph analyzes sales, sets monthly and daily sales targets, optimizes menu items, and even tracks what your customers are saying. It takes advantage of existing POS machine to deliver insights that will help boost sales find out which dishes can keep customers coming back.
Have a special promo for your loyal customers? Why not send them an text message all at once? Do so with Amber or TxtConnect. Amber allows you to send a text message to thousands of recipients all at the same time either via mobile phone or through your computer. The service also allows you to customize your sender ID to add security and credibility to your message. You can also allow customers to send you feedback via text through the dedicated access code that comes with your Amber subscription. TxtConnect on the other hand offers a more cost-effective option when sending out messages if you have a larger base of recipients.
Finally, RUSH is a customizable digital platform for businesses that lets them easily build, track and manage their own customer loyalty program. Say goodbye to printed coupons and rewards cards, as RUSH allows businesses to conveniently develop and deploy a custom-branded mobile app in as fast as three days.
With Globe myBusiness, level up your customers' experience and be a destination of choice. Visit https://mybusiness.globe.com.ph.