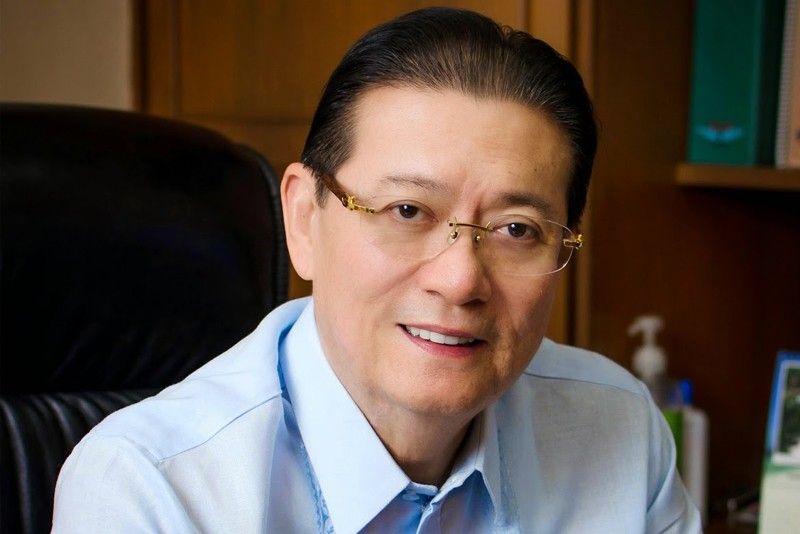 Boracay Foundation chairman Henry Chusuey, CEO of the Henann Group of Resorts
Shut down Boracay violators, not the whole island
Boracay Foundation chairman Henry Chusuey told The Philippine STAR in an exclusive interview: "Our 150 business members support President Duterte in his noble objectives of cleaning and protecting Boracay. We appeal and suggest that the government close down the violators but not close down the whole island. We have 20,000 direct employees and 10,000 others of small, micro enterprises who all depend on the island's tourism industry, which last year generated P54 billion in revenues, according to the Department of Tourism."
What about the proposed casinos? Chusuey said, "In my personal opinion, a small and beautiful place like Boracay has no need for even one casino. Usually it is barren areas like the deserts of Las Vegas that need casinos. I'm worried about the negative effects of gambling on our local people, too. It is therefore good news to hear President Duterte saying he's against new casinos in Boracay, and thank you to the leaders of Pagcor for following his directives."
The Philippines: Friend to all, foe to none
At the April 8 to 11 "Boao Forum for Asia" hosted by the seaside town Boao in Hainan province, southern China, the Philippines had a prominent presence thanks to President Duterte's being invited as a guest speaker and former President Gloria Macapagal Arroyo elected into this forum's prestigious board of directors.
First, congratulations to our leaders for upholding the Philippine constitution's provision on independent foreign policy; now the country is a friend to all the world's big powers like the USA, China, Russia and Japan, and threat to no one. Among many political and business leaders in the Boao Forum were the heads of the UN, IMF, Singapore, etc.
Duterte's boosting our economic, strategic, diplomatic, tourism and other ties with China augurs well for sustaining our fast economic growth, our many new infrastructure projects and our chances of matching — if not soon surpassing — our ASEAN and Asian neighbors' successes in attracting affluent China tourists and investors. Last year, Thailand alone had 10 million Chinese tourists, while Japan welcomed 7.35 million who spent a record 1.69 trillion yen.
Duterte's official April 12 apology for the botched Luneta hostage crisis of 2010 that killed Hong Kong tourists was an act of statesmanship that further elevates the Philippines' global stature and will hopefully bring us more Hong Kong and Macau investors and tourists.
GMA elected to BOAO Forum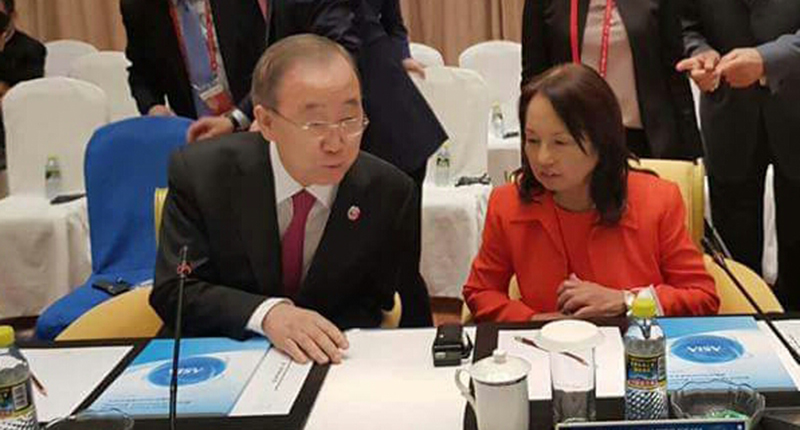 Former President Gloria
Macapagal

Arroyo and former UN chief Ban Ki-moon are elected to the

Boao

Forum board.
Congratulations to my former Ateneo de Manila University economics professor, ex-President Gloria Macapagal Arroyo, for helping burnish the international image of the Philippines by being elected to the board of directors of the Boao Forum for Asia (BFA). Joining her on the board is former United Nations Secretary General Ban Ki-moon, who was also elected chairman to replace former Japanese Prime Minister Yasuo Fukuda.
The Boao Forum was co-founded in 2001 by former Philippine President Fidel V. Ramos, former Australia Prime Minister Bob Hawke and former Japan Prime Minister Morihiro Hosokawa. It is Asia's equivalent of the Davos Forum in the West.
Right after the forum China's biggest news agency Xinhua interviewed me for my analysis of the event. Let me share two of their interesting questions and my answers:
XINHUA: Chinese President Xi Jinping announced more policies and measures on opening and reforming China at the Boao forum for Asia this week, like lowering tariffs on imported cars, liberalizing financial institutions, and expanding imports. Do you think China's determination to move to more openness and reform is sincere? What's the significance to Asia and the world if there is a more open China?
I believe President Xi Jinping and the Chinese government are sincere in their announcements of China's plan to lower tariffs on imports, liberalizing financial industry and expanding imports, not as a reaction to US President Donald Trump's controversial protectionist or higher tariffs plans, but because these reforms are already part of China's ongoing, strategic and long-term blueprint to transform its economy and society.
From the past of mainly export-driven cheap labor, investment-driven fast economic growth success model, President Xi Jinping is courageously guiding the world's already second biggest economy of China to shift towards aiming for better quality of life, higher technology, more innovation, less pollution, less social costs, more stable and sustainable growth. Opening up is part of this historic shift.
The success of China's "economic miracle" was built on vigorous, competitive international trade based on a win-win attitude and not via protectionism or anti-trade policies. The Chinese economy became globally competitive because of innovations and interacting with others, not by closing itself to the world.
Chinese President Xi Jinping defended multilateral trade and globalization again recently. Do you think China's statement can be a force to counter sentiments of trade protectionism and unilateralism? How do you see that China is trying to be a responsible major power to build a fairer and more peaceful world order?
The Boao Forum speech of President Xi Jinping reaffirming China's commitment to multilateral trade and globalization has been a great relief for all worldwide, especially businesspeople worried about Trump's recent ominous, negative trade war proposals. Look at the optimistic and very positive reactions of stock markets in the US, Asia, Europe and other regions to Xi's important and enlightened speech.
As the newly re-elected strong leader of the world's largest trading power, the fast-growing world's second biggest economy and now the No. 1 largest market China, President Xi's calming and non-belligerent speech is a very important anchor of stability and optimism for the global economy.
I see modernizing China as becoming a positive, stabilizing and hopefully more proactive force in global issues — whether in trade, terrorism or climate change — because China's long-term prosperity has become so interdependent already with to global peace, stability and progress.
Businesspeople and investors worldwide fear any trade war because it is bad for all countries and negative for world economic growth. Let us remind politicians in America that their last trade war was in the 1930s, and it worsened the Great Depression, according to top economists and trade analysts. It began after US President Herbert Hoover mistakenly signed the Smoot Hawley Tariff Act into law in 1930, which raised tariffs on more than 20,000 products.
The Fraser Institute of Canada said, "The mistake was the horror story of the United States' anti-trade Smoot-Hawley Act of 1930, sponsored by Senator Reed Smoot and Congressman Willis Hawley. It raised US tariffs to their highest level since 1828 and sparked a devastating trade war. Today, the populist left and right — Donald Trump, Canada's Leap Manifesto, Labour in Britain, Marine Le Pen in France, among many others — make shrill demands that could shut down world trade. Even Hillary Clinton, once a fan of free trade, seems to have jumped sides."
On the US anti-trade tariffs of 1930, the Fraser Institute said, "The stupidity was obvious. A petition signed by 1,028 economists demanded a veto by President Herbert Hoover… Most economists believe the result was disastrous. World trade fell by 66 percent from 1929 to 1934; US exports and imports to and from Europe each also fell by about two-thirds. The causes were varied but one influential study, though it examines trade only through to 1932, estimates that the Smoot-Hawley-inspired trade war caused half the decline. Benefits? The Depression worsened conditions for farmers and workers, the supposed beneficiaries. Smoot and Hawley were defeated in their re-election bids."
* * *
Thanks for your feedback! Email willsoonflourish@gmail.com or wilsonleeflores@yahoo.com. Follow @wilsonleeflores on Instagram, Twitter, Facebook, read my blog wilsonleeflores.com.