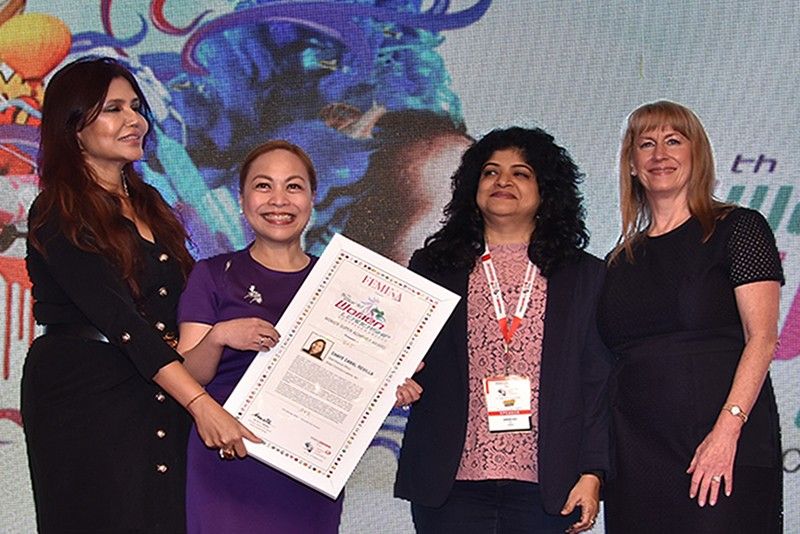 PLDT SVP Chaye Cabal-Revilla (second from left) receives the Woman Super-Achiever award at the World Women Leadership Congress in Mumbai, India.
PLDT SVP named one of the world's 'Women Super-Achievers'
MANILA, Philippines — It starts with you. It's about knowing your purpose," says PLDT senior vice president June Cheryl Cabal-Revilla. "If you don't know yourself, how can you reach your goals?"
Chaye was the only speaker from the Philippines at the 5th World Women Leadership Congress and Awards, where she was recognized as a "Role Player," together with other leaders from Asia, the US and Europe. Held in Mumbai, India, the WWLC recognizes "the strategic and influential role various women leaders play in the development of the modern economy, technological breakthroughs and innovations, and nation-building."
Chaye was recognized as one of this year's Women Super-Achievers. "The citation mentioned my work," she shares. "My speech was all about women empowerment. I also spoke about Gabay Guro."
Gabay Guro, which Chaye chairs, started as a small program giving out scholarship grants to would-be teachers. "We were a group of friends at PLDT who wanted to share our blessings. We did not really think of what we wanted to do. It was more reactive to what the teachers needed, to help out in whatever gaps they had," Chaye relates.
"So we developed training programs, retooled and helped improve educational facilities, including the computerization of public schools. We also provided livelihood programs to help them supplement their income and also help their families."
Started in 2007, the program was formally adopted by the PLDT-Smart Foundation and the PLDT Managers Club. Almost 2,000 are given scholarships each year, all over the country. About 800 have already graduated. The only condition is for them to stay in the country after graduation and teach, whether in a private or public school. Notably, there are more women than men among the scholars.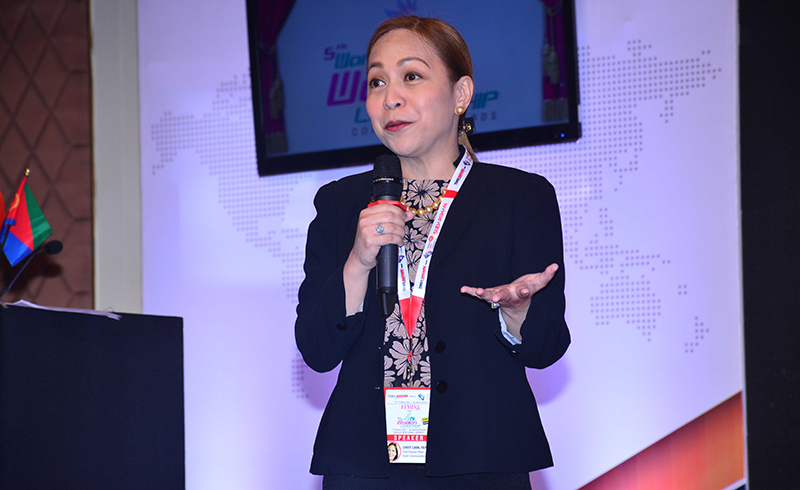 The only speaker from the Philippines,
Cabal-Revilla

shares her holistic view on becoming an empowered woman at the congress.
"It's a nurturing profession," Chaye remarks. "You need a lot of patience."
"Education is key for national development, and for you to have a good education, you have to have good teachers," Chaye says. "We focus on education because it is a great equalizer. It gives you a better chance at improving your life."
For her leadership role in Gabay Guro, Chaye was recognized as one of the nine TOYM (The Outstanding Young Men) awardees in 2013.
"We are blessed to bless others," she says.
Chaye is the controller and Financial Reporting and Controllership head of PLDT, as well as chief finance officer of PLDT wireless subsidiary Smart Communications.
"It's more challenging for a woman to be in a telco job because it's a man's turf," she says.
"I had to learn the network technology to be respected in the company. Part of our work in finance is to really get involved in operations, because at the end of the day, the financials tell the story, and you don't get the story if you get involved only at the end. Everything is interconnected."
She says they're not just a support group. "Our mantra right now is to be value creators for the company. I'm pushing everyone to get out of their comfort zone. The way I deal with the people I work with is, I treat them like family. Nakikialam ako sa buhay nila." Yes, even in their personal life
Chaye brings this "take charge" attitude home. "I personally fix the outfit of my husband," she admits. "If he looks like a lollipop, it means I was not able to attend to his attire on that day," she laughs. Seriously, "If he is doing something that is not right, I tell him so."
Chaye is married to Cavite Congressman Strike Revilla of the prominent political and showbiz Revilla clan. They met during one of Chaye's sorties in the provinces to promote the Gabay Guro program among the LGUs. Strike was the mayor of Bacoor at that time. They were married in 2011.
"People ask me how I manage my time, being married to a politician, having kids (she has two: Robert, 20, and Chayeli, just over a year-and-a-half old ) and work. I don't get the credit for myself. I really think it's God's grace. I was brought here for a reason. I always talk about reason and purpose. If I have a purpose, then God will help me fulfill that purpose."
Chaye was just 18 when she graduated from De La Salle University with a degree in BS Accountancy. She earned her master's degree in Business Management from the Asian Institute of Management. After working briefly with the auditing firm SGV, she joined PLDT in 2000 where she is now its top finance executive.
"There is no choice between career and home life," she says. "How can I consider myself a success at work when I am a failure at home? You have to be whole, because you are one and the same person, whether you are at home or at work. You have to be consistent. "