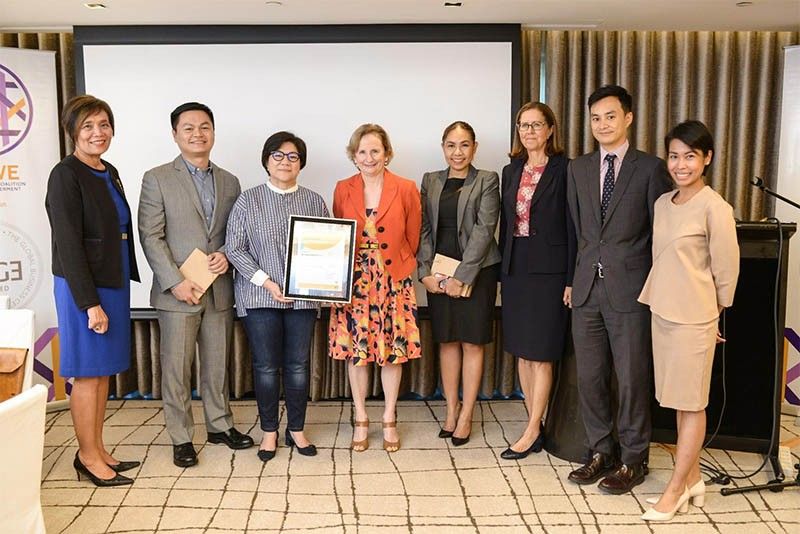 As the world celebrates International Women's Day and Women's Month this March, Convergys Philippines is recognized as the first BPO company in the world to achieve EDGE certification.
Convergys Philippines recognized for gender equality this Women's Month
(Philstar.com) - March 22, 2018 - 3:25pm
MANILA, Philippines — Over the past months, women empowerment and women's issues were brought to the forefront, gaining global attention. Among the issues was on the treatment of women in the workplace in various industries.
Workplace gender equality is something that the Economic Dividends for Gender Equality, or EDGE, helps companies to achieve.
EDGE is a third-party evaluation system designed to create an optimal workplace for women and men. It currently operates in over 170 organizations in over 48 countries. Widely regarded as the global standard, it ensures that certified organizations keep a structured, systematic approach for measuring, tracking and narrowing the workplace gender gap.
Organizations that pursue EDGE certification undergo a rigorous process for a number of months, including an external audit.
As the world celebrates International Women's Day and Women's Month this March, top employer Convergys Philippines received recognition as the first business process outsourcing company in the world to achieve EDGE certification.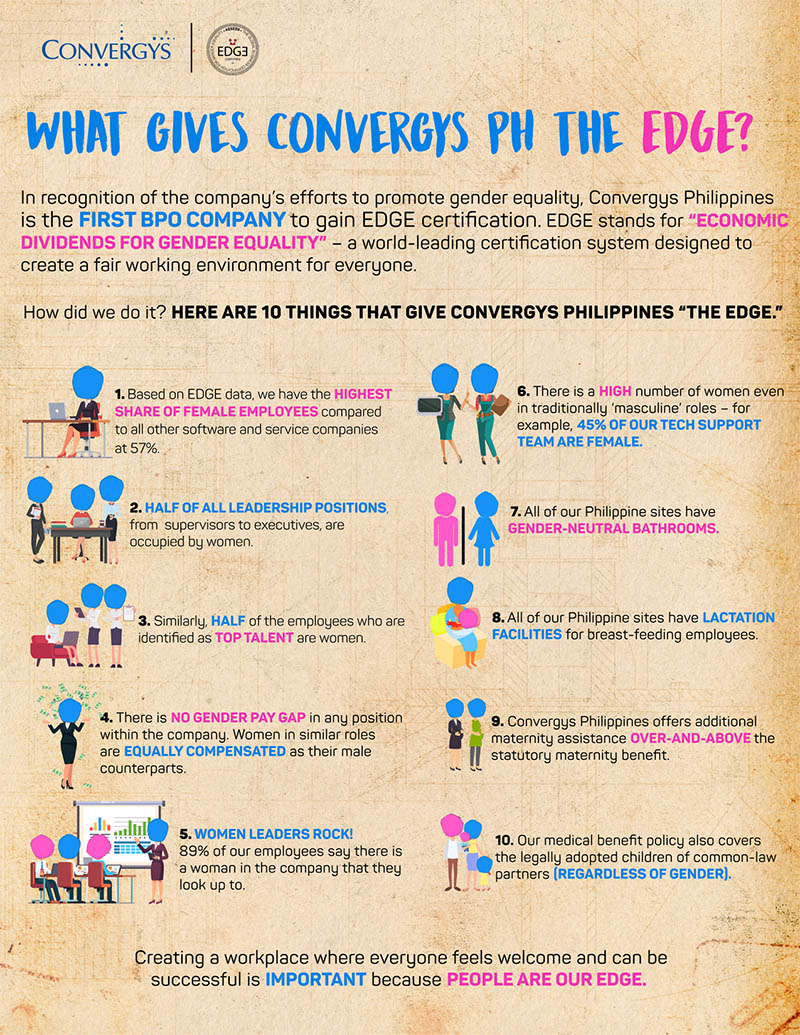 The award was bestowed on the first anniversary of the Philippine Business Coalition for Women Empowerment of which Convergys Philippines is a founding member. The company was lauded for its recruiting policies and practices, and for promoting an inclusive workplace where half of the leadership positions are occupied by women.
The PBCWE is an alliance of companies that seek to promote and drive gender equality in the country, beginning in the workplace, and eventually, in other areas of society. It is the coalition's belief that antiquated notions like wage gap, discrimination, and lack of opportunities for women are things better left to the past.
"This certification for our Philippines team is just the starting point," said Ivic Mueco, Convergys' president for Asia-Pacific.
Receiving the award on behalf of the company, Mueco added: "We hope this encourages other organizations to make gender equality a focus. Fostering an environment that welcomes and celebrates diversity not only helps in achieving gender equality, but also creates a great workplace for all employees. When people feel accepted, they can more ably contribute their skills and talents.
"As leaders, it is our responsibility to ensure that this is an experience we provide each day and — in areas where this is not the norm — that we do not tolerate it and immediately mobilize to correct the situation. It is through a combination of our sincere commitment and decisive action that we can credibly deliver on our promise to our teams: that they all matter and that each one of them plays a role in shaping the future of our organization."
READ MORE: