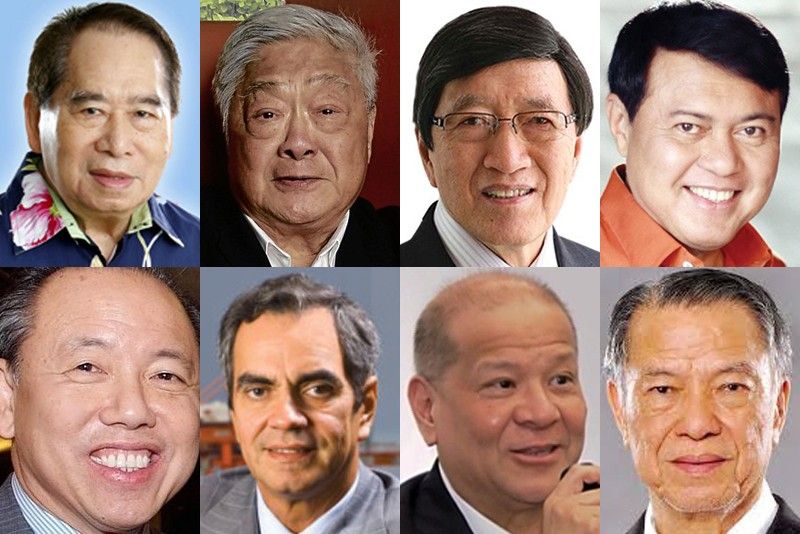 Clockwise from upper left: Henry Sy, Sr., the SM Group & BDO founder is immigrant from Fujian, John Gokongwei, Jr., George S. K. Ty, Manny B. Villar, Lucio Tan, Ramon Ang of San Miguel, Ricky Razon of ICTSI, Solaire, Robert Coyiuto, Jr.
Most of Philippines' 12 wealthiest endured hardships, 7 are self-made
It was Gokongwei who said that it is not enough to become rich, it is also important to build up your own brands and to ensure a smooth succession.
With Fortune magazine no longer publishing its own list of the world's wealthiest people, which once included even political leaders such as the Sultan of Brunei Hassanal Bolkiah and British Queen Elizabeth II, there are now two international entities which are most popular in still keeping track of the world's billionaires: Bloomberg News and Forbes magazine.
Zobels, Gotianuns, Aboitizes, Yuchengcos & MVP missing in list
My question is, how can a "Philippines' wealthiest" ever be complete without including the Zobel family of Ayala Group/Globe Telecom/BPI led by Jaime Augusto Zobel de Ayala, the Gotianun family of Filinvest/East West Bank led by Mercedes Tan-Gotianun and Josephine Gotianun-Yap, the Aboitiz family, the Yuchengco family of RCBC/Malayan Insurance led by Helen Yuchengco Dee and Yvonne Yuchengco, and Manny V. Pangilinan of PLDT/Smart/Meralco? Philex Mining, etc.?
7 self-made billionaires who created their fortunes
Of the 12 richest on the Forbes list, these seven are self-made tycoons: Henry Sy — whose dad was a sari-sari store entrepreneur in Quiapo, Manila but whose two shops were both ruined by the chaos of World War II — started SM Group with his ShoeMart shop.
1. Henry Sy is one of the most humble, soft-spoken and visionary tycoons I've ever encountered and talked to. He told me that he always wanted to be No. 1 in any endeavor. Sy is a talented business leader whom I admire not only for his wealth and strategic decisions, but also for his marriage with his good wife in Felicidad Tan Sy and how as a father he reared good children, such as Teresita "Tessie" Sy Coson, Hans, Henry Jr. and others.
2. John Gokongwei, Jr., whose dad died when he was only 13 and the family became bankrupt, excelled as a trader and grew rich as an industrialist. Gokongwei is probably the smartest, most well-read billionaire I have ever met in the Philippines. He has a most strategic mind. All his children with wife Elizabeth Yu-Gokongwei are obedient, hardworking, humble and down-to-earth. It was Gokongwei who told me that it is not enough to become rich, it is also important to build up your own brands and to ensure smooth succession, too. In fact, he kept saying that marrying a good spouse — not a rich one but one with good character and moral values — is one of the most important life decisions any entrepreneur or professional can make.
3. Lucio Tan is a health buff who doesn't smoke cigarettes but he became the "Tobacco King" of the Philippines with Fortune Tobacco because he started out as high school working student at the defunct Bataan Cigar & Cigarette Factory.
I believe the extremely asset-rich and astute Lucio Tan is still a contender for the Philippines' No. 1 rank, especially in recent years with his publicly listing more of his businesses, thus making it easier for analysts to verify the financials of his companies.
4. Tony Tan Caktiong started out by franchising Magnolia ice cream parlor, where he and his wife Grace Ang sold burgers. In its earliest annual list of the country's richest, the American researchers of Forbes kept listing Tony Tan Caktiong as No. 1 wealthiest, but I kept telling them when the editors met me that Tony is highly respected and admirable, but he never was No. 1 richest in all those years compared to Henry Sy, Lucio Tan, Gokongwei or the Zobels.
5. Manuel Villar was a poor boy from Tondo, Manila who studied business at University of the Philippines and excelled in real estate with wife Cynthia Aguilar Villar.
6. Andrew Tan came from a humble immigrant family and excelled in school. He once worked for Federation of Filipino Chinese Chambers of Commerce & Industry, Inc. (FFCCCII) president and Associated Bank boss, the late industrialist Leonardo Ty. He later ventured into real estate with Megaworld and into liquor manufacturing. Andrew Tan is ably and loyally supported by his wife Katherine Lim Tan, who's from a business family in northern Luzon.
7. Ramon S. Ang has finally been added to the Forbes list last year, a must inclusion that I have been writing about in this column for years. He is a remarkable self-made industrialist and a legendary corporate wheeler-dealer. Ang has almost singlehandedly transformed the once beer-dependent San Miguel Corp. (SMC) into a bigger and breathtakingly diversified conglomerate. He has silenced his critics and rivals with his mega deals and the success of SMC.
Scions who endured hardships
In the top 12 of Forbes, most scions of rich business families endured hardships to reach the very top:
• Enrique "Ricky" Razon, Jr. is son of a successful port operator, yet remains driven and very entrepreneurial despite his wealth.
• George S.K. Ty is scion of the late industrialist Norberto Ty, but he told me he had to "endure many sufferings" during his struggle to build up his business and his once small bank called Metrobank. Despite being son of a tycoon, he endured hardships in his youth, which made him one of the most driven, disciplined billionaires in the Philippines. The Emperor of Japan recently conferred on him "The Order of the Rising Sun, Sold and Silver Star."
At a lunch with Ty and his various business unit heads, I congratulated him for building up his Philippine AXA Life to No. 2 largest in the country in just a short period of time, but Ty wasn't satisfied. He said he still wants his life insurance firm to excel more. He and wife Mary raised good, obedient, diligent kids such as Arthur and Alfred.
• Robert Coyiuto Jr. controls Prudential Guarantee & Assurance, Inc., PGA Cars and owns a sizable chunk of the privately held National Grid. Although wealthy since his youth, Robert has endured hardships as the eldest son of top insurance industry businessman Robert Coyiuto Sr., who was once ousted by his own kin as boss of the Pioneer Insurance Group, so it was Robert Jr. who ably and loyally assisted his late dad to start anew with their own firm Prudential Guarantee.
• Eduardo "Danding" Cojuangco Jr. and Roberto Ongpin are billionaires who remind me so much of the late Enrique Zobel, they're all scions of what people might classify as "old rich" clans whose wealth could be traced back to the era of even the Spanish colonizers. However, the three of them had tougher backgrounds in their youth, growing up facing various crises, learning to survive and to fight their way up the ladder of success.
Danding Cojuangco's dad died early, so he had to do his own business and political deals to rise socially, politically and in business. Some people consider Danding an ally of the late President Ferdinand E. Marcos, but I heard that Marcos actually looked at him like a son, too. Apart from his own initiatives in making his wealth the biggest in the Cojuangco clan, Danding also made a fateful and very wise choice of entrusting a lot of his companies to his son Mark's friend, the astute mechanical engineering graduate and business whiz Ramon S. Ang.
After the 1986 military-backed civilian uprising at Edsa when various allies, kin and employees betrayed or abandoned Danding, I heard that Ang exemplified "shinyong" or trustworthiness and remained loyal. The successful, admirable Danding/Ramon Ang partnership seemed to me like a very inspiring and unique father-and-son tandem.
• By the time Roberto Ongpin was a student, their Chinese mestizo family was no longer very rich, but still highly cultured and educated, so he had to use his wits and academic excellence to become boss at the SGV Group, a top technocrat of the late President Ferdinand E. Marcos and to do business on his own. Apart from admiring Marcos, Ongpin told me he also greatly admires Malaysia's wealthiest taipan and founder of the world-class Shangri-La hotel chain Robert Kuok Hock Nien.
Bloomberg Billionaires Index is like an olympics chart of money, updated daily
The "Bloomberg Billionaires Index" is unique and seemingly more scientific in its daily assessments and ranking of the world's wealthiest people. It provides details on calculations in the net worth analysis on each billionaire's profile page. The figures they publish 24 hours daily are updated at the close of every trading day in New York City.
When will the day come when they will base calculations on closing stock prices in Shanghai, Hong Kong or Singapore?
Why are we — our entrepreneurs, professionals and tycoons — not yet in the ultimate Olympics of business and money? That's a very good wake up call and also constant reminder for us to work harder!
* * *
Thanks for your feedback! Email willsoonflourish@gmail.com. or wilsonleeflores@yahoo.com. Follow @wilsonleeflores on Instagram, Twitter, Facebook, read my blog wilsonleeflores.com.