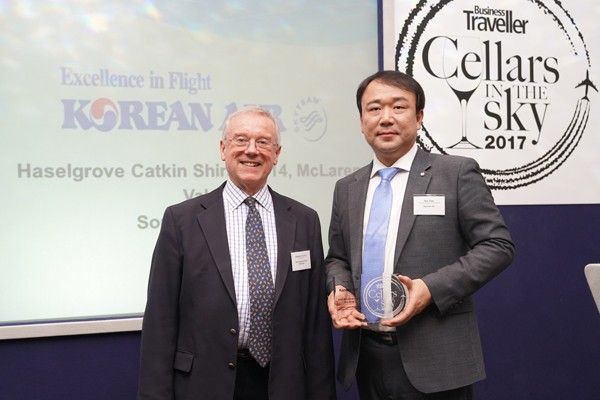 Jong Rae Kim (right), general manager of London regional office, and Charles Metcalfe, co-chairman of the International Wine Challenge, at the awards ceremony of "Cellars in the Sky 2017" held in London in February.
Korean Air/Released
Korean Air wins 'Best Business Class Red' in coveted airline wine awards
(Philstar.com) - March 9, 2018 - 11:10am
SEOUL — Korean Air has taken the top award in the "Best Business Class Red" category in the 2017 Business Traveller "Cellars in the Sky" Awards.
Cellars in the Sky, which celebrates the best first and business class wines served by airlines worldwide, announced the winners at a ceremony in London in February.
Korean Air received the gold medal in the category for serving Haselgrove Catkin Shiraz 2014 in its Prestige Class (Business Class). In addition, the airline also received the bronze medal in the "Best First Class Red Wine" category for serving Chateau Du Tertre 2007.
Catkin Shiraz 2014 comes from the Haselgrove Winery in McLaren Vale, an internationally renowned wine region in South Australia. The wine is made from high quality grapes, which are grown with environmental friendly agriculture.
Chateau Du Tertre is produced in the Margaux appellation of the Bordeaux region of France and rose to worldwide fame in the 19th century thanks to the 1855 classification Grand Cru Classe. The wine is made from Cabernet Sauvignon, Merlot, Cabernet Franc and matured for 18 months in oak barrels.
Business Traveller, the global travel magazine, has been running the renowned "Cellars in the Sky" airline wine awards annually since 1985.
Approximately 400 wines from 30 carriers, including Korean Air, Air France, Singapore Airlines, Cathay Pacific and British Airways, were submitted for the 2017 awards. The winners are determined by blind tastings conducted by a panel of wine experts.
Korean Air serves a total of 49 wines on board, including 15 wines chosen specifically for First class. The airline maintains the highest level of quality by purchasing wines from eleven countries, depending on consumption and trends.
The airline also pre-orders some wines three to four years in advance of the expected in-flight service to secure wines in the best condition and local specialty wines are also served, according to the flight destination.
Korean Air holds a global reputation as an airline of "world class in-flight service." Awards received include the Mercury Award for the airline's traditional Korean in-flight meal, Business Travellers' Best Airline Award in the entertainment category and PAX International's award for Best In-Flight Meal Service in Asia.
More on Korean Air's programs, routes, frequencies and partners is available at www.koreanair.com
READ MORE:
Korean Air honored as the 'Best Airline Service Provider'