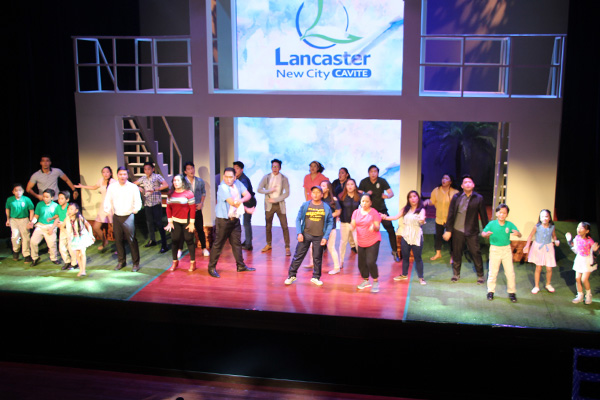 Lancaster New City continues the realization of this dream a decade after its establishment.
Lancaster New City/Released
10 reasons to celebrate Lancaster New City's 10 successful years
(philstar.com) - October 18, 2017 - 12:00pm
MANILA, Philippines—On September 28, Lancaster New City—the flagship property of Property Company of Friends Inc. or Pro-Friends—staged "Decade of Dreams," its first-ever, all-original musical in celebration of its 10 successful years.
Present at the milestone event held at the Carlos P. Romulo Auditorium in RCBC Plaza, Makati City was Pro-Friends Group Inc. chairman and president Guillermo Choa. He welcomed around 400 guests including Pro-Friends management, Lancaster New City homeowners and other stakeholders who came to witness the property's growth through the musical.
"Lancaster New City started as a dream and this dream is about the love for family. Family is the foundation of our society and we need to nurture this institution called family. Dito po nagsisimula ang lahat (It is where everything begins)," Choa said in his speech. "So the dream of Lancaster is to give families . . . an environment where they can share time together."
Lancaster New City continues the realization of this dream a decade after its establishment. For this, here are 10 more reasons to celebrate:
1. From a pocket development to a township
In an interview, assistant brand manager Andrew Bautista said that Lancaster New City started out as a pocket development called One Lancaster Lane in 2007. Throughout the years, it has transformed into a township complete with its own schools, clubhouses, a commercial and retail district, a church, and a transport service.
2. An expansive space for Filipino families
A 1,600-hectare property spanning Imus, Gen. Trias and Kawit in Cavite, Lancaster New City offers an expansive space for Filipino families. Today, it has 10,000 residential households with common and open spaces for everyone.
3. Providing high-quality education
In terms of education, the township is proud of its St. Edward Integrated Schools, which now has three campuses in different locations. It caters to grade school, high school and senior high school. In the future, Lancaster New City will build more campuses as the community grows.
4. Soon, its own IT district
Currently being developed is Lancaster New City's own IT district named Suntech iPark. "Once completed, it will house companies that offer job opportunities so people can spend more time with their families due to its proximity to their homes," said the Lancaster assistant brand manager.
5. Becoming more accessible for all
Besides South Luzon Express Way and Cavite Expressway, road infrastructures are being developed from southern Metro Manila to Cavite. These include CALAX, C5Link, Naia Expressway and MCX, making Lancaster New City even more accessible for all.
6. Where everyone can enjoy
To provide its residents with fun experiences and unforgettable memories, the Pro-Friends property has built different community centers. There's the Leighton Hall with swimming pool and events venues, as well as The Square, a retail-commercial complex with different outlets for with different outlets for dining and shopping.
7. Fostering faith
In December 2016, Lancaster New City also marked the canonical erection of its Church making it the Parish of the Holy Family. It is set to foster its residents' faith by holding regular masses and welcoming weddings, baptisms and other religious milestones.
8. Giving everyone the chance to forever
In the past two years, the Pro-Friends project has held its own Kasalang Bayan, which has given Filipino couples the chance to wed despite financial constraints. Last June 30, 17 couples married or renewed vows at the Parish of the Holy Family. The Kasalang Bayan is open even to non-residents.
9. A family weekend to remember
Another annual activity that Lancaster New City stages for its residents is the Grand Family Weekend. Last April 23, families had fun under the sun through a fun run, Pinoy games, and child-friendly activities. On its second edition, the Grand Family Weekend also invited cyclists and runners to a duathlon.
10. A colorful and musical display
Before the year ends, Lancaster New City will culminate its series of 10th anniversary celebrations with a lights and sound show for the holidays. Residents and even visitors can expect a magical time watching the colorful and musical display.
Indeed, Lancaster New City has become a family friendly city anchored on the Live, Learn, Work, Play and Pray pillars.
For more information about Lancaster New City, visit www.facebook.com/LancasterNewCityOfficial and http://lancasternewcity.com.ph.