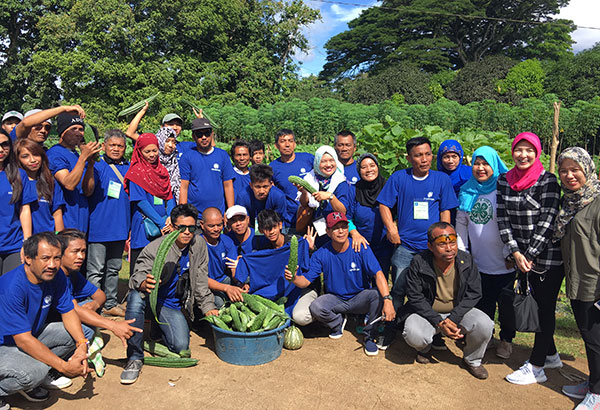 Proud farmers with their bountiful harvest: Over 300 farmers graduated from SM Foundation and Harbest Corporation's three-month-long agriculture training program.
With the ongoing security threat in Mindanao, which led to the declaration of martial law in the area, some might feel that there is no hope in Mindanao. Let me share with you good news from the province of Sulu, also one of the war-torn places in Mindanao.
Recently, our team, led by Ginggay Hontiveros, traveled to Sulu once again to witness the first graduation of the farmers from the SM Foundation and Harbest Corporation's Kabalikat sa Kabuhayan program. Over 300 Tausug farmers graduated from the three-month-long agri mentoring program. Over the past few weeks, they were trained to grow fruits and vegetables the natural way. They were able to grow plenty of healthy fruits and vegetables such as watermelons, honeydew, eggplants, ampalaya, lettuce, and many more.
This would have not been possible without the support of our big kapatids from SM Foundation led by Tessie Sy-Coson, Cristie Angeles and Harbest Corporation's Toto Barcelona and trainer Conrad Calderon. We appreciate the support of the Sulu provincial government led by Governor Totoh Tan and Shah Badar Sakur Tan, and the Department of Agriculture's Mercyan Aspi and their respective teams.
Now these farmers will have a fruitful and bountiful life because of KSK and the support of the Big Kapatids who want to make the province prosper.