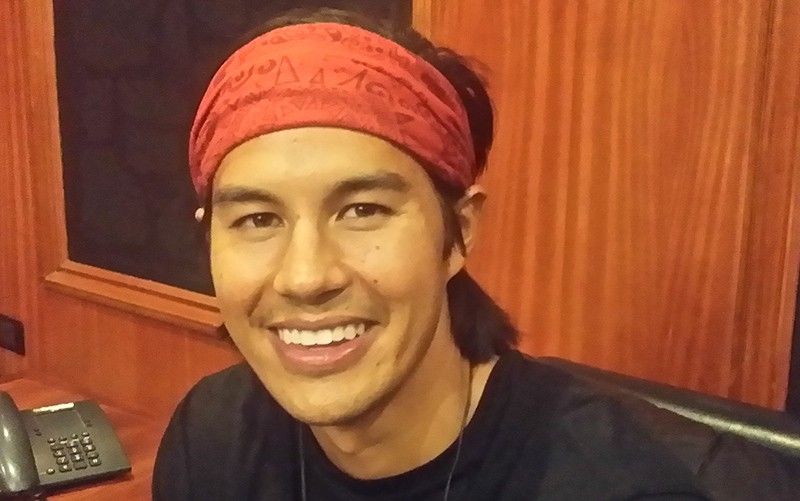 Filipino-American techpreneur Garrett Gee, who made $54 million for selling his company Scan Inc. to Snapchat.
Philstar.com/Maridol Ranoa-Bismark
Snapchat millionaire is proudly Fil-Am
(Philstar.com) - April 20, 2017 - 9:42am
MANILA, Philippines — On the surface, techpreneur Garrett Gee, who made $54 million for selling his company Scan Inc. to Snapchat, is as American as can be. The Utah native speaks like one, and is married to one. He loves soccer.
But there is something inside the Snapchat millionaire that says he is also a product of a culture far different from the one he was born into. He hates being away from his family. In fact, he travels the world with them, and has a popular blog, The Bucketlist Famliy, to prove it.
Garrett also eats adobo and pancit (his favorite). He enjoys halo halo. That is because Garrett's mom is a Filipina who hails from Manila (his dad is American). He grew up seeing her make meals "enough for the entire town," and she would invite everybody.
The best thing about it is Garrett is proud of his Filipino roots. That is why the 27-year-old achiever named his second child Manila. The boy is two years old.
Garrett could have spent the millions he earned from selling Snapchat to buy a mansion in a posh location and live it up in all parts of the world. But he kept the money, held a big garage sale to dispose all his belongings, and used the $45,000 he got from it to travel around the world with his family.
One of his most recent travels took him to the Philippines, where he tried to soak in everything he can about his Filipino roots in less than a month. Garrett's charm and no-nonsense attitude captured the hearts of many female students who attended ABS-CBN's TFCU Talks.
Alyssa dela Pena of St. Dominic College of Asia was one of them. She took the microphone during the open forum, asked a question, then requested for a hug. Garrett happily obliged.
"Don't get comfortable," he told her and other students from Ateneo de Manila University, Centro Escolar University, Philippine Women's University, University of Asia and the Pacific, University of the East, University of the Philippines – Diliman and the Eugenio Lopez Jr. Center for Media Arts Senior High School.
"You can get comfortable for a little bit, that's when life stops," he explained.
Garrett walks the talk. When ABS-CBN invited him to come up with a new travel show on the Philippines called "Discovering Routes," Garrett envisioned a project that would make him, his family, and his newfound friends in the country proud.
The adventure journalist with a long-standing love affair with the water would surely include the places he has been to so far – Palawan, Cebu and Iloilo – in his show. He is excited to feature whale sharks and other wonders he saw in the country he owes half of his character to.
"It's one of the best adventures I've been on. I have a life-changing experience almost every day!" he gushed.
Garrett is just as impressed with the students who packed ABS-CBN's Dolphy Theater and asked him questions at the open forum. He finds them "happy, tech-savvy, optimistic, and very talented."
"They can play musical instruments. They can dance," he added.
Garrett believes it is the Filipino in him that makes him a positive thinker. And he hopes to continue being a role model to the young. They and others he met on his first trip to the Philippines, plus the places he has been to, left such an impact on Garrett that he vows to create an app or a venture that "will enhance Filipino culture" when he returns to the US.
Garrett may be miles away from the Philippines. But a big part of his heart will always belong to the land where a huge chunk of what he is comes from.