How P2,400 in capital became a billion-peso business
In 2006, a couple was driving to Tagaytay when they began talking about putting up a website. A UP mechanical engineering graduate, RJ David was a self-taught web developer and a freelancer — in fact, they were going to Tagaytay to meet his clients from a Korean school for whom he was building a website. His girlfriend Arianne delos Reyes worked at UCPB's tech department, having majored in BS Computer Science.
Arianne came up with the idea of a classified ads site. The goal: to see which category would attract the biggest buyers and sellers (they had it in their mind it would be cars) and then spin off to a more focused website.
They were both 26 years old at the time.
The website: Sulit.com.ph.
The timing was excellent and the name was a stroke of genius — there is no other word in the Tagalog lexicon that encapsulates what every buyer wants his purchase to be: sulit (worth it), or as the saying goes, sulit na sulit. They registered the domain name for P1,800 and paid another P600 for six months of web hosting, for a total of P2,400 capital ($52). They operated from RJ's parents' house — it was free rent, free electricity, free food.
As a web developer, RJ had a lot of tricks up his sleeve. First he created a program that captured the email addresses of people from other websites. He got 100,000 and sent emails to them inviting them to check out their website. Out of this, he got 22 people who registered, and 50-plus very angry emails. Then he realized it wasn't the way to go, people responded more to their cell phones. So he created another program from his Nokia 3210 that captured cell phone numbers from printed classified ads when he scanned the pages. He did text blasts from there — unlike today, it was a time when very few people were doing that.
The ads were free (65,000-character limit, whereas their competitor had a 160-character limit) and in the first month, they earned US$5 from third-party advertising. In the second month $25 and in the third month $125. After the third month, everything just went crazy — the site took off in ways neither of them had expected.
Instead of focusing on one category as they originally planned, they expanded all categories. From 100, they reached a peak of 300, and eventually settled on around 200, after scrapping categories like personals and guns & ammo because they were troublesome (there was no way for them to check if the guns were licensed or not; or to authenticate the personal ads).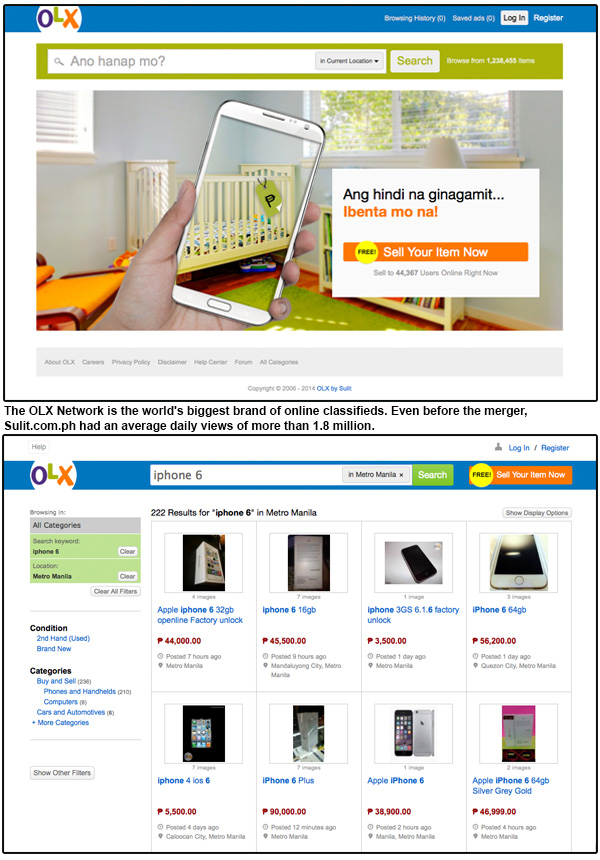 Today, RJ and Arianne David (they got married in 2008) are easily the most successful technopreneurs in the country with Sulit being the largest C2C website and the most well-known of all local websites.
Early this year, Sulit became part of the OLX family of global online classifieds under the name OLX.ph (you get redirected if you type sulit.com.ph out of habit). OLX has either bought or merged with top online classifieds around the world and operates them under one brand.
An earlier investment of Naspers into Sulit in 2009 made this possible. A global media company based in South Africa and moving its business online, Naspers invested in Sulit in 2009, and in OLX in 2010. "Naspers is a hundred-year-old print company and they saw that ecommerce was going to be a big part of online business. Early last year we started talking about having a single global brand, like Google or Facebook. I pushed for the name Sulit on the table, but we lost on the point that in Indonesia the word means difficult. We realized that the change of name would bring long-term benefits and only short-term pain."
While the Davids refuse to disclose how much Naspers/OLX paid for the merger, a source close to them says that local online buy and sell sites now run into the billions of pesos in sales and advertising revenues, and Sulit has been dominating the industry.
RJ says there are two kinds of online entrepreneurs: those who are content to have a big slice of a small pie, and those who prefer a small slice of a big pie.
"We're the latter, we're okay to be a small part of a global company," says Arianne.
"The set skills required from startup to growth are completely different," says RJ. In the beginning, it was just the two of them and at least one of them needed to be on the site throughout the day because ads needed to be approved, inquiries answered, and multiple daily hacking attempts stopped. RJ took the day shift when Arianne was working her bank job and then slept when she came home to take over.
After a year, with profits coming from third-party ads and community members willing to pay for featured ads, Arianne quit her job. From a business with just the two of them, they now have 129 employees, a proper office in Manila and another one in Cebu with its own website, cebu.olx.ph. The traffic to the site is now seen only as a "pampasikat, a vanity metric," and instead they measure it by the number of C2C traffic — more than 5,000 new listings daily.
The biggest things people have tried to sell over the years are an airplane, a tanker, and a helicopter.
What about an island? "That's quite common in our real estate category," says Arianne.
RJ has received many awards and citations in technological innovation, including the Technopreneur Award of the Second Go Negosyo Technopreneurship Summit (2013), PLD MVP Bossing Award (2012), and Business Excellence Award from Go Negosyo and BPI Family Bank.
He's excited that he gets to meet aspiring technopreneurs. "They're getting younger each time. We're seeing a lot of promising startups and global investors are coming in to look at them. What I am seeing in the market is that there will be bigger local companies than Sulit in the future."