'Kiping' it real: Pahiyas Festival 2023 parade, house decors, bloopers
LUCBAN, Philippines — Lucbanins celebrated their annual San Isidro Pahiyas Festival from last Sunday to last Monday in Lucban, Quezon.
Jollibee, Superman and the Minions were among the special guests of the festival, considered to be one of the world's most colorful festivals held every May 15 in honor of Roman Catholic Spanish saint San Isidro Labrador or Saint Isidore the Laborer. The farmer saint was introduced to the Philippines by the Spaniards in the 16th century, and since then, his feast day is celebrated all over the country with various agriculture-themed festivals such as Pahiyas.
In Lucban, a municipality in Quezon Province, about three hours by land south of Manila, houses are decorated with the bounty of the farmers' local produce, including vegetables shaped into farmers and carabaos, and rice and other grains turned into giant murals depicting harvests.
What makes Pahiyas unique is its abundant use of Kiping, colorful rice wafers shaped from leaves that are used to decorate homes and streets during the festival. The Kiping is usually used to form the Arangya or layered chandelier, and is combined with other Pahiyas trademark images like sunflowers, orchids and butterflies.
According to Lucban Kiping Manufacturing, the Kiping originated in the 17th century during the Galleon Trade, when Lucbanin or Lucban native Juan Suarez went to Mexico, where he was able to taste the Taquitos or Tacos of Acapulco. When he returned home, he tried to replicate the tacos using locally available ingredients, and what came out is the Kiping.
Today, the Kiping is still made out of Galapong (ground rice), food color and Kabal leaves (for molding). At last weekend's festival, visitors enjoyed the deep-dried, grilled or microwave-popped Kiping like chips, with sugar as toppings or with vinegar or Kesong Puti (cream cheese) as dips. Likewise, visitors from all over the globe enjoyed eating Pancit Habhab and grilled Lucban Longganisa while taking pictures alongside the colorful and richly decorated houses and art galleries on the parade route.
The festival culminated with a grand street parade that started and ended in Lucban Church, which was also decked in Kiping. Hundreds of Lucbanins participated in the street parade, which included drum and lyre bands, majorettes, floats, street dancing, march of beauties and costumes that won the Parikitan costume contest, and Higantes or giant paper mache mascots that included Superman, Batman, and the Minions.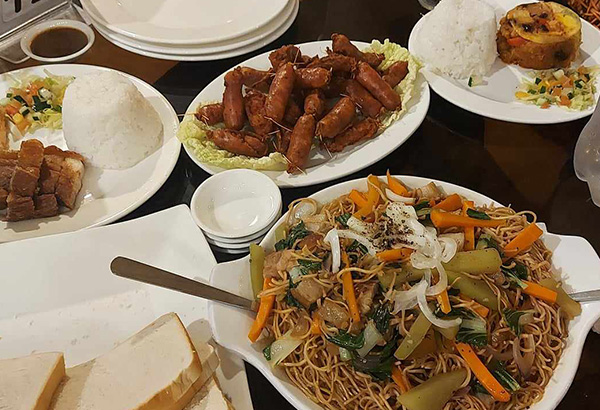 — Video by Phistar.com/Deni Bernardo
RELATED: WATCH: Amazon of the Philippines? Bangkero Festival 2023