WATCH: Apo Whang-Od documentary trailer about Filipino tattoo culture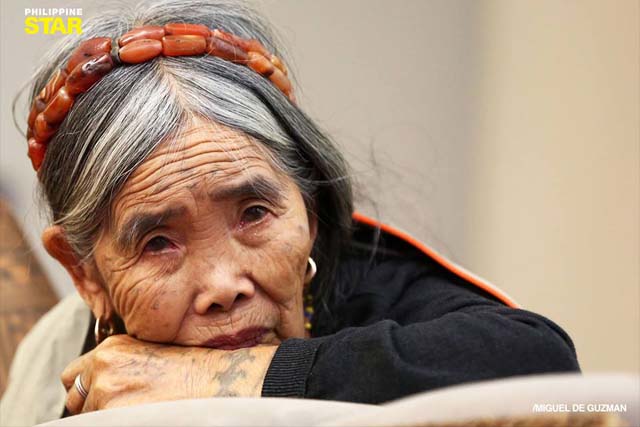 MANILA, Philippines — A documentary about 106-year-old Indigenous tattoo artist Apo Whang-Od and Philippine tattoo culture, including the traditional batok that Whang-od is known for, is in production following the release of an extensive trailer.
The documentary "Treasure of the Rice Terraces" is directed and written by Filipino-Canadian Kent Donguines, who features heavily in the five-minute trailer as he explores the local tattooing culture.
"The question of one's identity and its permanence has always been a complex conversation," begins Donguines' voice in the trailer over clips of the Philippines.
The Vancouver-based filmmaker then said he began feeling less like a Filipino as he got older, mostly because there were many aspects of Filipino culture that he never got to explore, experience, and understand, including that of tattooing.
Clips of modern tattooing are then shown, with voiceovers explaining the negative connotation attached to tattoos such as prison time, being part of a crime syndicate, and gang affiliations.
Quick cuts of familiar tattoos then shift to the traditional batok of Kalinga, the home province of Whang-od who becomes the primary subject of the trailer.
Whang-od shared how she began as a mambabatok, like her late father, when she was still young so she could earn money.
The tattoo artist's grand-niece Grace Palicas then talked about life in their village and the growing recognition of tattoos as symbols for beauty and bravery due to the influx of tourists.
"[Whang-od] holds a lot of knowledge that cannot be directly passed on... The stature of Whang-od, the materials she uses, the designs she makes, that's the epitome of cultural practice," goes a voiceover.
Donguines' previous statement about Filipino identity and permanence, especially for Filipinos based abroad, thus finds a solution in getting tattooed this way.
"Kung babalikan natin, malaking tulong si Whang-od, sa totoo lang," said Joe Musngi, a tattoo artist in Manila. "Malaking tulong si Whang-od, binabalik niya yung pagiging maka-Pilipino natin."
Related: Living to 100: Secrets to Apo Whang-Od's long life
Grace said over clips of tattooing Donguines that she wants to continue the Batok tradition of her people and eventually pass them on to younger generations.
"One of the important things about our culture is when we die, that's the only thing we can keep as treasure," Whang-od said in Kalinga. "If you're rich, when you die, they will take all your jewelery and it's only your tattoos left on your body and it can't be taken away from you."
Donguines ends the trailer by saying "Treasure of the Rice Terraces" will also explore stolen mummified bodies, cultural appropriation, and the "ongoing fight for cultural sovereignity."
"The current Philippine administration is poised to let China take over the country. Never has the time been riper to interrogate our national identity," said one of the documentary's producers Patti Lapus in a statement. "At this juncture in our history, [the rediscovery of cultural identity and national pride] has become more than a mere personal exploration, but an overt and proactive political act."
Whang-Od recently featured on the April 2023 cover of Vogue Philippines, making her the oldest person ever to appear on the cover of any Vogue magazine.
RELATED: Niece, Buscalan locals react to Apo Whang-Od magazine cover