Art Basel Hong Kong Roars back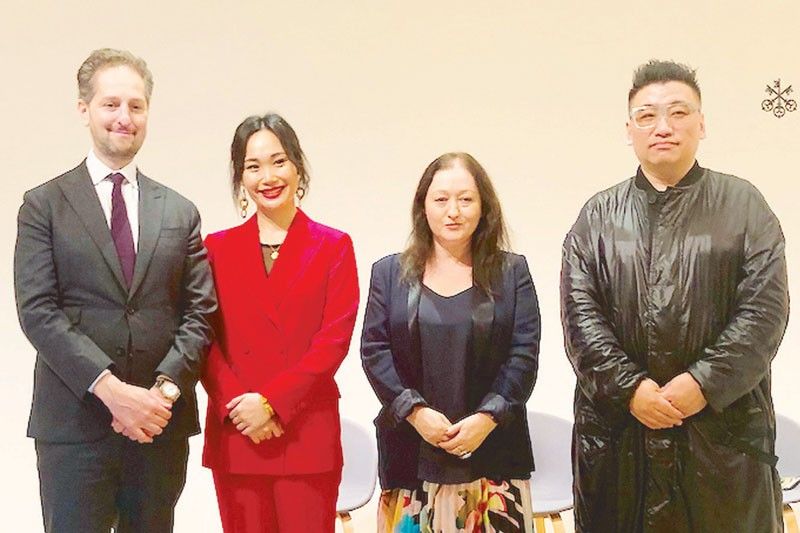 After three years of hybrids and restrictions, Art Basel Hong Kong reopened to the public, and it came back with a vengeance. Celebrating its 10th year with the UBS-partnered global art fair, Hong Kong staged an ambitious comeback with 177 galleries from 32 countries participating on two massive floors of the Hong Kong Convention and Exhibition Centre.
In addition, there were large-scale onsite works spread throughout the city, like a 10-meter inflatable King Tut exhibit by Ethiopian-born artist Awol Erizku (containing the artist's "treasures" inside as you pass through), and a video work by Swiss artist Pipilotti Rist, "Hand Me Your Trust," splashed across the façade of the M+ Museum façade.
At the opening press conference, Art Basel CEO Noah Horowitz spoke of the comeback in personal terms. "The show in Hong Kong has always occupied a very special place in my heart, both as a celebration of the city's dynamic cultural scene, and also as a gateway to the Asian market that's truly unique in today's international art fair circuit.
"As travel restrictions have progressively lifted, the excitement and energy throughout the city this week is absolutely palpable… The city is buzzing."
Despite the pandemic, the Asian art market remained "resilient," Horowitz added, with Greater China accounting for 20 percent of worldwide sales by value and ranking as the second largest regional art market in the world.
And being Hong Kong, it didn't just reopen. Despite stringent COVID restrictions paralyzing the city and leaving Art Basel to hybrid variants these past years, Hong Kong went ahead and expanded its West Kowloon Cultural District (at a cost of $HK 21.6 billion), opening M+, a truly world-class contemporary art museum, amid a cluster of culture-preserving opera houses and performing centers as well as the Hong Kong Palace Museum, all overlooking the Harbour.
That's a roaring comeback.
As new Art Basel Hong Kong director Angelle Siyang-Le put it in her comments, "The past three years have undoubtedly been challenging for all of us. But the challenges have brought our communities in Hong Kong closer than ever before."
She spoke of the expanding gallery scene, with two thirds of Art Basel exhibitors now having spaces in Asia and 33 of them having bases in Hong Kong. She touted the return of the curated Encounters, with 14 large-scale works open to public interaction. "Hong Kong has always been a bridge between the East and the West, and the bridge goes both ways. We're not simply welcoming the West to the East, but we're also helping the West to understand and learn from the East. Thanks to Hong Kong's position as the cultural crosswave in the heart of Asia, we are advantageously positioned to play this pivotal role and to continue creating opportunities for new discoveries."
Also present at the press conference on opening day were Alexei Glass-Cantor, guest curator of the Encounters sector; and multimedia artist/film producer Li Zhenuhua, curator of the Art Basel Hong Kong Film Program. Both spoke of a yearning for human connection and unhindered cultural expression.
On that front, Siyang-Le denied any censorship of artworks this year, or any year. "We haven't really changed the selection process since 2013. The way we operate the show, we have our application process and selections as per previous shows. But that is it. We haven't added to that process and there was no piece that was declined for political reasons."
Still, some slyly subversive messages managed to surface. In South Korean artist Gimhongsok's Encounters piece, "Solitude of Silences," one of the animal mask-wearing human subjects (the raccoon) bears a sign: "This man is wearing a mask to conceal his identity… Although the reasons cannot be specified here, it can be stated that he escaped his country as he believed the state will restrict and legally constrain him due to his political opinions."
Sly interjections seem to work best within this selection process.
(A Few) highlights from Art Basel Hong Kong
• Encounters brought back art interaction. Curator Glass-Cantor led us through "This Present, Moment," a dozen installation pieces wherein Indonesia's Mella Jaarsma let us "see the artist as a building"— literally standing still for two hours as worker constructed a bamboo scaffolding around her ("The Constructor"); Jaffa Lam's "Trolley Party" recovered old trolleys and empowered women weavers, while Malaga's Carlos Aires displayed mounds of shredded decommissioned euros ("Like Tears in the Rain"), Sarajevo's Stanislava Pinchuk commented on diaspora by sea with marble obelisks embedded with text from The Odyssey, with redacted passages reflecting topographies of war, economic disparity and conflict zones ("The Wine Dark Sea"), and David Altmejd's "The Vector" slyly commented on the Year of the Rabbit as trickster as well as bringer of luck.
• Discoveries focused on less-seen regions and artists. More art representation from Africa (Victor Ehikhamenor's "Always at the Edge" at Retro Africa booth); Texas-based Kenneth Tam's "Silent Spikes" exploring Western cowboy culture through Asian modes of masculinity; and Taipei's Shih Yung-chun sourcing nostalgic childhood toy figures and deriving paintings and photos from their staged arrangements ("Toy Packaging").
• Beeple was… everywhere. Not to spread any rumors, but NFTs are here to stay — or at least art fairs have figured out how to present digital art in a sustainably mesmerizing way: $69 million-selling NFT artist Beeple's "S.2122" held a corner at Art Basel — an endlessly evolving futuristic "city block" encased in what resembles a rotating telephone booth. It was listed by HK gallery LGDR at $5 million… but we hear it sold for much more. Not surprisingly, LGDR co-founder Rebecca Wei assessed that "Beeple represents the next 10 years of art."
On the other hand, his other revolving art cube on site, "Heaven/Hell," offers a dualistic view of humanity that's equally terrifying and tranquil. Can it be read as Beeple's statement on the position of art in the socioeconomic scale of things? Or the artist's ambivalent view of his own place in that ever-shifting hierarchy?
* * *
Art Basel Hong Kong ran from March 23 to 25. For more information on its programs this year, visit artbasel.com.
Thanks to Hong Kong Tourism Board for invitation.