Where is paradise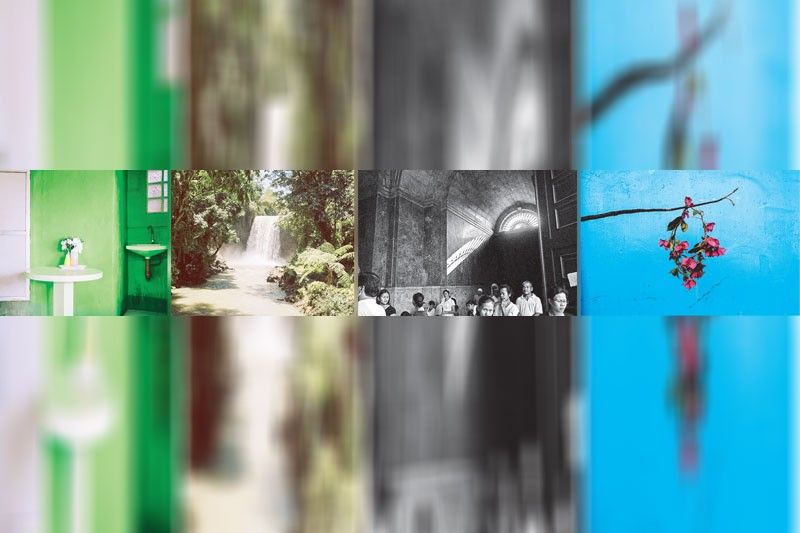 When I think of the word paradise, my childhood vision of Eden still comes to mind. A garden with impossibly lush greenery. An abundance of flowers and fruits. Wild animals that do not make me afraid. Soft, warm light. No pain.
In Tarzeer Pictures' photography show "Surviving Paradise," paradise, at times, has no color. It is a dark, crowded church. It is an endless road; a perpetual state of limbo. Its land has witnessed conquest and sickness and scarcity. Its inhabitants bare their wounds.
The show features photographs by Veejay Villafranca and Jake Verzosa — photos that, at first glance, feel as if they are of different worlds. One, black and white and filled with people. The other, glowing with warm, vivid colors, and eerily empty of human life. Yet, the show connects them through this theme of paradise. Together, they paint a picture of a land that is stranger and more complex than any Eden.
At the entrance of the intimate gallery space, Verzosa's images line the right wall. They evoke, at first, the colonial fantasy of a serene, tropical paradise. A magnificent waterfall gushes through a forest. Sausages sizzle against a dreamy mountain view. But as I walk further, I see a bright flame, its billowing gray smoke stark against a rugged green landscape. A hut is on fire. There are no people around, and paradise quietly burns.
During the pandemic, Verzosa traveled across the Philippines on his old motorcycle. He spent 30 days riding along the Pan-Philippine Highway, spanning 4,000 kilometers and 37 provinces. He had always wanted to explore the country in one go – and being on a motorcycle gave his journey a unique sensorial experience. He could see the details on changing terrains, observe the slightest shifts in temperature and scent. Along the way, during brief stops for gas, food, and roadside repairs, he took pictures.
There is something uncanny about his images of vacant restaurants and roads. Here, "passage means place"; these images point to no final destination, only further transit. They feel almost like a metaphor for the uncertainty of the pandemic — when it often felt like there was no end in sight. We were forced to find respite in our present landscapes, to take a closer look at what would have otherwise slipped our gaze.
In his photos of restaurant and bathroom interiors, Verzosa pays striking attention to color and thoughtful — even eccentric — decor. Apple green paint enlivens a bathroom; a restaurant wall transports one to a golden desert. These images have no people, but they are imbued with traces of a stranger's care. Atop a table inside the green bathroom, someone had placed white flowers. As if to say: the journey may be harsh and the world may be burning, but let me make this humble place, this five-minute rest, as lovely as I can for you.
Turning from Verzosa to Villafranca's works, I encounter the largest image in the show. It is also the most abstract. It captures a haunting structure, rendered in black and white and manipulated so that its details fade and blur. The structure becomes ambiguous, unidentifiable. Faint pillars suggest that it is perhaps a sacred site; a mosque or a church. But if you squint, it could pass as a foggy mountain, disappearing into the sky. Here is a place that blurs the line between heaven and earth.
The image is part of Villafranca's expansive, decade-long project, "Barrio Sagrado," where he chronicles diverse faith practices across the Philippine archipelago. Many of them are rooted in centuries-old animist and shamanistic beliefs. But as the Spaniards colonized us through religion, communities had to meld their practices with the Catholic faith in order to survive.
He met a woman named Anne, who suffered from breast cancer. She hesitated to undergo chemotherapy, and instead visited an herbal healer. In a succession of nine deeply intimate images, Villafranca portrays how the firm, dexterous hands of the healer touch the delicate body of the sick. Between them is a kind of ancient, unspoken trust. We are not shown the fate of Anne; only moved to hold our breath with her.
Villafranca traveled to Bulacan, where he heard about a group of people who would climb a mountain on their knees. Throughout the journey, they pray the rosary. Villafranca heard their chants at first, then early in the lightless morning, he saw them. An image preserves his encounter with the devotees. They hold candles in the dark; their heads are bowed down, knees to the ground.
People often turn to faith to ease their pain, but here are believers who choose to feel it. Having grown up Catholic, seeing the image of a god nailed to a cross every Sunday, I have in the past felt that I, too, must suffer to reach heaven. I have since grown skeptical of this belief, and wary of images that valorize suffering — causing it to continue rather than end.
But in Villafranca's image, we don't see the blood or scars on the people's knees. The image blurs their bodies, and they appear almost like spirits, or lights glowing from the candles. Beyond their physical pain, Villafranca captures the intensity and complexity of their conviction. I suspend my doubt for a moment, and bear witness to how pain may help others commune with the divine — not later in heaven, but here and now, in this Earth.
Amidst stark, black and white pictures, an image by Villafranca calls out to me — his only image here in color. A wreath hangs on a branch against a bright blue wall. Its spiny branches remind me of Jesus' crown of thorns. Villafranca shot the picture during Holy Week, when Filipino devotees reenact Christ's crucifixion in gory displays. This crown, however, contains no bloodstains. Instead, it blooms with pink flowers.
Some of us may never know paradise, but Verzosa and Villafranca show us that something close to it survives amid the chaos of our country — if we only learn to look.
* * *
"Surviving Paradise" runs at Tarzeer Pictures until March 30.