Queen Elizabeth II reappears with Windsor audience amid health concerns
December 10, 2021 | 11:18am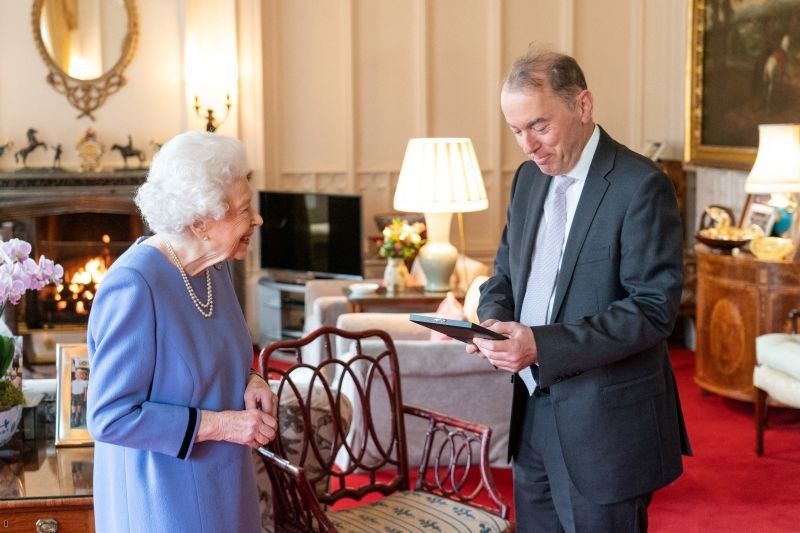 LONDON, United Kingdom — Queen Elizabeth II on Wednesday was pictured holding an audience at Windsor Castle in her first such appearance in two weeks as concerns mount over the monarch's state of health.
The 95-year-old was shown smiling as she bestowed a medal on concert organist Thomas Trotter, while standing close to a chair.
The Queen was last pictured holding an audience on November 24, when she received the Governor of the Bank of England, Andrew Bailey.
In October, royal officials said the monarch had spent the night at a private hospital in central London after unspecified tests.
Aides insisted the overnight stay was for "practical reasons" and she had resumed "light duties" shortly afterwards.
However she subsequently withdrew from a planned appearance at the UN climate change summit in Scotland in November, represented instead by her son, Prince Charles.
She also did not attend the annual Remembrance Sunday event honouring Britain's war dead on November 14 due to a "sprained back".
Since then she has cut down on her engagements and held some meetings online, while she attended the christening of two of her great-grandchildren on November 21.
The Queen, who lost her husband, the Duke of Edinburgh, in April, is to celebrate her Platinum Jubilee next year.
She has made Windsor Castle around 27 miles (43 kilometres) west of London her main residence since the first coronavirus lockdown in March 2020.