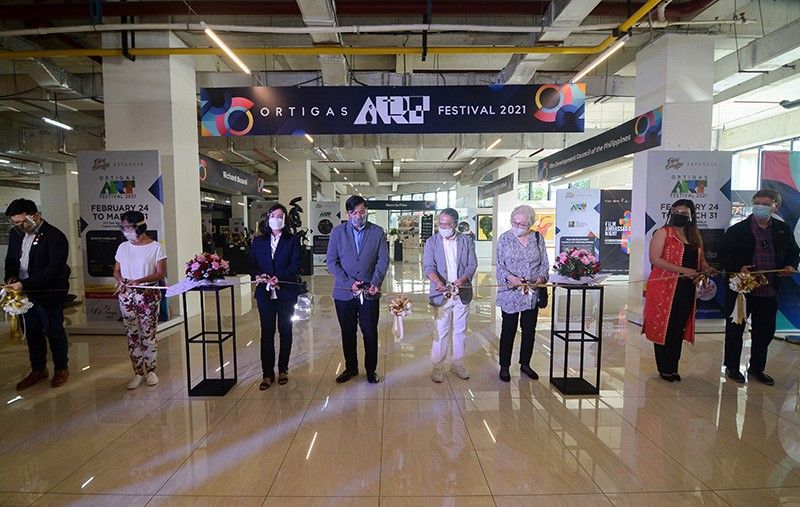 Present at the opening ceremony of the 4th Ortigas Art Festival are (from left) Franz Lopez, founder of Born in Film, Dindin Araneta, head of the Visual Arts Committee, National Commission for Culture and the Arts, Arch. Renee Bacani, VP at Ortigas Land and head at Ortigas Malls, Jun Bisnar, COO at Ortigas Land, Renato Habulan, Ortigas Art Festival Exhibit head and mentor of Agos.Studio, Helen Mirasol, consultant Ortigas Art Festival, Undersecretary Liza Dino, chairperson and CEO of the Film Development Council of the Philippines, and Jaime Ortigas.
Photo Release
Ortigas Art Festival 2021 is back to uplift the community, bring art closer to Filipinos more than ever
(The Philippine Star) - March 3, 2021 - 5:34am
MANILA, Philippines — Extraordinary times call for extraordinary measures for the art community, and what better way to uplift spirits than to bring art closer to everyone through Ortigas Malls' award-winning and admission-free Ortigas Art Festival 2021.
Now on its fourth year, the annual Ortigas Art Festival was first launched in 2018 with the vision of making art accessible to everyone.
With the success of its first run which featured over 60 local artists from well-renowned groups, Ortigas Malls continued to pursue its goal of uplifting the art community and democratizing art by making the Ortigas Art Festival an annual celebration.
In 2019, the festival's roster grew to over 130 artists from all over the Philippines and then grew even bigger with over 200 artists including international artists from Southeast Asia in 2020.
"We at Ortigas Malls have always supported the art community. Through the Ortigas Art Festival, we are able to bring together hundreds of talented local and even international artists and provide them a platform to express their craft and inspire people from all walks of life," Architect Renee Bacani, Ortigas Malls vice president, said.
"The theme of this year's Ortigas Art Festival aligns with Ortigas Malls' Enjoy Everyday campaign, which promotes the importance of making every day enjoyable and seizing every opportunity, despite the many challenges that life may bring," Bacani said.
The fourth installment of the Ortigas Art Festival has ventured out to film this year from the previous year's photography, paintings and sculptures exhibits.
Exhibit head Renato Habulan, a multi-awarded Filipino artist, and Ortigas Malls promise a hybrid festival with on-ground and virtual activities to keep all kinds of art lovers engaged.
"Art is an important part of society, it is food to the soul. As long as the community continues to remain dedicated to pursuing the craft and enthusiasts continue to support, the art industry will thrive," he said.
In these challenging times, Habulan said collaboration and innovation among artists remain foremost priorities.
"We are grateful to continue this partnership with Ortigas Malls through the annual Ortigas Art Festival. Through activities like this, we are able to foster a sense of commonality among artists, encourage learning and push the industry together," he added.
Ortigas Malls and partnered artists of the Ortigas Art Festival have pulled all the stops to make the month-long festival as memorable and enriching as the previous years. Here are some of the highlights that everyone should look forward to until March 31:
1. Agos.studio
As the headline gallery at the Ortigas Art Festival 2021, Agos.studio artists headed by Renato Habulan himself showcased its fluid and borderless art to the world. They continue to spearhead the e-mentoring sessions for aspiring and established artists to boost their spirits and guide them in these unprecedented times.
With the Art Relief Mobile Kitchen as their beneficiary, giving back is surely at their core, no matter where the gallery goes.
2. Born in Film
Apart from the usual elements of the Art Festival, everyone can also look out for works by Born in Film.
The group is a non-profit organization including Alberto Garcia, the only Filipino photographer included in Time Magazine and National Geographic's Most Influential Photos of the 20th Century with his Mount Pinatubo picture "Beauty Amidst Disaster."
His works are featured in the festival, along with virtual workshops on Visual Storytelling and Creative Composition, as well as Darkroom Developing on Color, Black and White, and Scanning Your Negatives broadcasted via Zoom and on PhotoNation International.
3. Vertical Cinema
With the Film Development Council of the Philippines' partnership with Ortigas Malls, the festival's venture to film won't go unnoticed with its first-ever Vertical Cinema Contest, which is open to the public.
All these and more are awaiting art enthusiasts and aspiring artists at the 4th Ortigas Art Festival.
Until March 31, head over to Estancia G/F East Wing in Pasig City to witness the likes of Agos.studio, Art Relief Mobile Kitchen, Born in Film, PhotoNation, Richard Buxani, Arnel Borja, La Maison D' David Art Gallerie, vMeme Contemporary Art Gallery, and many others showcase art safely in the new normal.
For more information about the event and online activities, check out the Ortigas Art Festival 2021's Facebook page.