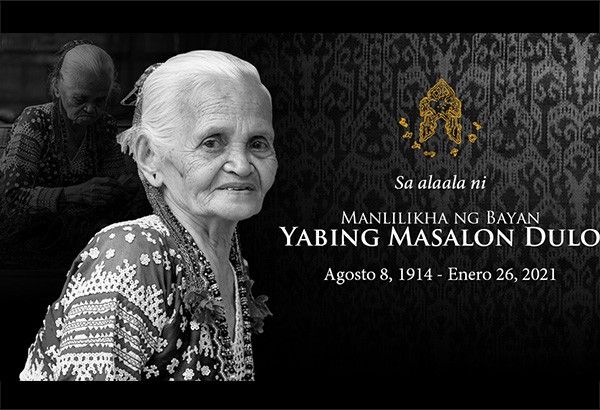 NCCA tribute for Yabing Masalon Dulo
NCCA via Facebook
'National Living Treasure' dies, believed to be over 106
MANILA, Philippines — Legendary Filipino weaver Yabing Masalon Dulo passed away at midnight on January 26. She was 106.
Also called Fu Yabing in her community as a sign of respect as its elder, she is a Blaan Ikat weaver from Mt. Matutum, Polomolok, South Cotabato.
On a profile published in the web site of the National Commission for Culture and the Arts, it said that she was born on August 8, 1914, although she believed herself to have been born earlier than the date indicated in her ID.
The profile read that "Fu Yabing was born in an Amgu-o where the plant and animal life were differentiated to minute degrees by the locals in the vocabulary of their tongue, Blaan."
She is respected and legendary for her mastery of the Blaan Mabal Tabih, or the abaca weaving process.
As part of her brief mentoring stint, Fu Yabing traveled to Manila in 2009 to be part of an ASEAN Textile Symposium at the National Museum of the Philippines.
Yabing Masalon Dulo was conferred the Gawad sa Manlilikha ng Bayan or National Living Treasure Award in 2016.