Art in a post-COVID world
(Conclusion)
In a recent article, curators tried to imagine for us a post-COVID artworld. Patrick Flores believes that a different ethical intelligence will have to emerge. Tessa Maria Guazon says she will continue to explore themes that fascinate her — albeit framed by the context of a world halted by the pandemic. Ruel Caasi sees a continued presence of art on social media and the internet. Boots Herrera believes new strategies are required during the "new normal." And Lisa G. Nakpil thinks the pandemic has made all of us heroes, with the story of our survival to be chronicled in all the arts.
Now, it is the turn of gallery owners. The ones who have given a platform for Filipino artists to showcase their artworks. Will galleries and exhibitions still remain the norm in the most abnormal of futures? The answers might surprise you.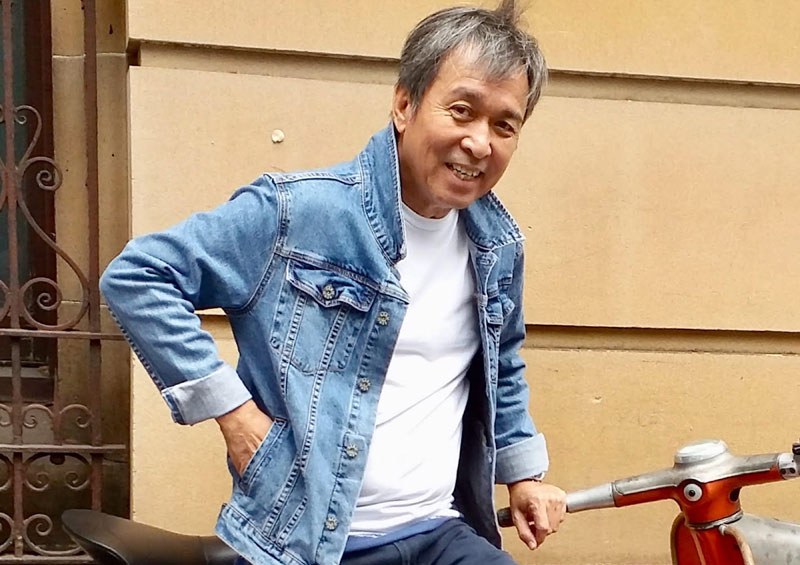 Sari Ortiga
The Crucible Gallery's Sari Ortiga imagines the post-COVID art landscape to be artwork-driven.
He explains, "Where what matters is the impact of the artwork, the image per se is relevant. Less emphasis on the celebrity, the personality, the hype, the events. It is not so much on who to exhibit, but a lot of thought on how to exhibit. It will be exhibits with no opening-night crowds or cocktails, maybe only private visits or online views, less commerce but maybe more critical feedback. While the economics of the whole art scene might see a decline, I look forward to viewing artworks on exhibits minus all the crowds."
Sari — who digs the Zen of riding vintage motorbikes while planning his next art projects — foresees the day when art (art, period — not the art industry or the art world) will rule once more.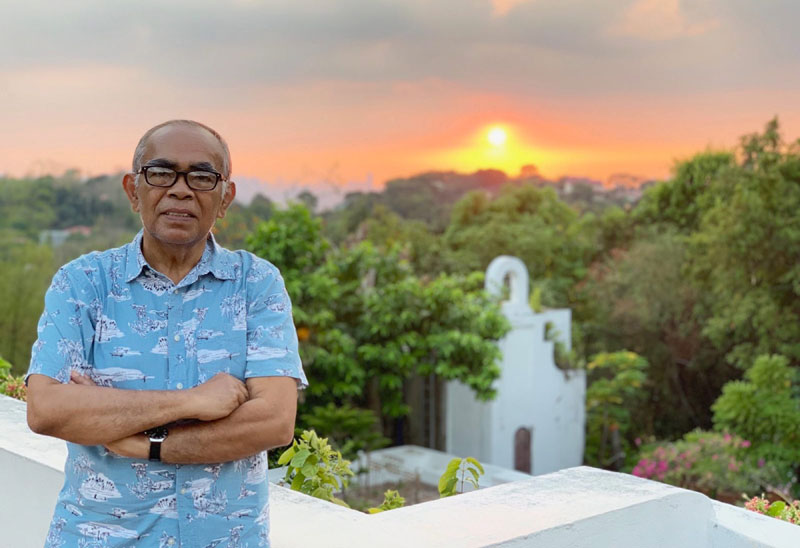 Dr. Joven Cuanang
As a physician, Dr. Joven Cuanang of Pinto has always championed the healing powers of art and nature.
Manong — as he is fondly called — explains, "In these times when we are locked in, we should rediscover the joy in reading great literature, listening to soulful music, watching the grace of dancers in videos and enjoying the creative genius of artists. Walking quietly in a garden more so during this summer when the flowers are in wild profusion imbued with intoxicating fragrances are balms to our anxieties and uncertainties during these trying times."
Dr. Cuanang has taken up photography and started a Pinto Sunset Diary. "I have been training my eyes on the changing colors of the sky every day after doing my exercise. Indeed, art and nature are healers more than Valium. These experiences evoke, in our brains, endorphins that bring joy and equanimity in our lives."
The good doctor also does medical teleconsultations with his patients during these times when it is scary to go to healthcare facilities. "I find satisfaction in being able to help in small ways. I attend Zoom activities on medical matters and continue to help in the education of young neurologists."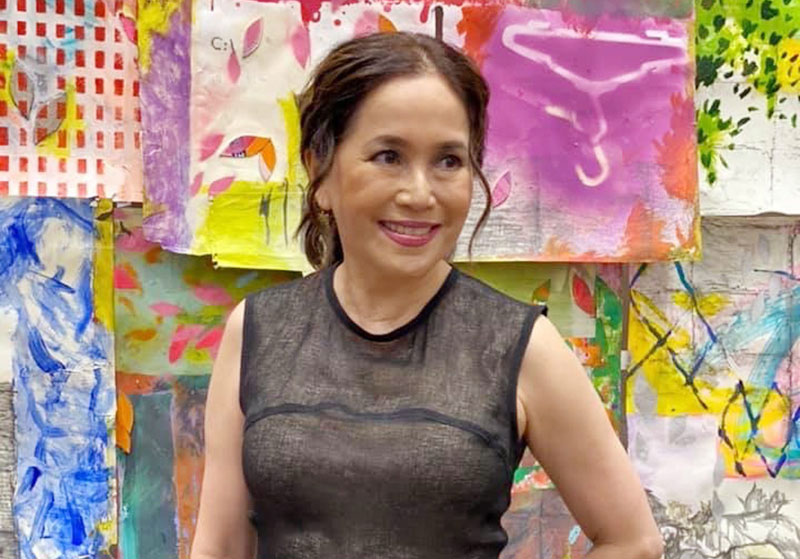 Tina Fernandez
Tina Fernandez of ArtInformal says, "I've been thinking about the future. Not art necessarily, but of everything else. If anything, working in a gallery makes me more attentive or attuned to change. That's not always because of the art, too. Often, it's the culture that surrounds it."
Tina adds that art in whatever form only makes sense with everything else. "It does not exist without a world. And whatever that was before this has changed."
She concludes, "If I were to do a show now that sums up why I feel that art is important, it would be more a prayer than an exhibit. I would leave the gallery open. I would leave the walls bare and ask for the future to fill it up."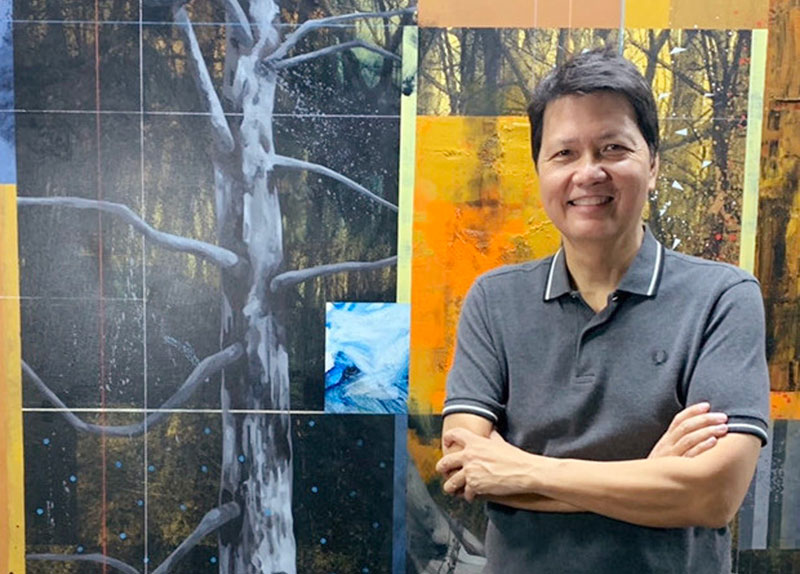 Soler Santos
During the lockdown, Soler Santos — artist and owner of West Gallery — is spending more time in the studio than usual, making more artworks, and having time to plan some contingencies for the gallery.
"At this point, we are not in talks of creating shows that specifically respond to COVID-19, thematically. We are focused on reestablishing the stability for the artists that we invite to show. So, for now, the plans are to keep our exhibit plan in motion, just with rescheduled dates, adjusting to the requirements of the law and to the needs of the artists."
Soler says he has seen the worst that the Philippine art scene had to endure.
"It was in the '80s when there was no interest in new work at all." Challenging though these times might be, the man is still optimistic and finds it very encouraging to see artists utilize the means at their disposal to create new work and expand their practice.
"I've lived with art all my life, so I can't imagine a life without it," he concludes. "Maybe art would seem like non-essential work when frontliners are fighting the virus out on the streets every day. But I believe that art lends itself to soothing our own collective anxieties and fears. It brings people together and connects us. And in these times when we are unable to physically be there for one another, art, perhaps, allows us to feel like we are all together, a part of something."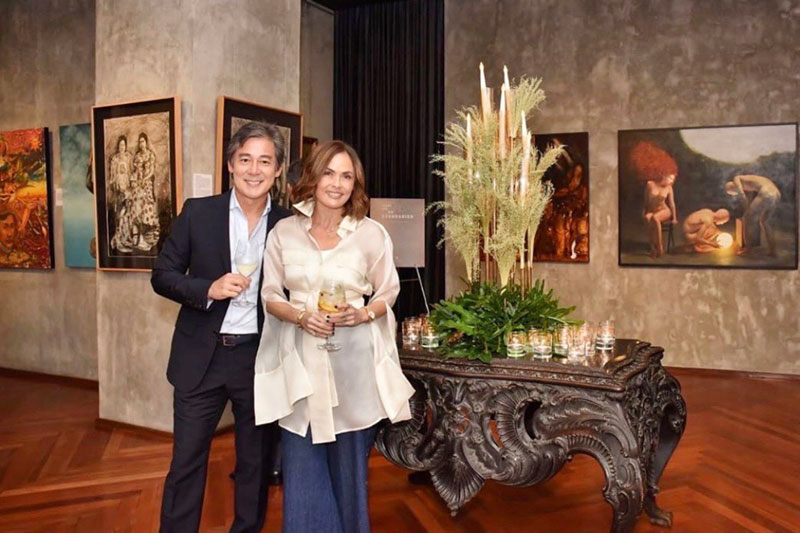 Raul Francisco & Joanna Preysler
Joanna Preysler and Raul Francisco of Provenance Art Gallery encourage their collectors, friends, and family to see not just the art, but to care for the artist.
Joanna says, "In many cases, these artists have given the collectors so much return on their investment — through the beauty and emotional richness that their art provides, and yes, sometimes even the financial gain. Now is the time we can give back to them. They are the guardians of our nation's very heart and soul."
Raul shares how they at Provenance had a clear schedule mapped out. "But this was something that not only blindsided us, it also turned us all upside down! Post-COVID exhibits will be focused on some sort of escapism, but, as you know, it will be the artist and their creative vision that will dictate our themes. There is always a discourse, but we allow the artist to self-express."
Joanna adds, "We are shaped by the themes that surround us, and we would like to build from ideas that help promote positivity and calm. Perspective-changing ideas, so to speak, in the midst of all this madness."
As for the new roles of curators and gallery owners, Raul says he and Joanna are merely "facilitators."
"We hope we can create a series of virtual exhibitions until things ease up. When they do, and we find some sort of stride in our 'new normal' or dare we say 'new abnormal,' we hope to continue mounting exhibits for the Filipino contemporary artist. It is important to us that we all recover well, not just survive."
Is art still important in a pandemic-stricken world and why?
The couple agree that it is now more important than ever.
"Art serves as a reminder of chapters in our lives or in history.
Art forces us to challenge our thoughts, to introspect, and to have that inner dialogue that we may or may not share with others. It is a personal journey that we go on, as we reevaluate all aspects of our lives during this pandemic."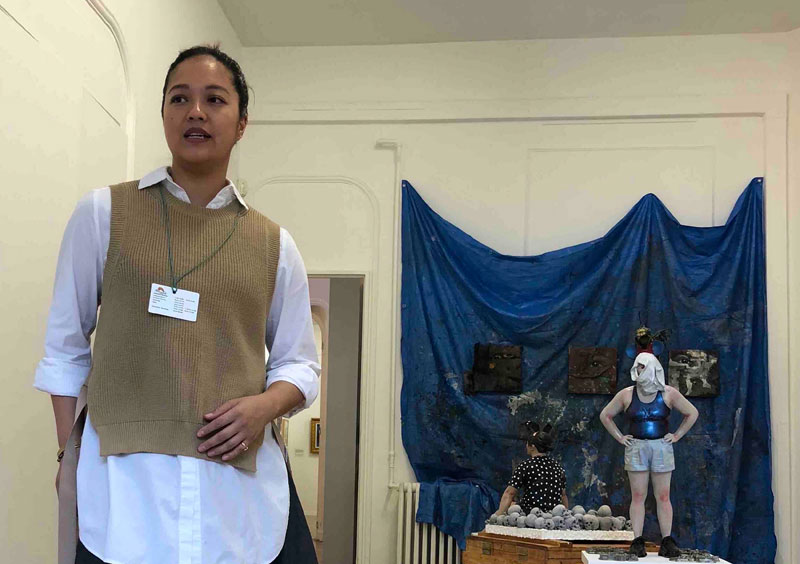 Gaby Dela Merced
Aside from doing her share in helping frontliners, Gaby dela Merced of Vinyl On Vinyl says she and her VOV team had to sit down and alter their program. They are currently preparing for a special show after the lockdown.
"Art usually is a manifestation that is taken from the creator's experience and environment, both external and internal. Our exhibition will explore our state as of the moment."
She admits that in a post-COVID world, social interaction will be curtailed. "Since openings or any forms of gathering consisting of a good number of people would not be possible in the near future, there will be a big shift to a virtual platform."
For Gaby, her role in the art world and her aspirations for Filipino artists remains unchanged.
"We have been fortunate to have been accepted into a community we respect and admire. We have a responsibility to keep. Given the situation, our focus is still on that community and within that we've built a family composed of artists, personnel and friends. We need to make sure we take our strides together."
Is art still important in a pandemic-stricken world?
"I think history has already proven the importance of art. Art has always blurred the lines between reason and logic. Simply put, art keeps us sane."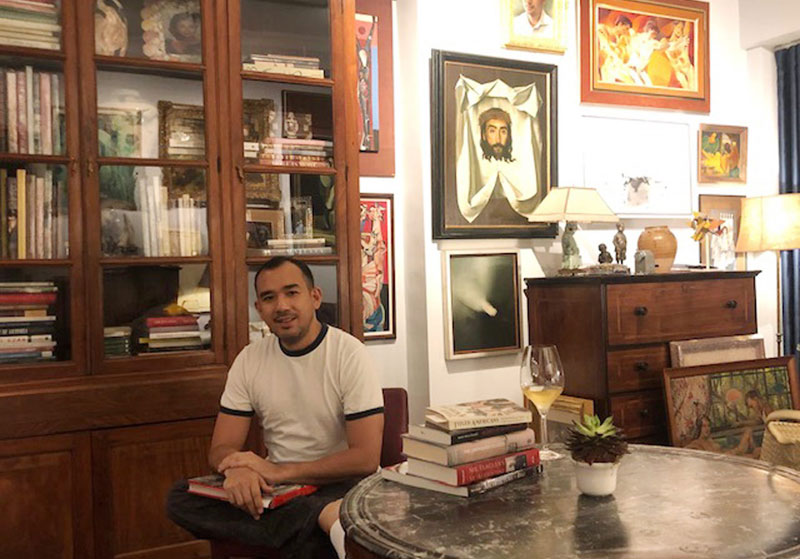 Jaime Ponce de Leon
Jaime Ponce de Leon of León Gallery says perhaps the effect of COVID-19 in the art market will be felt about six months from now and thereafter.
"It may be too early at this point as the ramifications have not yet manifested. But life goes on. It shall be interesting to see how we will all respond to the changes brought about by this pandemic."
In León Gallery's latest auction, Jaime and company presented the gallery through a virtual show, a novel gallery approach that fits present circumstances. Looking ahead, he says, León may present exhibitions in the same manner for as long as the ECQ is in place. The gallery was supposed to have a Kitty Taniguchi show and a collaborative show with Lehmann Maupin on Angel Otero in September. But Jaime remains optimistic.
He concludes, "Beyond the gloom will be opportunities to be taken. I think art is a great communicator and chronicler of our times. In a generation from today, we will look back to this time of stereotyping a kind of art created around this pandemic in the same way that we look at art created during World War II, martial law, the EDSA Revolution, and so on."