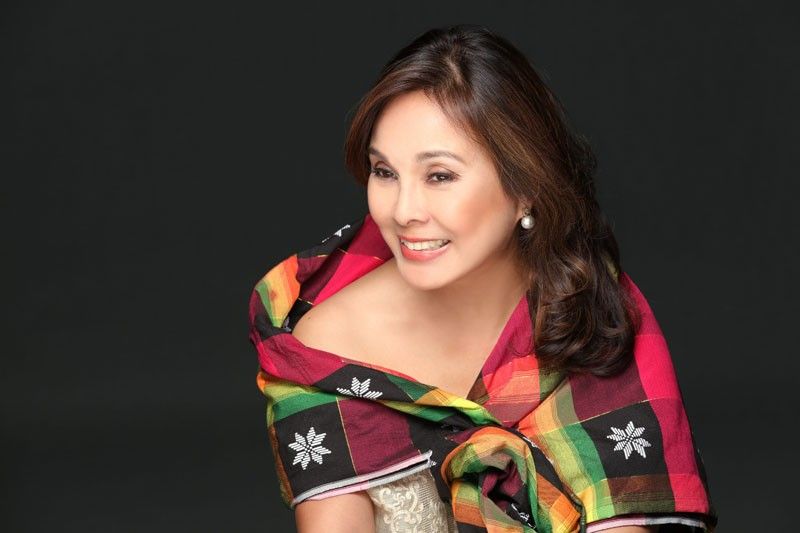 'I had conversations with Vicente Manansala when I was 19.' — Loren Legarda, Deputy Speaker of the House of Representatives
Portrait of a lawmaker as cultural icon
When Loren Legarda was a young girl in Potrero, Malabon, she would listen to her mother, Bessie Legarda, sing opera in the bathroom. The young Loren could also play kundiman on the piano.
One day, she got curious as to what a chest in the house contained. Inside it was her mother's collection of colorful textiles. Loren's late grandmother Carmen Gella Bautista wore the terno and baro't saya. Proudly. Oh, how the matriarchs glided inside the home: a moving rainbow of intricately woven fabrics and much, much wisdom. The house, too, was always full of graceful notes — arias, cantatas and songs of untold emotions — ascending into the heavens. That was the soundtrack of her youth.
Deputy Speaker Legarda says, "My first encounter with art has always been love at first sight." She remembers seeing visual artists such as Romulo Galicano and Sofronio Mendoza visit their home on Sundays. She also went to the houses of Ibarra Dela Rosa, H.R. Ocampo and Mang Enteng (Vicente Manansala) with her mother.
"I took art lessons and joined a group exhibit in my teens. I would find serenity and peace in watercolor painting, having been influenced by Mang Enteng. My thesis in college was about his works. My first article for a magazine was about Vicente Manansala for Daily Express' Sunday Magazine editor Millet Mananquil."
That passion for art and culture was nurtured even further when Legarda became a journalist.
"Such exposure led me to realize our different cultures and traditions, and how unique Philippine tradition is from others. Our way of living, our way of understanding, and our way of expressing unequivocally ignited my love for our textiles, for our indigenous communities, for our history, for our culture. I have fallen in love since then, and I have never fallen out of it."
Legarda stresses, "We should not allow apathy and indifference to lead us down the path of 'culture crisis.' Instead, we should be replete with pride when it comes to our culture. Such pride will empower us culturally, leading us to a cultural renaissance."
Today, Deputy Speaker Loren Legarda is one of our country's most important cultural vanguards. As a senator, she was instrumental in spearheading the Philippines' return to the Venice Biennale after a 51-year hiatus. (She says, "And I will make sure that there will be funding for such.") Her advocacies as a lawmaker: the preservation of Filipino culture and the arts, as well as the protection of indigenous peoples. She periodically converses with artists and cultural advocates as to what must be done or addressed in matters that other politicians just don't give much of a damn about.
She explains, "Topics with artists are limitless, and knowledge and information are overflowing. The reason why I enjoy lengthy conversations with them is because I always see myself as a perennial student."
Legarda recently had a heartfelt chat with Alma Quinto and her "House of Comfort Art Project" at the Metropolitan Museum. The tapestry has an interesting story and history: it is a creative collaboration among women and children who have been affected by typhoons Yolanda, Reming and Sendong. Legarda describes the tapestry as a "representation and a strong statement of hope and faith, albeit challenges, stitched into one."
When Loren was 19 years old, she interviewed master painter Vicente Manansala for her thesis. Nowadays, the lawmaker sits down with figures such as curator Patrick Flores, as well as artists like Lani Maestro and Jun Yee.
The woman is tireless. She works closely with the National Commission for Culture and the Arts, which provides assistance to artists and artisans, as well as schools of living traditions. She organized the inaugural Curatorial Intensive in November 2016, a week-long development program designed to train the participants on the process of developing an idea for an exhibition into a curatorial proposal. This Curatorial Intensive was done in partnership with the NCCA, the Metropolitan Museum of Manila, and the Independent Curators International, a non-profit organization headquartered in New York, which conducts programs in support of curators. Through her initiative, guidance and support (in partnership with UP Vargas Museum and with the help of Patrick Flores), Legarda was able to launch the Philippine Contemporary Art Network or PCAN, which serves as a venue for research, exhibition and curatorial exchange.
Legarda has also worked with the National Museum since 2012 on a lecture series on traditional textiles and indigenous knowledge, which explores the aesthetics and material culture of our indigenous artisans.
Deputy Speaker Legarda's dreams for her province Antique are golden.
"Many people still do not recognize Antique, which is regarded as the province in the middle of Aklan and Iloilo, two of the more prosperous provinces in Western Visayas. I want to change that perspective."
She wants Antique to be known as the center for arts and culture in Western Visayas.
"I am proud to say that Antique is instrumental in preserving the komedya. In 2019, Antique hosted the Pista ng Komedya, which invited several komedya troupes to perform this community tradition. In Antique alone, we have komedya troupes from San Jose, Laua-an, Barbaza, and Sibalom."
She explains how Antique is becoming well-known for its arts and crafts, and how the patadyong is starting to gain ground. The lawmaker has been ardently supporting the weaving industry in Antique — from the establishment of weaving centers and natural dye centers, to the planting of cotton, putting up a facility and holding trade fairs. She believes that textiles in Antique can be made world-class.
When asked about the thorny issue of achieving a balance between development and preserving history, Legarda answers:
"Development without discipline is not development at all. But discipline cannot be imposed and forced upon a people. It springs from a positive social self-image that can inspire national unity and discipline. This inspiration can come from works that clearly show Filipino creative achievement and capacity for excellence, our monuments of imagination from the earliest times to the present."
She cites the Metropolitan Theater (once it is fully restored), elegant ancestral houses, the town of Vigan, Museum of Natural History, the CCP edifice, and many churches all throughout the country as examples.
"I envision a harmony between development and preserving history in our old urban centers through cultural education and imposing the proper policy programs and pieces of legislation that will promote development without leaving our history behind, a development that is rooted and grounded in our history."
She mentions the urban centers of European countries like Germany, France, Italy and Spain. They have the most beautiful preserved old urban centers and at the same time, these did not hinder their economic and social development. Development does not require destruction of the old. It can even merge the old with the new.
Legarda amplifies, "Because we should always remember that history and the past will always define the present and create the course of our future. History is the premise and the foundation. Our respect for our history guides us in determining the future that we envision."
We ask the Deputy Speaker this: why and how does art still matter in an era of climate change and Covid-19?
She concludes, "Art is even made more relevant during these times of global pandemic and the climate crisis. Art is life, it's an expression of people's individual sentiments and their collective will. Art thrives in both crisis and prosperity as we have seen all throughout history. We do not see art in a myopic sense of elitism, entitlement or of it being niched into a select few. The more grounded it is, the better, in my view."
And Loren Legarda's opera of championing culture and love of art is long, endless and unfaltering.