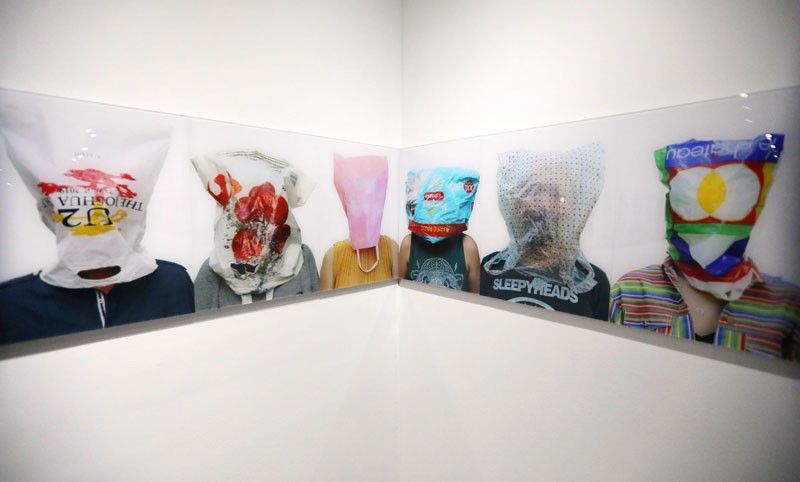 Poklong Anading's "- - - - - - - -" seems to similarly withhold what one expects from a portrait, and proves that the catharsis of recognition is not a fact of nature.
Anading's work by Walter Bollozos
How I learned to stop worrying and love the simulacra
M.C. Reodica
(The Philippine Star) - March 2, 2020 - 12:00am
MANILA, Philippines — At the recently concluded Art Fair Philippines 2020, the Julius Baer lounge unveiled Poklong Anading's "be a calm in the middle of a storm" which unfolds like a riddle amidst the festivities, provoking questions while resisting answers.
In "- - - - - - - -" (2020), faces and identities wear worn-out plastic bags of different purposes and origins. There are logos of bookstores, record shops, groceries, luxury brands, bakeries, and various other spaces of transaction we head for on a regular basis. Each photo features a unique plastic bag. Yet, the bags are only able to exist because they are produced by the thousands, only to be used for a day.
Here, these photos are the result of a barter: for a plastic bag, Anading would trade a tote bag bearing the image of the artist's face covered by a plastic bag in a similar fashion. Knowing this, the photos also become a proof of transaction that hint at the scale of the project.
In the search of identifying marks in the absence of a face, one tends to scrutinize a subtle shrug, a slight impression of a nose, or the lifestyle a certain brand suggests. The evidence of use is present in every wrinkle and crease, but these are left by commodities and not flesh.
This defiant obliqueness reminds one of Anading's unforgettable "Anonymity" (2004—), where the subjects' faces are obscured by a brilliant reflection of light in otherwise urban surroundings. "- - - - - - - -" seems to similarly withhold what one expects from a portrait, and shows us that the catharsis of recognition is not a fact of nature.
The only part of a face we see in the whole show is on a small screen placed like a cherry on top of a pile of rubble, over which four sledgehammers are on the verge of toppling over. Here, "simulation and simulacra" is not just Baudrillard's text, but an installation in which a lone lead singer of a cover band recites a philosophy podcast tackling the said theorist.
What we do hear, however, is the metallic ringing of the aforementioned recording when it is allowed to echo within the innards of the sledgehammer. During the peak of the festivities at Art Fair Philippines, one had to squat and lean in closely to hear the sound among the chatter and elevator music.
The singer's words are technically diegetic; but the dissonance between sound and vision emerges because attention is drawn to the medium that transmits the sound. It doesn't sound like it would if it were straight from the horse's mouth, so to speak. Yet this tingling drone of speech that nearly tickles the ear is the subject of fascination of an entire section of the internet dedicated to Autonomous Sensory Meridian Response, More commonly known as ASMR, this phenomenon seems to envelope a myriad of sounds such as whispering, crickets, and scratching to soothe and ease the worried mind. Many of these sounds already exist in nature, but the nifty taxonomy the digital world contains these in is too convenient to resist.
Baudrillard would have had a field day with how the digital and physical are so closely enmeshed that even the internet influences how art is engaged with. And today, the question still lingers: which is the simulacrum and which is the simulacra, or does it even matter?
Still, one would be wary of imposing his or her own modern urban anxieties onto this. It could be a commentary on consumerism that literally suffocates. It could also be about anonymity once again, but how it is enabled by transactions that leave no trace. This could all be about the rather bleak future of our environment, knowing that these synthetic materials will outlive the people wearing them. Might as well embrace it all while it lasts.