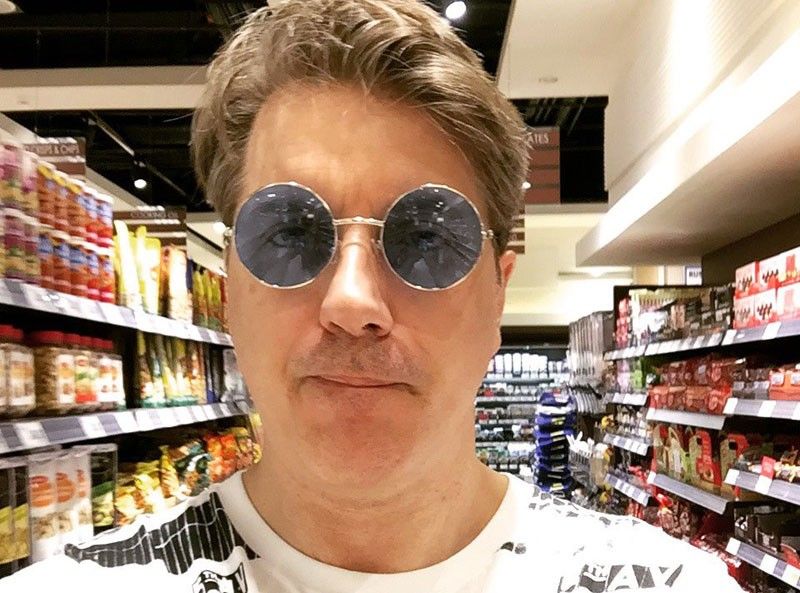 Lights, iPhone camera, revolution
Igan D'Bayan
(The Philippine Star) - February 24, 2020 - 12:00am
Scott Garceau, Dennis D'bayan & Julius Sanvictores at artablado
MANILA, Philippines — A writer, an architectural designer and a real-estate man walk into a gallery.
Sounds like a set-up for a cosmic punchline? Nah, actually, it is the start of a tale about three individuals from different fields finding a common interest in loud, annihilative rock & roll and mind-bending jazz fusion, as well as expressions by way of the visual arts — not the usual hawked about in art fairs or bazaars, but more of the exploratory, polarizing, always-questioning-its-own-existence kind. In an era where artistic boundaries are constantly being blurred and discarded, these three artists have set out to create artistic hybrids in order to "express the inexpressible." The old forms no longer suffice, so new directions are pursued.
Scott Garceau is a desk editor for The STAR, a musician and a visual artist. For his latest suite of paintings, he explores how the panoramic setting on an iPhone camera can lead to long, wide, distorted, and expressionist almost surreal imagery. These phantasmagoric snapshots are disorienting — as if the artist is presenting gaps and breaches in reality itself. David Lynch and Donnie Darko go traipsing, fearlessly and loathingly, in Las Vegas and on the zebra crossing of Abbey Road.
Julius Sanvictores works for a family-run company and is the drummer for bands The Black Vomits, Shoulder State and The Executives. As an abstractionist, Sanvictores meditates on how colors interact on canvas like the interaction of different instruments in a jazz ensemble. He treats each set of colors like horns or strings, and allows them to "jam" on a field of white. The works vary — from meditative, Bill Evans-like musings to wild, Ornette Coleman-like riot of colors.
Dennis D'Bayan is an architectural designer based in Virginia, USA. For the "Power Trio" exhibition, Dennis counterpoints the exactitude of architecture with the shapeless swirls of abstract strokes as well as objects, characters and creatures from dreams, past experiences and pop culture. Each of his works is an almost psychoanalytical exploration of the self — objects triggering memories, memories creating their own codes, ciphers and clues. Clues giving way to more clues. A case of the artist mapping out a blueprint of sorts of his own existence and essence.
"Power Trio" — featuring the works of Garceau, Sanvictores and D'Bayan — are on view from March 1 to 15 at Artablado, third floor Veranda of Robinsons Galleria. The opening reception is on March 7, Saturday, 6 p.m. with unplugged performances by The Garceaus and The Black Vomits.
Garceau, Sanvictores and D'Bayan discuss their art practice and how music permeates each nook and cranny of their canvases.
Philippine Star: What is your current profession or preoccupation?
Scott Garceau: In addition to being a writer/columnist/editor for The Philippine STAR Lifestyle section, my wife Therese Jamora-Garceau and I write and perform in a band called The Garceaus (check us out on Spotify, iTunes, Amazon, etc.), I have a newborn blog (x-patfiles.com) where I share unpublished writing, and I've been working on a series of paintings based on iPhone camera frackery.
Julius Sanvictores: My field is in real estate or leasing properties. I'm also a stock trader.
Dennis D'bayan: I am currently working as senior architectural designer/visual media specialist for an architectural and engineering firm based in the US. My work is centered on conceptual design visualization, flybys and walkthrough animations for various federal projects.
What is the inspiration behind your suite of paintings for the "Power Trio" group show?
SG: I like the idea that technology contains a potential for "glitches" in the system that unlock other ways of seeing things. It started while using my camera phone for panoramic shots in busy places, like Shibuya Crossing. It expanded to Las Vegas, New Orleans, Paris, Hollywood, Vietnam and other places.
I want people to see something that's recognizable at first, but on closer look it's also surreal and odd, maybe a little unsettling.
I'm interested in the way that flesh is most vulnerable on canvas — it's always under attack, being transformed by the artist, kind of like in a Cronenberg movie or HR Giger.
In a way, I'm looking for that moment when people open up and bleed for me. Their insides spilling out over time and space. Because in that division — that separation from what the eye usually sees and what the camera can uncover — you start to see something brand new, almost unimaginable. Is that too much to ask from our technology?
JS: Music and painting are somehow related. In listening to the rhythm, pattern, dynamics, and texture can bring and trigger an emotional response. Sometimes you see color when you listen or hear music. Painting, like music, helps me express my emotions, thoughts, and feelings to freely create something and experiment or explore with colors and forms.
DD: Most of the ideas are from personal experiences, mostly struggles and horrors (ghostly apparitions) of the past. I also try to capture dreams that are so vivid that I experience it in living color, and paint them on canvas.
Describe your working method as an artist.
SG: Usually I show up in a busy place with lots of people and take lots of panoramic shots, then sift through the results for eye-catching abnormalities.
When painting, it varies from employing camera mutations from my cell phone wholesale, to doing sketches and studies, to building up collages, to manipulating finished paintings to create new versions that are more warped.
JS: I start with listening to different kinds of music like progressive rock, jazz, metal, alternative, etc. Or watching films as reference material. Sometimes I paint spontaneously. Then pay attention to colors and patterns.
DD: Sometimes when I dab a paint on the canvas, not knowingly, images are formed. I just manipulate it. I let the painting dictate what is transforming right before my very eyes and, more often, the study is different from the finished painting.
What are the dominant or recurring themes that you explore in your art?
SG: Repetition, motion, accidents frozen on the canvas. I like that there's a separation between what we normally see and how the digital lens randomly rearranges it.
JS: I explore the play of colors and shapes with music as a bridge in painting. My artwork may mean nothing or it can mean everything.
DD: Memories from the past and dreams are always the themes in my art. I have dreamt of a Dante's Inferno-type setting by Botticelli in color which is so horrible that it always brings shivers down my spine. I would probably paint it when I get the courage.
Music is the common thread among the three artists. How is being a musician or a music enthusiast influence or inform your practice as a visual artist?
SG: When I heard it was going to be called "Power Trio," I was thrilled — I was thinking Rush, Cream, Jimi Hendrix Experience. In truth, we're more like three amigos who only meet up in the studio for the recording date. But I think our styles are gonna mesh like a fine Jaco-McLaughlin-Tony Williams instrumental. As for music while painting, it's been a lot of Massive Attack, Public Image Ltd., Nick Drake, Tame Impala.
JS: Creating notes in music sheet is like composing and arranging patterns on the canvas. Play of colors, shapes, patterns become a tool to show my emotions which I sometimes cannot say out loud. Art is a Force and another way of communicating with others.
DD: I usually don't listen to music when working or painting. The only time I listen to music is to mitigate the ambient noise in the office.
It is up to the viewer how my paintings would be interpreted. A painting is always subjective and there is beauty in ugliness.
* * *
"Power Trio" is presented by Robinsons Land's Artablado. The show is curated by the author Igan D'Bayan. Artablado is at the third floor Veranda of Robinsons Galleria. For information, visit www.facebook.com/ARTablado/.