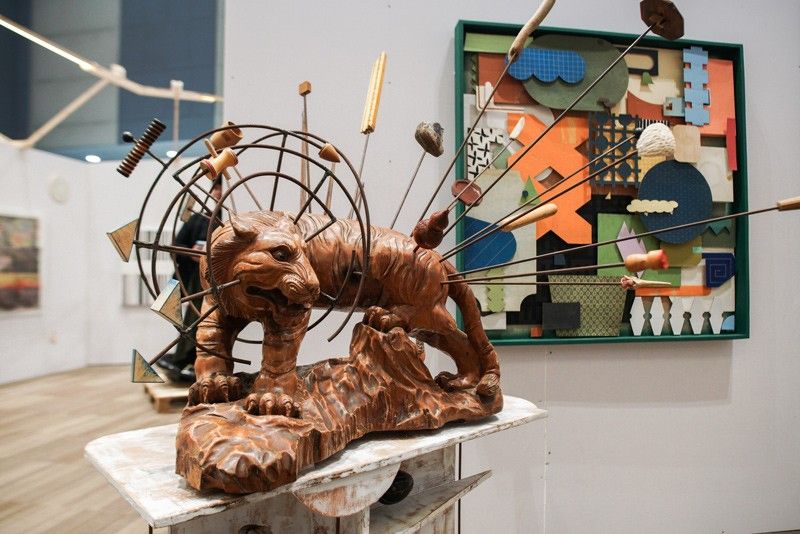 ALT Philippines 2020 brings over 150 leading contemporary Filipino artists.
Photo Release
Smart champions Filipino art at ALT Philippines 2020
(The Philippine Star) - February 23, 2020 - 12:00am
MANILA, Philippines — As connectivity inks its importance on every aspect of our lives, PLDT mobile services arm Smart Communications makes sure it is there to cover every passion point of Filipinos—from streaming and gaming, to music and sports. This list now includes support for the arts, as Smart brought customers to appreciate Filipino creativity and ingenuity at the recent ALT Philippines 2020 exhibit.
ALT Philippines 2020 is a first-of-its-kind collaborative project among 10 galleries in Manila that aims to not only showcase contemporary Filipino art, but also to reframe the notion of the art show itself, much like how Smart brought an elevated mobile experience with its Smart Signature Plans.
"Our goal has always been to enable our customers to live the life they want and bring them closer to their passions. Part of that is to provide platforms to local artists so they may be able to showcase their art and share it with the rest of the world. Being a part of ALT Philippines 2020 is one of the ways we empower our artists and make a significant contribution to the Philippine contemporary art scene," explained Smart President Alfredo Panlilio.
He added, "When we heard that the team behind ALT was looking into changing the way viewers see art, we thought that it would fit perfectly with how we would like to support art as a passion point. We also wanted to be a part of the first show that reimagined the experience of art."
Smart, being a driver of innovation, saw how art has translated over the digital side; after all, photos posted on platforms like social media now depend on handheld devices and network capabilities to transform concepts, images, perceptions and messages into visual portals like Facebook, Instagram and Twitter. These social media apps have become "digital art exhibits" for modern Filipino artists.
Here's where visual artist Derek Tumala came in with a vision that literally and figuratively pays homage to art expression that our smartphones have come to provide. Among the anticipated highlights at ALT Philippines 2020 was the digital art wall brought to life by Tumala.
"Derek's work in collaboration with Smart was a coming together of art and technology. His 'Pure Impermanence,' 10-channel video in portrait orientation reflects how we view images on our mobile phones. It represents the endless cycle of experience and image-making through a network of fleeting connections," read a statement released by ALT Philippines 2020.
For Smart's part, Panlilio recognized familiar territory for collaboration. "Connectivity and all things digital are nothing without collaboration and meaningful connections. Not only did we want to be a part of ALT Philippines 2020 by helping it come to life, but we also wanted to support artists and Filipino art in a more literal way. We wanted to help reimagine art and push the boundaries of what kind of art could be created using technology. At Smart, we take pride in supporting art, music, film, esports, and many other endeavors as these are all passions that make life exciting and worth living," he said.
Through Smart Signature Plans, subscribers can always reimagine their lives and bring their passions closer to them. No matter where their heart lies, Smart delivers the data and technology that pave way for unique experiences to be one swipe or post away.
#SmartALTPH2020 was held at SM Aura from February 13 to 16. Follow @livesmart for more details.