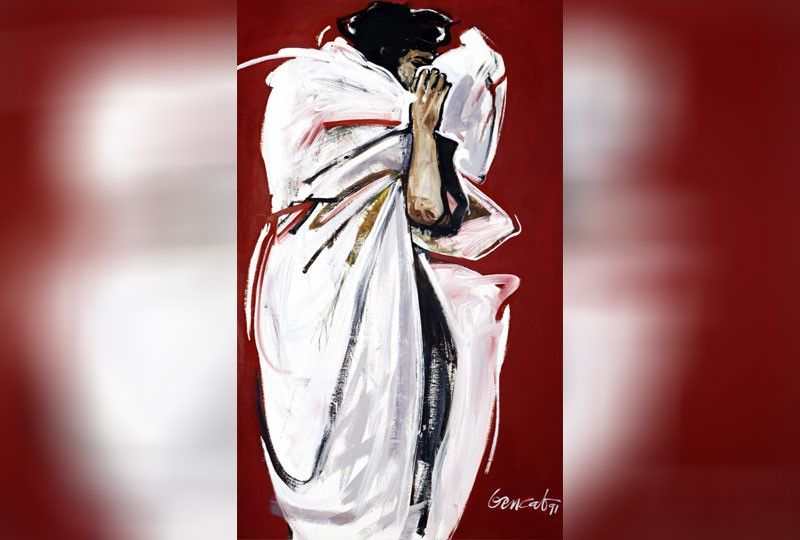 "Sabel" by BenCab went for P40 million.
Barrioquinto, BenCab, Zobel reign at León Auction
It's not often easy to learn an object lesson at an auction. Things are blurred in a haze of triumph and testosterone as the rich and the famous scramble to possess the best and the brightest in Filipino art and history.
"Each auction is different," said Jaime Ponce de Leon, director of León Gallery. "It's never apples to apples."
He explained: "What is important is that quality rules and the best quality rules the best. I always advise collectors to get the very best that they can afford. That adage works for any kind of investment, from real estate to blue-chip paintings. Exquisite art will always rise to seek its own level."
Two of the most sought-after contemporary artists Buen Calubayan and Andres Barrioquinto both set world records at the León Gallery Kingly Treasures Auction last weekend.
Ponce de Leon further noted, "Barrioquinto appeals to a wide market, both foreign and local. His impressive skill is coupled by his brilliant choices of subject matter that is both cerebral and whimsical. These are the key ingredients to what makes a great painting." His grand opus titled "Procession" depicts a peacock-masked princess astride a sinewy white horse. This massive piece, measuring five by seven feet, soared to P17.5 million at auction, inclusive of buyer's premium.
He emphasized, "Barrioquinto is also managed excellently by an art agency headed by the very talented Derek Flores. That has allowed him the optimum local and international exposure too much or too little can be tricky. Barrioquinto's management has opened many doors for him, thus building him an unmatched pedigree among his contemporaries."
Buen Calubayan also has a strong following among the cognoscenti, said Ponce de Leon.
"In fact, he has the patronage of the most important collector in Manila," he confides. "Buen is intellectual to a fault. His scientific approach to his art is critically acclaimed. And I must mention that he, like Barrioquinto, has been managed very well by his gallerist." His extremely important "La Barca de Aqueronte," part of the landmark exhibit "Hidalgo: Towards a History Within," leaped to P9.3 million, inclusive of buyer's premium. It also measured an extravagant six by nine feet.
Among the moderns, Fernando Zobel scored an impressive P35 million, reflecting the rarity of the Serie Negra (Black Series). The elusive painting is named after a small town outside Madrid, Perales de Tajuña. This masterpiece was a gift from the artist to one of the founders of the University of Manila.
The Ossorio, titled "Crossroads," climbed to P11.1 million on the wings of the equal rarity of this kind of his assemblage, which he called, with religious fervor, his "congregations." Belonging to one of Ossorio's brothers, it also "represented the peak of his oeuvre," according to Ponce de Leon. "Perhaps no phase of his output represents the artist more that this," he pointed out. The work also attracted international interest.
Ang Kiukok's evocative "Screaming Figures" swept up a stunning P10 million, inclusive of buyer's premium. Ponce de Leon said this demonstrated the National Artist's role in Philippine art history.
Impelled by the strong interest in 20th century art, León Gallery intends to spotlight a Filipino innovator, Leo Valledor, in the Art Fair Philippines 2020 edition next February. "Valledor was an important player at the legendary Park Place of New York in the mid-Sixties," emphasized Ponce de Leon. "I think he is as important if not more so than Alfonso Ossorio. The SF MoMa has key Valledor works in their permanent collection," he added.
Reinforcing the view that the best works set their own pace, Ponce de Leon added, "The Amorsolo from 1918 from the Don Luis Ma. Araneta Collection was probably among the earliest ever offered at auction. Amorsolo was in Madrid at the time and it was his formative years — especially under the influence of the master of sunlight, Joaquin Sorolla. Pieces from this period are only understood and coveted by the most sophisticated of collectors." "Portrait of an Old Violinist" went for almost P4 million, including buyer's premium.
A ravishing "Sabel," outlined in bold strokes, was the other star of the auction and went for P40 million. Ponce de Leon explained why: "I believe it was its very seductive dark red color, a kind of carmine, very Old World and quite appealing." Of course, size matters, too: this oversized BenCab towered to almost eight feet high.
Fragments of our nation's history continued to reap collectors' attentions. Fierce bidding for a Katipunan "Blood Oath," which is the only one of its kind in the Philippines, brought the final price up to P4.4 million, inclusive of buyer's premium. The document represents not just Bonifacio's ideals but also their grounding in Rizal's vision of the noble Filipino before the arrival of the Spanish. The heroes of the Revolution as well as the Philippine-American War, including Gen. Miguel Malvar, were also represented at the auction.
Ponce de Leon said with finality, "Different rules always apply for great artworks."