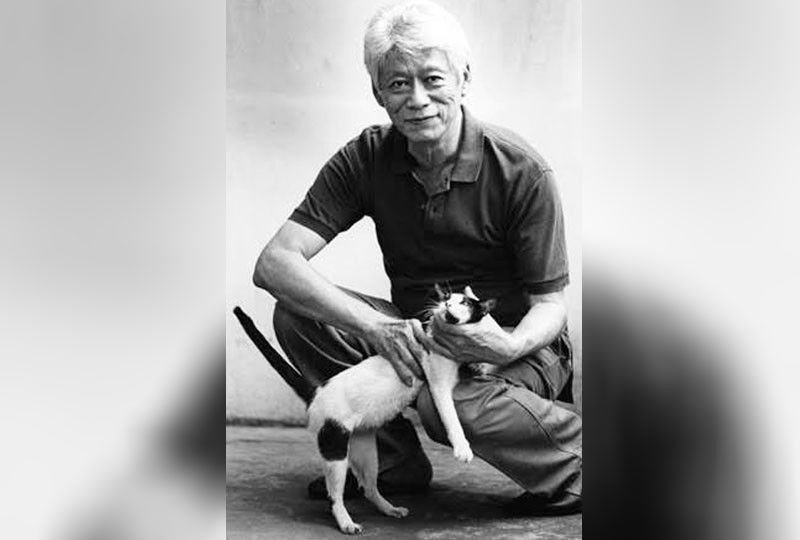 Beautiful, Disturbing and Eloquent: Winners of the Many-Faced Ang Kiukok Contest
Young writers celebrated the art and times of the visionary Ang Kiukok, to mark the arrival of remarkable masterpieces by this National Artist at the León Gallery Kingly Treasures Auction last weekend.
The contest was titled "The Many-Faced Ang Kiukok" and called for entries for essays to sum up Ang Kiukok's place in Philippine art history in both written format and in this age of new media in video. Over 50 essays and almost 20 videos were submitted. Philippine STAR was an official media partner. The awards were given by León Gallery director Jaime Ponce de Leon at the traditional preview reception that precedes each major auction.
Danielle Tamara Fabella, 24 and a UP Fine Arts graduate, was named winner for the Best Written Essay. She put this unique artist in the exacting context of post-war Manila: "Ang Kiukok's artistic career kicked into gear in the 1950s, at a time when the country was still reeling from the devastating aftermath of the Battle of Manila in 1945. This was reflected in the visual arts through works that illustrated the atrocities of war and attempted to find some form of philosophical sense amidst such senseless death and destruction. Cesar Legaspi depicted a ruined stairway leading nowhere. Galo Ocampo depicted flagellants in pain traversing desolate landscapes. Others opted to construct a new reality altogether, with the emergence of the Neo-Realists and post-war abstractionists.
"It is against this backdrop that Kiukok's works can be contextualized. The artist is known for his highly expressionistic cubist works that do not shy from depicting the truth," she said.
There were several outstanding essays, said Ponce de Leon, making it difficult to select just one winner. Among them was one by Mara Pepaño, who works at the Philippine Broadcast Service, who declared, "Ang Kiukok painted and expressed like no one else. His paintings in cubism, expressionism and surrealism styles are perpetually distinct, almost always disturbing, and prodigiously exuding intense feelings of insurrection, a thirst for freedom, and godly faith.
"Ang Kiukok's role in Philippine art is," she wrote, "and will always be, unparalleled. He made seemingly deviant art acceptable, and peculiarity, beautiful. He made Filipinos see the ugliness in the everyday through his works, so they would strive to be better, and make their country more livable. But the National Artist for Visual Arts also made people see the beauty even in the ugliest times, and light in the darkest realms."
She noted, "He is an influence to budding and successful artists alike to express fearlessly, to be the voice of those who are powerless, or are unwilling, and to create art that awakens the soul, challenges the mind, and fights the atrocities of the world."
Another piece by Mark Cabigas noted, "His exceptional and peculiar depiction of truth through aberrant cubism, surrealism and expressionism perfectly limned the angst and unchained the madness in our core."
A student from UP Diliman, Raissa Azarcon, said, "As Kiukok becomes more and more painfully aware of the universal suffering of mankind, whose existence is inherently frustrating, he gradually veers away from the pretty and the popular as subject matter and becomes drawn to themes that tackle aggression, alienation, pain, fear and the harrowing reality of man's inhumanity to his own kind. Here, we can see that his choice of subject matter reveals not so much his lamentations of human travails and sufferings but his own private pain and cynic worldview that of a world where man, himself, is a powerless victim.
"However, despite relegating hope to a far distant sphere and being obsessed with man's predicament against the unforgiving claws of industrial capitalism, Ang Kiukok believes that there still remains a part of him that is not consumed with darkness or angst."
Other entries were submitted in Filipino and from great distances, north and south. Lino S. Gayanilo Jr., 24, a biology teacher from Sultan Kudarat who also longs to be a painter, was voted "Audience Choice Award for Best Written Essay." He waxed poetic in describing one of the most famous Filipino artists of our time, "Sa panahong hindi pa ipinanganak ang makina, tanging mga kamay, bitbit ang brotsa at pinsel, ang naging armas ni Ang Kiukok at iba pang pintor na humihiyaw sa bayang nakabulambon sa plastik"(paraphrased as follows: "At a time before the birth of the machine, only a hand holding a brush was the weapon of Ang Kiukok and other painters who were alive in a town wrapped in inhumanity.")
Winner for the Best Video Essay was Paolo M. Caasi, 23, a UST medical student. Audience Choice for Best Video Essay went to James Dennis Tandoc, 28, a Lyceum-Northwestern University graduate and an online English tutor who lives in Dagupan City.
Raissa Azarcon, who majors in art studies, summed it up thus, "Ang Kiukok's aesthetics… suggest that we are more than this garment of flesh, more than the limits imposed by our human body. Perhaps Kiukok, despite his hard veneer of cynicism, is a man who, just like the rest of us, is a reckless optimist in denial. Why else would he paint if not for that little flicker of hope burning in his heart?"