The red moon rises on Filipino flamenco
November 18, 2019 | 12:00am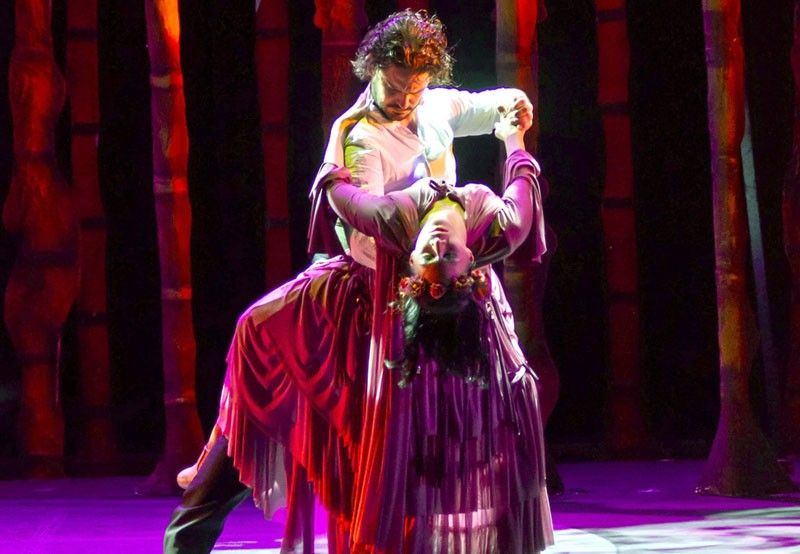 In a milestone for Philippine dance, the country's only flamenco school, Fundacion Centro Flamenco, has been asked to perform its original flamenco ballet, La Luna Roja, in Malaga, Spain, next year.
"It is an honor to be invited to perform in Malaga in 2020," says Emma Estrada, Centro Flamenco's founder and artistic director. "Next year's performance will be the Fundacion Centro Flamenco's first under the banner of EFA (Escuela de Flamenco de Andalucia), as their official headquarters in Manila."
Yes, the flamenco-school network in Andalucia the region in southern Spain that is the birthplace and cradle of flamenco has accredited my maestra's flamenco school on Kalayaan Avenue in Makati. I'm excited to say we're truly legit now!
And Estrada's creation, La Luna Roja (The Red Moon), the country's first full-length flamenco "ballet" (the term refers not to the style of dance but the fact that, unlike flamenco tablaos, where dancers improvise and dance as the spirit moves them in small, intimate venues, this production has an actual narrative storyline and predetermined choreography, just as great ballets like Swan Lake do) has come a long way.
In 2015 the seed of the story was germinating in Estrada's mind, and she presented a nascent version of it as the second half of Centro Flamenco's recital that year. Feedback was that the audience loved it, and wanted to see more.
In 2017 Estrada completed the libretto and choreography for a full-length, one hour-plus-long show, and we presented it at the Carlos P. Romulo Auditorium in RCBC Plaza under the direction of noted theater director and actor Leo Rialp, a veteran at staging Centro Flamenco recitals.
"The first time I saw this company I was immediately hooked by the 'wildness,' the raw emotions, the fire and passion of it all," he says. "Most of all, Emma is a great teacher and I am an avid believer in her choreographic knowledge of flamenco. She possesses the passion for it. I have seen so much work in flamenco and I really believe she would rank as among the best choreographers in the world."
To lend authentic flavor and raise the level of La Luna Roja even higher, flamenco artists were flown in from Spain: dancers Javier Martos and Isaac Barbero Rufo, singer Sergio Gomez, guitarist Ruben Campos, and cajon player Jose "El Indio" Cortes.
Again the audience loved it, and told us so. I was on Cloud 9 after being congratulated by total strangers afterward one a Japanese gentleman who shook my hand and kept repeating, "So good… so good."
In essence, La Luna Roja revolves around three sisters with very different personalities and fates. The eldest, Aryana (played by Mercedes Soler), is the sensible, responsible one. The middle sister, Aydanamara (Eda Calonia-Bautista), is the town flirt whose dalliances with men end up having dire consequences. The youngest, Alba (Nina Glorioso), is the innocent who follows her heart when she falls in love for the first time.
Their small market town in Spain is upended when a callow youth, Adrian (Angel Gomez), falls in love with Aydanamara. When she inevitably breaks his heart and makes him the town laughingstock, he takes his own life. Worse, his mother is a powerful and feared sorceress (played by Tami Monsod) and, seeking revenge, she puts a curse on Aydanamara and the other women of the village: Every time the red moon rises, they are doomed to lust after any man who has the misfortune of entering the village and then try to kill him... unless, of course, an act of true love can break the curse.
Romance, dark magic, pain and redemption La Luna Roja has all the elements of the great ballets that have come before it, with the added fire of flamenco's passion, intensity and compelling rhythms. Truly, it's the ultimate hugot dance.
So successful was the initial staging that it sold out, earned its own Wikipedia entry, and garnered the invitation from EFA for Centro to perform it in Spain. It's also back by popular demand, being restaged at RCBC for two shows on Nov. 23 and 24.
Rialp says the audience can look forward to "a tighter, more exciting and thrilling show. The passion and fire of flamenco." There will also be a new Spanish cantaor, Alejandro Lujan.
In the first staging, Estrada said she had to deal with a lot of unknowns. "I could see the story and the choreography in my mind, but was not sure how the tale would translate to the audience," she says. "The remake of La Luna Roja has allowed me more time to think about the elements of the ballet and collaborate closely with Leo Rialp, whose unparalleled experience in theater was instrumental in giving life to my vision. His invaluable suggestions definitely added stronger theatrical elements and drama to my choreographies."
This time she and Rialp are taking the time to fully explore the relationships between the characters, "whether it be the devotion of Adrian's mother to her son, or the trust between Aydanamara and her lover," Estrada says. "I also want the effect of the curse, with the malice, rage and lust that accompanied it, to feel visceral and real to the audience."
Rialp says the choreography has been tweaked to clarify certain points in the storytelling that they found lacking in definition. "Dance is not meant to be understood in literal terms," he points out. "Because the choreographer uses the human body, gesture and imagery, visual metaphors in developing the story, there is a lot of room for interpretation. The ambiguity, I believe, strengthens the story and gives the viewer the opportunity to interpret the dance and the characters the way he/she sees it."
As a member of the corps, I can attest to that. To strengthen our handle on our characters and draw out deeper levels of emotion, we took acting workshops with theater director/producer/actress Jenny Jamora (who happens to be my sister), and rehearse up to three times a week, for three to four hours at a time. It's a huge investment of time, effort and money (looking for sponsors is a whole other story), not to mention heart and soul. Flamenco is a hard but rewarding taskmaster — an art form that could take a whole lifetime to master. Maybe that's why I find it so addictive.
"Flamenco is universal because humanity is universal," Estrada says. "All of us feel loss, anger, grief, joy and love. However, the source of how that love and that loss are interpreted in this case is uniquely Filipino. So, while this flamenco ballet and flamenco itself can be interpreted by any culture, the well from which the dancers will draw upon, the emotions that shape their dance are uniquely Filipino."
* * *
La Luna Roja, presented by Centro Flamenco in partnership with Megaworld Corporation, with special thanks to Passion Arts, Subic Homes, MAC and Island Rose, will be staged at the Carlos P. Romulo Auditorium on the fourth floor of Tower II, RCBC Plaza, Ayala Avenue, Makati, on Nov. 23, Saturday, at 8 p.m. and Nov. 24, Sunday at 3 p.m. Tickets are available at Ticketworld.com.ph.
Follow the author @theresejamoragarceau on Instagram and Facebook.