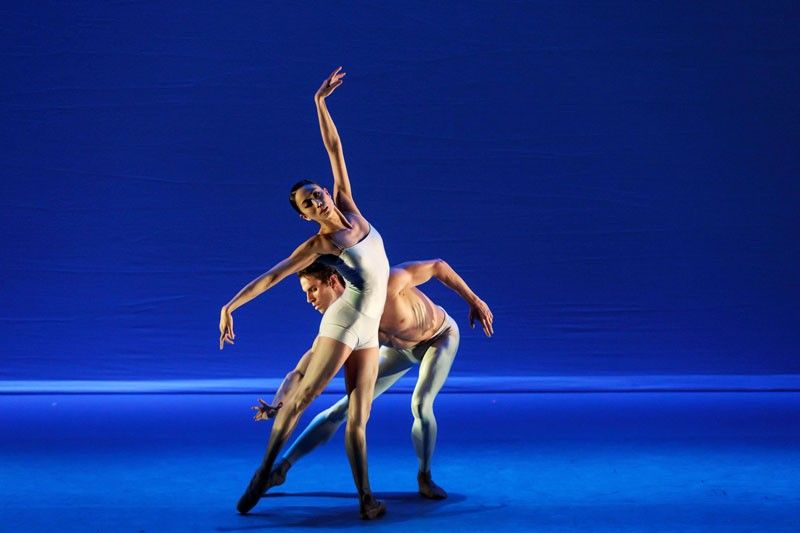 ABT principal dancers Stella Abrera and James Whiteside in Elegy by Liam Scarlett. Dance performance photos by Jojo Mamangun
Stella Abrera & American Ballet Theatre in an emotional homecoming to manila
With all the buzz about the return of internationally acclaimed ballerina Stella Abrera and the American Ballet Theatre (ABT) to Manila, what many may not have known was that this group of dancers from New York included Elwince Magbitang, the CENTEX and STEPS Dance Studio scholar from Tondo who is now a member of the ABT Studio Company. It was a triumphant homecoming for Magbitang who shared the stage with his mentor and colleagues for "Stella Abrera & Rising Stars of ABT Featuring James Whiteside" at a sold-out gala opening last Nov. 7 at Maybank Theatre BGC a fundraising show for the benefit of CENTEX, Ayala Foundation's program that provides holistic, quality and transformative education for economically disadvantaged children.
Just early last year, Magbitang was on the same stage together with the STEPS dancers who were invited by Abrera to dance with her and the ABT stars for an excerpt of Don Quixote in "An Intimate Evening with Stella Abrera & American Ballet Stars," the successful first edition of this benefit series. Little did he know that Abrera and her husband, Sascha Radetsky, artistic director of ABT Studio Company, had singled him out, together with Raye Vince Pelegrin, and sent their audition videos to Cynthia Harvey, artistic director of ABT's Jacqueline Kennedy Onassis (JKO) School, who immediately accepted them for the 2018-2019 school year. The boys never imagined that they would be studying in one of the most revered ballet companies of the world and meet their idols in the dance world, not to mention having the experience of living in New York City, the exhilarating centre of art and culture.
It was the culmination of Abrera's efforts in helping those in need and fulfilling her advocacy to make education and the arts available to all. When she came to dance for Ballet Philippines in 2014 she sadly found the country of her birth devastated by super typhoon Haiyan, prompting her to establish Steps Forward for the Philippines to help in the restoration of a school in Guiuan. Shortly thereafter, she met Sofia Elizalde, director of STEPS and found kindred spirit in pushing her advocacy further. STEPS had been working with the Ayala Foundation in giving dance scholarships for the students of CENTEX. Together they organised the show's first edition to benefit these children. "I see a parallel in the missions of CENTEX and ABT," says Abrera. "Both organizations offer a sanctuary where young people can be nurtured by passionate mentors to go on to bright futures." For Magbitang and Pelegrin, "their lives have changed, thanks to the incredible opportunity at the JKO school and now Elwince is going on tour all over as a member of the ABT Studio Company," says Elizalde who's so proud and happy for her two students who she trained and mentored at her school.
ABT Studio Company is a stepping stone between the school and the main company. "An elite 'crack squad' of 12 of the most talented dancers from around the world who were handpicked to serve in the company and learn how to become professionals," according to Radetsky. "We give them a wide range of performance experience and ultimately try to encourage their flowering from athlete into artist."
This artistry, indeed, was evident at the gala night. The audience was treated to a high level of dancing and top-notch choreography in an exciting repertoire of classics as well as current commissioned works that we normally don't see in Manila, thanks to collaborations of ABT with choreographers from all over the world.
The grand pas de deux of Flames of Paris opened the show with Kanon Kimura and Duncan McIlwaine delivering the ballet pyrotechnics while showing their proficiency in elaborate classical dancing. Their colleagues, Teresa D'Ortone, Seon Lee Park, Yoon Jung Seo and Aleisha Walker, partnered by Tristan Brosnan, Arthur Erlanson, Andrew Robare and Elwince Magbitang were entrusted with Escapades by Amy Hall Garner — a new creation that had its premier that night. They did the piece justice with their outstanding ensemble work, executing a distinctive blend of classic and jazz movements. This was Magbitang's first dance for the evening and he was a revelation, standing out with articulated angular arm movements and cleanly executed pirouettes.
The anticipation was palpable when Stella Abrera and James Whiteside entered the stage to do Elegy by Liam Scarlett, the Royal Ballet's first Artist in residence and one of today's most sought-after choreographers. And when they finally executed the piece, the result was utterly sublime. Abrera and Whiteside showed the rhythmic and technical virtuosity that makes a principal dancer. Whiteside has the perfect blend of strength and suppleness to execute the complex partnering that involved sensual caresses alternating with sudden, abrupt manipulations. Abrera, on the other hand, melted and contorted with a grace that belied the difficult movements requiring impeccable technical mastery.
The second half of the show began with another beautiful ensemble piece, On the First Star of the Night by Ma Cong, whose Chinese classical dance background coupled by his venture into ballet in the West produced some interesting choreography with rich, delicate partnering executed perfectly by Melvin Lawovi, Joseph Markey, Duncan McIlwaine and Andrew Robare together with Leah Baylin, Teresa d'Ortone, Kanon Kimura and Chloe Misseldine. This was followed by Magbitang's much-awaited solo, Gopak, which showed how far he has gone in technical prowess since he joined ABT.
The finale, La Bayadère, was proof that the best dancers don't need sets to capture the imagination. With Whiteside and Misseldine delineating the roles of the betrothed Solor and Gamzatti and Abrera as the temple dancer Nikiya, the snippet of the story of eternal love and mystery came to life, ably supported by the corps.
It was another successful event with a rousing applause from the audience that meant so much for the ABT dancers. But probably an even more endearing form of appreciation was experienced when they visited the beneficiaries of their hard work — the students at CENTEX Tondo who look up to them for inspiration. For Stella, it was even more emotional when she and Sascha visited at CENTEX Batangas and all the students greeted them with such affection. It was a joy seeing how she has inspired them and that they now have a school for dance which was aptly named the "Stella Abrera Dance and Music Hall." Built from the proceeds of the show last year, it's a lasting testament to how she has been instrumental in shaping the future of ballet in the country.
* * *
"Stella Abrera & the Rising Stars of American Ballet Theatre Featuring James Whiteside, Principal Dancer, American Ballet Theatre" was co-presented by Patek Philippe and supported by STEPS Dance Studio, SEDA, Ayala Corporation, Ayala Land, Inc., Globe Platinum, Noble House Enterprise Distribution, Malongo, Distinqt, Lacoste, LBC, Capezio, Sharp Travel Service, and ARC Gin by Full Circle Distillers
Follow the authors on Instagram @rickytchitov; Twitter @RickyToledo23; Facebook - Ricky Toledo Chito Vijandre.