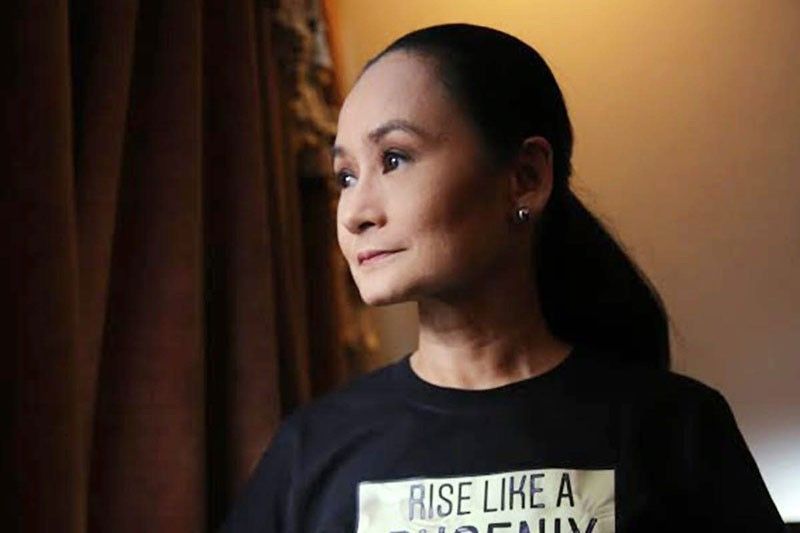 With a twinkle in her eyes, a resolute Lisa declares, "I do believe that slowly but surely, Aliw Theater will stand again. We'll have a home again. Star City will open its doors again."
Photos by Russel Palma
Lisa Macuja-Elizalde: 'We may have lost our theater in the fire, but the show must go on'
Just a few days after a fire burned down Star City, including Aliw Theater, home of Ballet Manila, prima ballerina Lisa Macuja, the graceful White Swan of Swan Lake, morphs into a defiant phoenix as she declares, "We may have lost our home, we may have lost our theater, we may have lost everything in the fire, but our love for dance burns forever bright. We will rise from the ashes."
Yes, Ballet Manila's much-awaited 24th season production of Giselle will go on as scheduled on Thursday, Oct. 17, 8 p.m. at a new venue, the CCP Main Theater (Tanghalang Nicanor Abelardo).
Lisa simply can't forget the outpouring of support that came from people in the industry. "CCP offered us their main theater while Ballet Philippines donated the use of their backdrops because ours were destroyed in the fire," she relates. "Thankfully, our Giselle costumes are all intact because they were all stored in the Ballet Manila headquarters."
Giselle is more than the tragic love story of a peasant girl who falls for a nobleman and dies of a broken heart when she finds out that her lover is betrothed to another. For Lisa, it is "a fulfillment of our commitment to our subscribers and regular ticket buyers who bought tickets to our on pointe season; a fulfillment of a commitment to all my dancers who have rehearsed long and hard to be able to perform; a commitment to maestro Alexander Vikulov who flew all the way from St. Petersburg, Russia; a commitment to the Manila Symphony Orchestra because I originally contracted them for two performances and now, it's down to one; the fulfillment of a commitment to, as much as possible, keep on dancing."
Have floor, will dance
Lisa gets teary-eyed when she talks about her Aliw Theater, now but a dream remembered. Brushing off the pain of losing a home, she looks back, "Ballet Manila began with much less 24 years ago. As we move into our 25th year, we have grown but at the same time, I think we've also become a bit too comfortable. Losing our home theaters is a wake-up call for all of us to go back to how we all began, back to our roots, back to dancing in school gyms, basketball courts, cockpit arenas, the streets and town halls where we used to dance, from Abra to Zamboanga. Our motto has always been, 'Have floor, will dance.' I think we're going to be doing that for a while. It's going to be a great experience for everyone."
With a twinkle in her eyes, a resolute Lisa declares, "I do believe that slowly but surely, Aliw Theater will stand again. We'll have a home again. Star City will open its doors again."
And then with a hint of sadness in her voice, she announces, "So now, we've rethought the rest of our season as we hunt for new venues. We want to continue with on pointe, but I have decided to postpone the world premiere of Sleeping Beauty because I just couldn't see it happening anywhere else except the Aliw Theater. However, we're going to push through with Carmina Burana and La Traviata in February-March (the venue to be announced later)."
Even as production has had to be scaled down, Ballet Manila remains unwavering in its mission/vision to bring ballet to the people and more people to ballet. "We've actually accomplished that without a home theater, a home studio, when we started out as just 12 young dancers with Eric Cruz as our artistic director," Lisa recounts.A world-class 'Giselle'
What Ballet Manila enthusiasts will see on October 17 at the CCP is a world-class performance of Giselle with the young and talented Joan Sia in the lead role, the multi-awarded Elpidio Magat as the male lead Albrecht, Akari Ida as Myrtha, and Nicole Barroso in the peasant pas de deux. Music is by the legendary French composer Adolphe Adam, as performed live by the Manila Symphony Orchestra led by renowned Russian conductor Alexander Vikulov.
Lisa adds with a hint of pride, "You'll be seeing our corps de ballet, the 24 Wilis (the spirits of young women who die before their wedding) in their flowing white tutus moving in perfect sync."
Giselle has been a staple in Ballet Manila's classical repertoire since its beginnings in 1995. Lisa Macuja herself has played Giselle many times, but she will never forget the first time she danced Giselle at the Mariinsky Theater in St. Petersburg, Russia. "I was a nervous wreck, it was probably the worst Giselle I've ever done in my life," she relates with a chuckle. "When I woke up that morning, before going to the venue, I did not eat. I couldn't eat because I was so nervous the whole day. But before leaving for the theater, I realized that if I didn't eat, I might faint during the show. So, I ate, which was actually wrong because I felt like throwing up during the entire performance (before a purely Russian audience). And I did fall three times during that performance. Nevertheless, I learned a lesson that went with me for the rest of my life."
The first foreign soloist to ever join the Kirov Ballet, this exceptionally gifted prima ballerina, who has dazzled the world, has had her ample share of injuries. "I had a total hip replacement two years ago," she tells us. "I had a ruptured plantar fascia during a tour in London. I had chronic tendonitis on both my ankles which required surgery."
But thankfully, she confesses, she was able to hang up her tutus and pointe shoes not because of a career injury. "I was able to end my career dancing Aurora on my 50th birthday," Lisa gushes. "I continued dancing until I turned 52."
She adds with an impish laugh, "I could probably dance again, but it might need a crisis."
What Lisa is certain of is that, broken bones and all, she will continue to pursue her dream. "My dream is for the Philippines to have what I experienced as a young child in Russia, which is an academy where talented young boys and girls could go to school and get their ballet training all in one building, with very qualified teachers and a whole program that will prepare them for a professional career in dance. And of course, I dream of full houses for all our performances and always, to a live orchestra."
As for us, we dream that Lisa Macuja and her Ballet Manila will never stop dreaming, come what may.
* * *
Tickets to Giselle are available at Ticketworld or call 8891-9999. For details, email info@balletmanila.com.ph or call 09188077148.