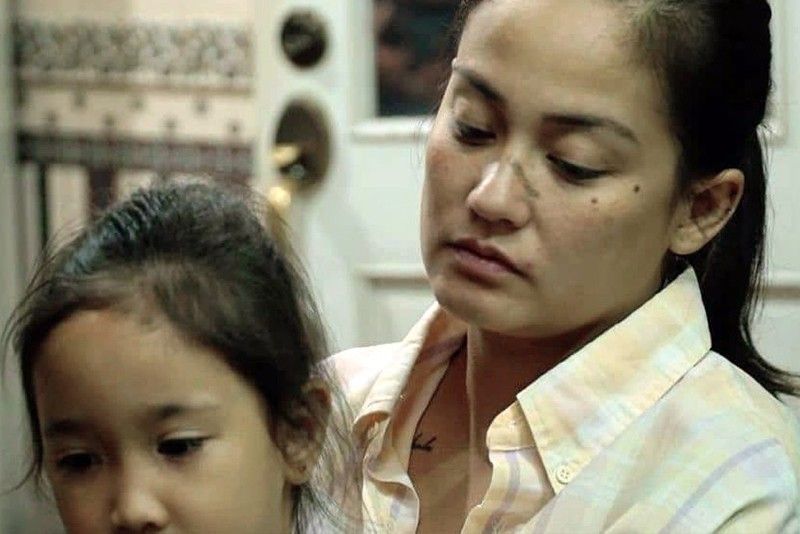 Scenes from Raymund Ribay's Verdict. Photos courtesy of Brillante Mendoza's Center Stage Productions
Raymund Ribay's Mandaluyong is also Brillante's
The film Verdict starts violently enough, Raymund Ribay Gutierrez's riveting tale of domestic violence in Mandaluyong, otherwise known as the Tiger City, and its aftermath spiraling through a drawn-out trial that merges the unconventional with old school narrative. Early on the audience gets the drift that Ribay is a student of the hyper-realist auteur Brillante Mendoza, whose handheld camera previously also explored the labyrinthine slums of Addition Hills, taking us through a dizzying tour of urban hell even the devil has forsaken.
But Ribay chooses to stick closer to the storytelling thread wherever it may lead him: the late Kristoffer King, in what was likely his last role before passing on earlier this year, and the earthy Max Eigenmann of the acting clan are the feuding couple, with the opening scene putting viewer right into the fray of the Santoses, their six-year-old daughter Angel caught in the crossfire, and Dante kicking and raining blows on hapless wife Joy in their cramped dwelling following a "misunderstanding" and the woman is not quick enough to buy her man some gin. When Joy sees daughter's head bleeding, she picks up a kitchen knife and slashes her husband's arm to keep him from inflicting further harm.
The movie's first 10 to 15 minutes are surely among the most violent on film in recent memory, which artlessness eschews any form of choreography, the camera itself thrust amidst the mayhem. The next couple of hours are spent trying to recover from the graphic fight, as story unfolds through the domestic violence trial and courtroom drama, with the opposing parties pitting their respective lawyers and strategies, in an effort to come up with whatever can be salvaged from a failed marriage.
Courtroom proceedings are nothing new in cinema, having been done in various styles from the barebones Rashomon by Kurosawa to the thoroughly conventional The Verdict with Paul Newman and even And Justice for All with Al Pacino. Indeed the search for justice is universal, and its use as enduring subject of art or in this wise, film, makes it all the more daguerreotype.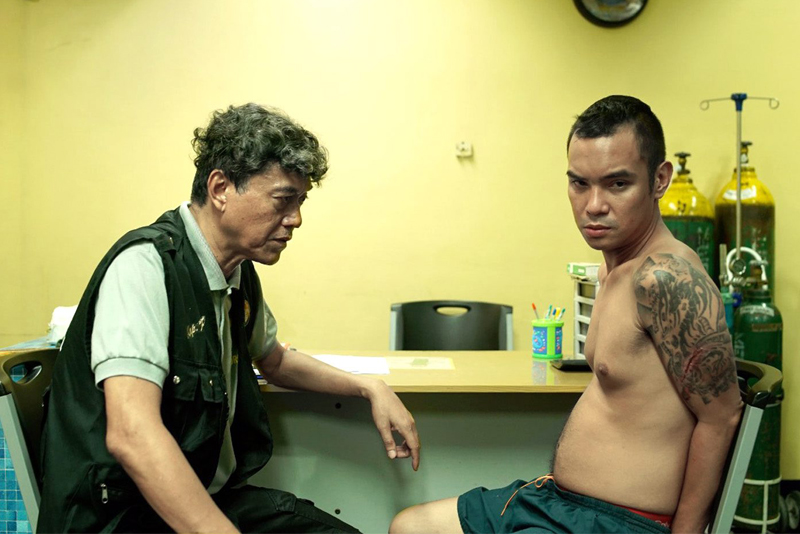 Ribay's use of supporting actors is quite deft, with proof of the pudding being that many times it seems they are actually non-actors. But of course they are, they're just not instantly recognizable. For example, that was Perry Dizon, one of Lav Diaz's favorite actors, among the coterie of barangay tanods dispatched to arrest Dante after his rampage that had left Joy's face broken and bleeding and forces her to flee, child in tow, to the police.
The couple's respective mothers turn in convincing turns, as well their respective lawyers, ditto the actress who plays Deniece, Dante's sister. They're all players in this domestic drama that takes on heightened proportions when stakes are raised with the realization that family is the basic unit of society. If family falls apart, what then the chances of other institutions standing ground?
Not the director's penchant to moralize, however, opting to hew to the story that must be told in a manner that's grainy, unsentimental, duotones exploding on screen. Verdict has a documentary, cinéma vérité verging on noirish feel that works to its advantage, and you might say both judge and jury are still out on this one.
Surely the twist at the end is totally unexpected as it is brilliant, and lays bare that justice as we know it doesn't always work. Maybe in a better world — maybe in the better of two different worlds.
A word on Mandaluyong, the city of our affections, as much Ribay's as it is Mendoza's. The in-your-face cinema takes us through the streets and alleys not unfamiliar, past the innumerable turo-turos where a fly might be buzzing in the estante, the sari-sari stores with students milling about, the municipio floods jeepneys tricycles barkers and shirtless tattooed barkada with their endless card games in the afternoon stretching into evening, a milieu at once recognizable and close to our hearts fast turning into stone with the sound of a man beating up his wife in a far hidden-away apartment, out of sight out of mind, but which Ribay in his brave unblinking film has brought to light.