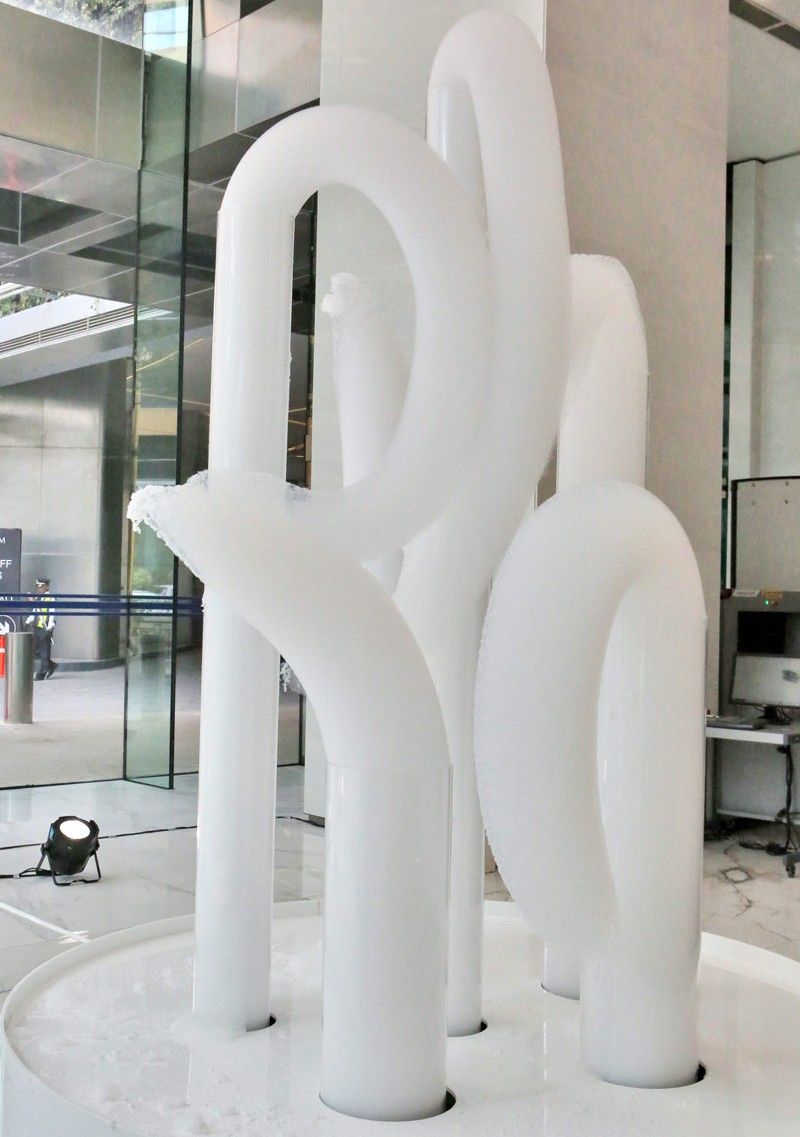 Part of a series that began in the '60s, David Medalla's "Cloud Canyons No. 31" occupies a prime spot at the lobby of BDO Corporate Center in Ortigas. The bank welcomes everyone to visit the permanent installation.
Photos by Ernie Peñaredondo
David Medalla's 'Cloud Canyons': Magic, Machines, and Free Imagination
These days, it is hard to speak with David Medalla. It isn't only because of his condition but whenever I tried to approach him that Saturday afternoon, there were many things standing in between: a mob of media photographers shooting Medalla's every move and antic, old acquaintances exchanging well wishes, years amounting to two generations. When I finally come to talk to him, I can hardly understand.
Maybe as much could be said of "Cloud Canyons No. 31." For bystanders or for my generation used to the stubborn strangeness of contemporary art, it is hard to understand the profound worth of this kinetic-slash-auto-creative sculpture beyond its impressive provenance: From an exhibition in 2016 when Medalla was shortlisted for the Hepworth Prize for Sculpture, it was lent to the Centre Pompidou-Metz in France and to the Biennale de Lyon. It then made its way to S/2, a gallery that operates under Sotheby's where Mara Coson, writer and advisor to the BDO Art Collection, saw it and brought it home. "It's hard to explain to people that it's a bubble machine," Coson tells me. We are in front of the slow-moving sculpture, a white massive frothing organism inside the BDO Corporate Center where it's permanently open for public viewing.
"This is the last time I will have to install it," Adam Nankervis, Medalla's longtime collaborator and partner, says of "No. 31." For the last 25 years, Nankervis has been installing the different iterations of "Cloud Canyons," a series which the young Medalla began in the early 1960s. There aren't many that exist — some which do are scattered in Singapore, New Zealand, and Brazil — but some remained ephemeral, living for quick encounters.
Nonetheless, assures Nankervis, "what I could tell you is that everybody who ever views it, never walks past it." Not even Marcel Duchamp. This is the undying anecdote that comes with the myth: Duchamp, champion of the readymades, liked Medalla's sculptures so much that he made a sculpture of metal bubbles and called it the Medallic sculpture, in honor of the bubble machine's clever maker. "He saw the power in what sculpture could achieve," says Nankervis. Duchamp saw it as a higher being as, say, a Brancusi for the reason "that it was alive."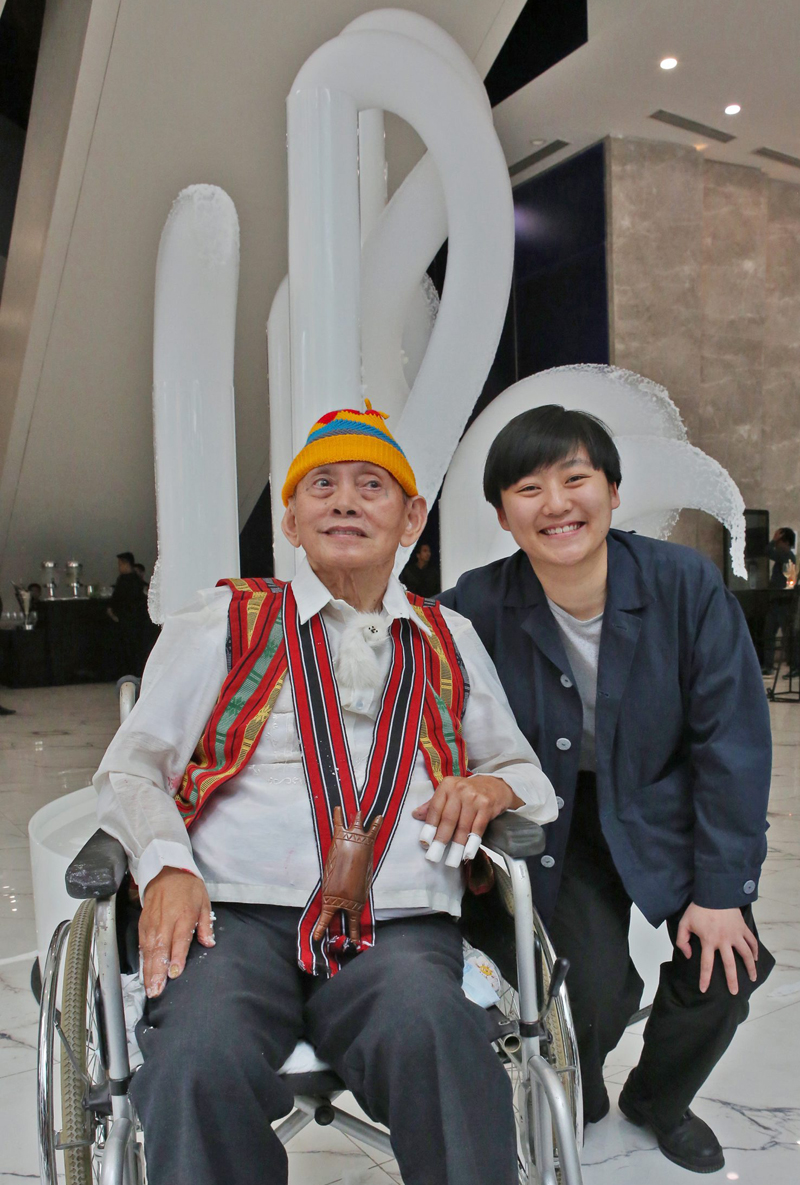 Mara Coson, advisor to the BDO Art Collection, brings home an iteration of David Medalla's "Cloud Canyons" series and keeps it open for public viewing.
We can only imagine Medalla's roaring years, rubbing elbows with Western art's notorious history-makers. Maybe it is exactly for this reason that, at this point in time, it is difficult to distinguish Medalla the man from Medalla the myth. The media is ever quick to affix superlatives: master, icon, living legend. And while the man whose practice ranges from kinetic art to performance, land, and installation art deserves it, sometimes the business of sensationalizing strips the work of context.
"Cloud Canyons" emerged from an era when kinetic artists experimented with form and weightlessness in sculpture, rendering appearance fluid, never fixed and never final. The term auto-creative sculpture also harks back to auto-destructive art, coined by Gustav Metzger in the '60s to protest against the Cold War era's obsession with destruction. In a way, Medalla's auto-creative objects may appear both as its kin and foil. Nankervis likes to think of it as a "fertility object," infinitely creating and, as he calls it, orgasmic. Says Nankervis, "It becomes an embrace."
Apart from its interminable performance, it is the ever-evolving shapes that heighten the sculpture's power as public art. Columns of white foam rise, curl, and fall, each an exercise in free abstraction that gives tangible form to an immaterial force. What differentiates "Cloud Canyons" for instance from growing trees or billowing fountains may be its capacity to draw on air. Imagine an aircraft scribbling letters in the sky.
If most mechanically powered sculptures may feel intensely scientific — the stuff of magic run by machines instead of men — I'd hazard a reading that much of Medalla's bubbles arise from something warm and palpably human. The machine is inspired, as we're told, by personal encounters both light (a bubbling ginataan from childhood) and traumatic (the frothing mouth of a dying guerilla fighter warning their family of trouble fast approaching).
Medalla's machine shifts its shape depending on who's looking. It teases out a wealth of references and at times even allows us to misunderstand. "Cloud Canyons" has one foot firmly rooted in history and another fixed in the present moment. Perhaps the quickest way to access it is to play and linger. Behind all this machinery after all is only a boy who dreamed of clouds.