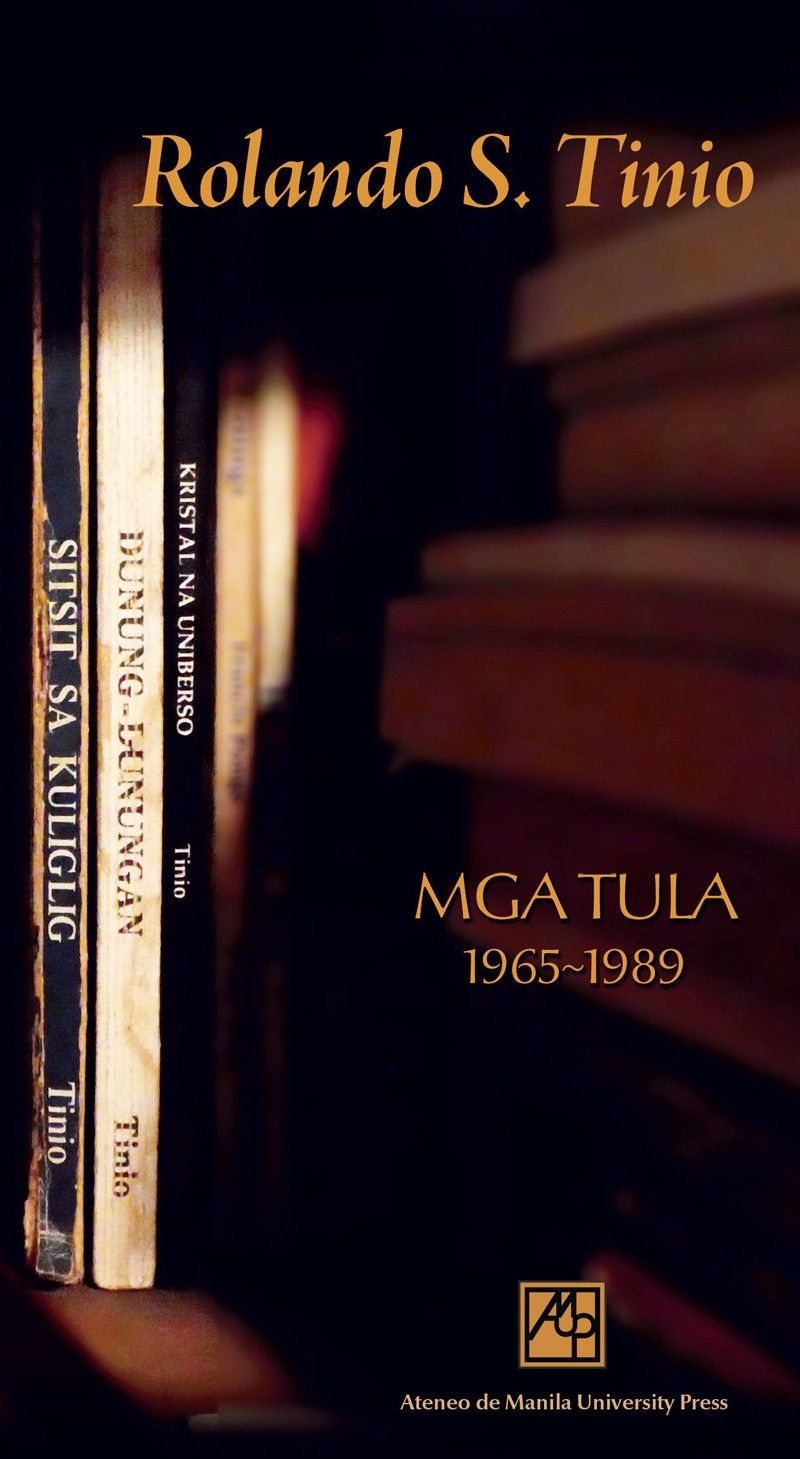 All of them imparted lessons in life, writing, generosity, responsibility and discipline. I owe them all my start as a writer.
The genius and legend of Rolando S. Tinio
I was fortunate with the teachers and informal mentors I had in the 1950s-60s. They included Othoniel Jimenez in San Beda College when I was a junior at 14 in high school; Rolando S. Tinio and Emmanuel Torres in Ateneo for a year of college after my first two in UP Diiiman; Leonidas Benesa in coffee shops and art galleries in Ermita; Virginia R. Moreno and Franz Arcellana upon my return to UP for Humanities classes; Nick Joaquin in girlie bars in San Juan and Roxas Blvd.; and finally, "Dad Doc" Edilberto K. Tiempo and "Mom" Edith L. Tiempo in Dumaguete.
All of them imparted lessons in life, writing, generosity, responsibility and discipline. I owe them all my start as a writer.
The first university professor who impressed me was "Rolly" Tinio, who had a reputation as a "terror" but also as a legendary, inspiring mentor. Having transferred from UP where I had already breezed through English classes, I was classified as an irregular freshman in Ateneo, and placed in the D section, joining classmates who were generally a year younger.
My first distinct memory of the lean, wiry man who spoke admirable English with the voice projection of a theater actor was of his customary (or so I heard) intimidatory warning on the first day of class, on the kind of students he expected — something that usually resulted in one-day classmates dropping the subject.
The second was of an incident several days later when, in a silent classroom where everyone was penning an informal essay, I hadn't caught myself humming while finishing the assignment — until a heard tittering around me that grew louder as I sensed someone over my shoulder.
It was Sir Rolly who had slowly crept up on me. "If it weren't Mozart you were humming, I'd throw you out of this class now." Peals of laughter — which I tried to drown with my "I'm sorry, Sir." He stood there bemused.
A week later, with both of us too early for class, he sat himself beside me on the stairwell, and began a conversation. He asked abot my background. "Sir, Dimasalang in Sampaloc, San Beda, UP Diliman…" An avuncular nod. Then he said I was misplaced in the D section, and that the maturity of my essays behooved him to have me transferred to the B section handled by Sir "Eric" Torres.
So it was that I was deprived of further gain from Rolly Tinio's wit and wisdom, albeit I felt complimented by his evaluation and upgrade of my incipient skill with words. And I also enjoyed the amiable, gentle sagacity of Sir Eric. Later, when I had gone back to UP, I felt sorry to miss them both, especially when I realized that they were already major poets.
Several years later, exiting Rajah Sulaiman Theater in Fort Santiago, I overheard a once-familiar voice telling his lady companion of how he would have translated Nick Joaquin's Portrait of the Artist as Filipino into Tagalog. It was Rolando Tinio. I don't think he recognized me at all, walking slightly ahead.
I had been the co-translator (with Franklin Osorio) of PETA's Larawan, which was enjoying a good run of great crowds. But I honestly didn't feel deflated hearing him imply that he would've done a better job. I'm sure he would have, and more's the pity that I never got around to associate with him as he went on to flaunt his genius not only through poetry but with Pinoy theater. He remained my idol.
Now comes Mga Tula 1965-1989, published by Ateneo de Manila University Press, all of 323 pages, a compilation of Rolando S. Tinio's three poetry collections: Sitsit sa Kuliglig with seven sections; Dunung-dudungan (I Mga Bagay-bagay; II Mga Kwadrong Panlipunan; III Mga Awit ng Pagmamahal; IV Mga Tulang Pedantiko; V Mga Awit sa May Katwiran ang Katwiran); and Kristal na Universo with five sections (although the last is mysteriously identified as the 6th).
Space constrictions prevent sharing a poem in full Filipino. I first have to show an excerpt from the classic poem marking out his "Bagay" phase that employed remarkable Taglish. Here's the first stanza of that long poem of farewell to a lodging place in a foreign land where he had stayed for two and a half years, Valediction sa Hillcrest (Iowa City, 1958)":
"Pagkacollect ng Railway Express sa aking things/ (Deretso na iyon sa barko while I take the plane),/ Inakyat kong muli ang N-311, at dahil dead of winter,/ Nakatopcoat at galoshes akong/ Nagright-turn sa N wing ng mahabang dilim/ (Tunnel yatang aabot hanggang Tondo)./ Kinapa ko ang switch sa hall./ Sa isang pitik, nagshrink ang imaginary tunnel,/ Nagparang ataol./…"
And in its entirety, here's another that I find even more memorable, "Sa Poetry":
"Sa poetry, you let things take shape,/ Para bang nagpapatulo ng isperma sa tubig./ You start siyempre with memories./ Yung medyo malagkit, kahit mais/ Na mais: love lost, dead dreams,/ Rotten silences, and all/ Manner of mourning basta't murder./ Papatak yan sa papel, ano. Parang pait,/ Kakagat ang typewriter keys./ You sit up like the mother of anxieties,/ Worried na worried hanggang magsalakip/ Ang odds and ends ng inamag mong pag-ibig./ Jigsaw puzzle. Kung minsan, everything fits./ Kung malas ka, magkakalintik-lintik./ Pero sige ang pasada ng images/ Hanggang makuha perfectly ang trick.// At parang amateur magician kang bilib/ Sa sleight-of-hand na pinapraktis.// Nagsilid ng hangin sa buslo, dumukot,/ By golly, see what you've got—/ Bouquet of African daisies,/ Kabit-kabit na kerchief,/ Kung suwerte pa, a couple of pigeons,/ Huhulagpos, beblend sa katernong horizon./ You can't say na kung saan hahapon."
Finally, some excerpts from the lengthy "Postscript":
"Adios/ Amerika/ w/all/ your star-spangled ideas/ Ginago mo kaming/ walang kalaban-laban/… Think of all the/ finals and seminars na pinagsunugan/ ng highbrow/ jusso we won't be/ nakakahiya naman sa aming mga/ KANONG classmates na andami/ namang aba Diyos ko tanga yata/ D'ya know I wrote a heaven-knows-how-many-page-paper on/ have y'eva he'd of some-ing en-titled/ Ver-gi-di-ma-rium by Marston ba o Hall?/ & for 8125/ na-eyestrain sa kasisilip/ sa Regla ni San Beda sa microfilm/ para maevalyuweyt kung Madame Ovaltine was landi o Saint?/ Anubang iskolarsip daw na putangna?/ Buti pang nagkamot ng bayag / Baka nilabsan pa// I mean it's absoluuuutely ridiculous/…"
These three early poems are but a token of Rolando S. Tinio's briliance and genius. His achievements in theater certainly made him even more legendary.