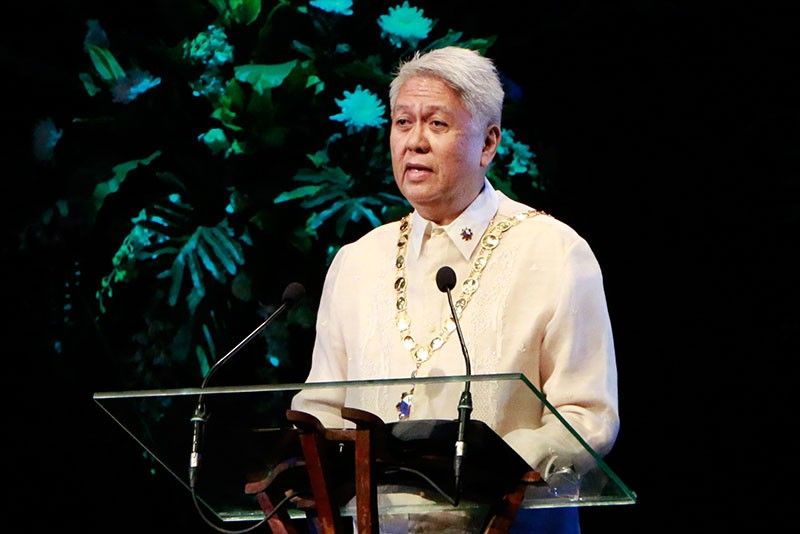 National Artist for Music Ryan Cayabyab
CCP/Released
Ryan Cayabyab receives Ramon Magsaysay Award 2019 for 'defining Filipino music'
MANILA, Philippines — National Artist and Original Pilipino Music icon Ryan Cayabyab is among the recipients of this year's Ramon Magsaysay Awards, considered as Asia's Nobel Prize.
Cayabyab was chosen for "nurturing the gift and unifying power of music," the Ramon Magsaysay Awards Foundation said in its website.
"In electing Raymundo Pujante Cayabyab to receive the 2019 Ramon Magsaysay Award, the board of trustees recognizes his compositions and performances that have defined and inspired Filipino popular music across generations; his indomitable, undeterred confidence to selflessly seek, mentor and promote young Filipino musical genius for the global stage; and his showing us all that music can indeed instill pride and joy, and unify people across the many barriers that divide them," the foundation said.
Born in Manila as one of four siblings, Ryan's father was a government employee, his mother an opera singer and music teacher. Though the family's circumstances were modest, theirs was a home filled with music, particularly since his mother took in music students as boarders.
Everyone in the house seemed to be either singing or playing an instrument, and Ryan grew up listening to classical music, opera arias, and traditional native songs. Heeding his mother's admonitions to shun the musician's financially unrewarding career, Ryan took up a business management course, but to help pay for his university studies he took on side jobs as pianist or accompanist for musical artists. The parents of one such artist were so impressed with his talent that they gave Ryan a full scholarship to pursue a degree in music instead. From this point on, music would be his life-work.
Ryan started to write music in the late 1970s, making his mark when his signature song "Kay Ganda ng Ating Musika" ("How Beautiful is Our Music") won the grand prize in the first Metro Manila popular music festival in 1978 and in an international song festival in South Korea in the same year.
He went on to win in other competitions and performed widely in the Philippines and abroad. As head and artistic director of the San Miguel Foundation for the Performing Arts, he acted as conductor, arranger, and composer of its award-winning Philharmonic Orchestra and Master Chorale. Subsequently, he would be involved in training singers and music groups that have won significant national and international recognition.
At home in diverse genres and media — choral and orchestral works, musical theater, opera and ballet, television programs, film scores, commercial recordings of popular music — Ryan has influenced the shaping of Philippine music culture. An instance is the role he has played in the OPM movement to promote a culturally distinct, contemporary Filipino popular music.
The movement arose in the 1970s with the Metro Manila Popular Music Festival, continuing to this day with Philpop Music Festival. Ryan has played a leading role in these and other festivals, which have been important in inspiring and promoting thousands of singers and songwriters in the country.
Ryan is driven by a passion to mentor, educate, and contribute to the flourishing of Filipino musical talent. He has served in the music faculty of the University of the Philippines, runs a music studio with his wife, and has conducted free workshops for thousands of students all across the country. He is a moving force in the Philpop Musicfest Foundation and the Elements Music Camp, major initiatives dedicated to music training, promoting Filipino music abroad, and fostering Filipino cultural identity through music. Honored in 2018 as Philippine National Artist for Music, he was cited for his music that "extols the exuberance of life and human happiness, thus capturing the very essence of our Filipino soul."
Versatile, a consummate professional, and universally liked, Ryan Cayabyab is virtually omnipresent in the Philippine music industry today. For over four decades, his contributions as a composer, arranger, music director, conductor, performer, and educator have been huge.
For "pushing OPM to greater heights," Cayabyab was conferred the title National Artist last year by the National Commission for Culture and the Arts.
An inspiration and guiding light to many, Ryan said, "The next generation should be better than us for our country to move forward. For this to happen we must teach them everything we know at every possible instance. I like teaching, I like sharing what I know, and I like playing music. When I'm doing all these, I'm very happy."
Apart from Ryan, among those who received this year's Ramon Magsaysay Award were Myanmar journalist Ko Swe Win, Thai human rights advocate Angkhana Neelapaijit, South Korean businessman Jong-ki Kim, Indian journalist Ravish Kumar, East Timor humanitarian Maria de Lourdes Martins Cruz, Filipino social entrepreneur Howard Dee, Indian doctor Bharat Vatwani, Vietnamese advocate for differently-abled people Vo Thi Hoang Yen, and Indian education reformist Sonam Wangchuk.
The Ramon Magsaysay Award, considered as Asia's premier prize and highest honor, aims to celebrate greatness of spirit and transformative leadership in Asia. In the past six decades, the award has been bestowed on over three hundred outstanding men, women and organizations whose selfless service has offered their societies, Asia, and the world successful solutions to some of the most intractable problems of human development.