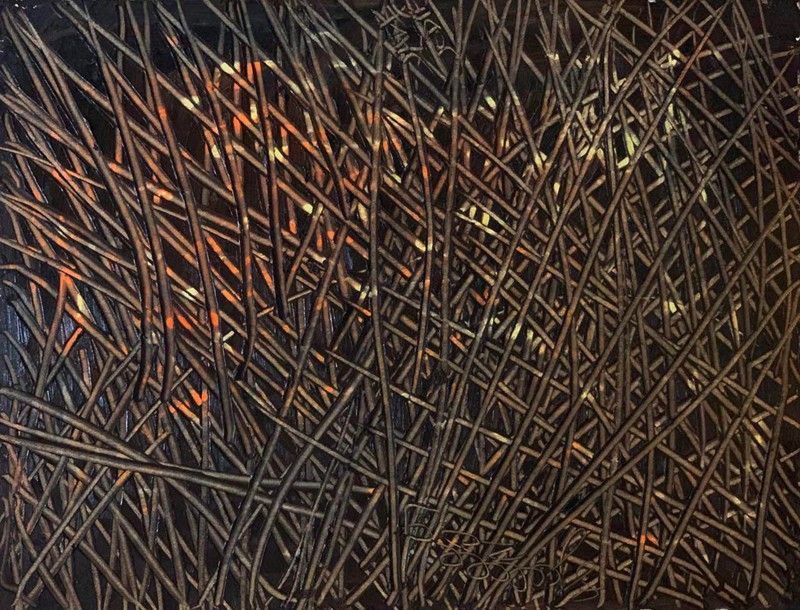 Painting by Jobe Nkemakolam
Scratches, glitches and realism: It's a four-man party at Secret Fresh
The latest four-man show which opened on June 23 at Secret Fresh tugs at different directions.
The figurative paintings of Ronilo Abayan — also referred to as Maestro Abayan — sit at the solemn and sober extreme of realism, where every hand-painted detail wants to rival the reproducible pixels of a photograph.
Peter Robert Apuyan, on the other end, is unapologetically pop. It's as if Warhol has tumbled down the digital era, with one too many pills to swallow, and starts churning out images from a broken printing machine.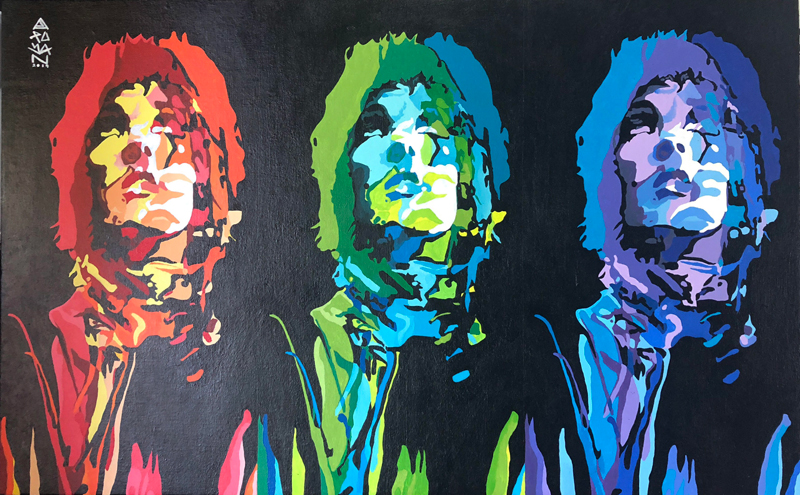 "Rainbow" by Peter Robert Apuyan
Jobe Nkemakolam is the show's main initiator and organizer (though I think enabler is a better word). Former basketball player-turned-art collector and enthusiast, Nkemakolam has now rounded up the various talents and personalities he met in the scene since the late 2000s. If it isn't enough that the show straddles a riot of styles, the four creatives' backgrounds and backstories are equally diverse, so that one could easily imagine a film plot brewing with this unlikely combination of characters.
Abayan worked as a security guard in a bank until he was caught sleeping due to exhaustion from painting. He eventually made a name for himself as a painter doing on-the-spot portraits in shopping malls and met Nkemakolam who acquainted him with art collectors.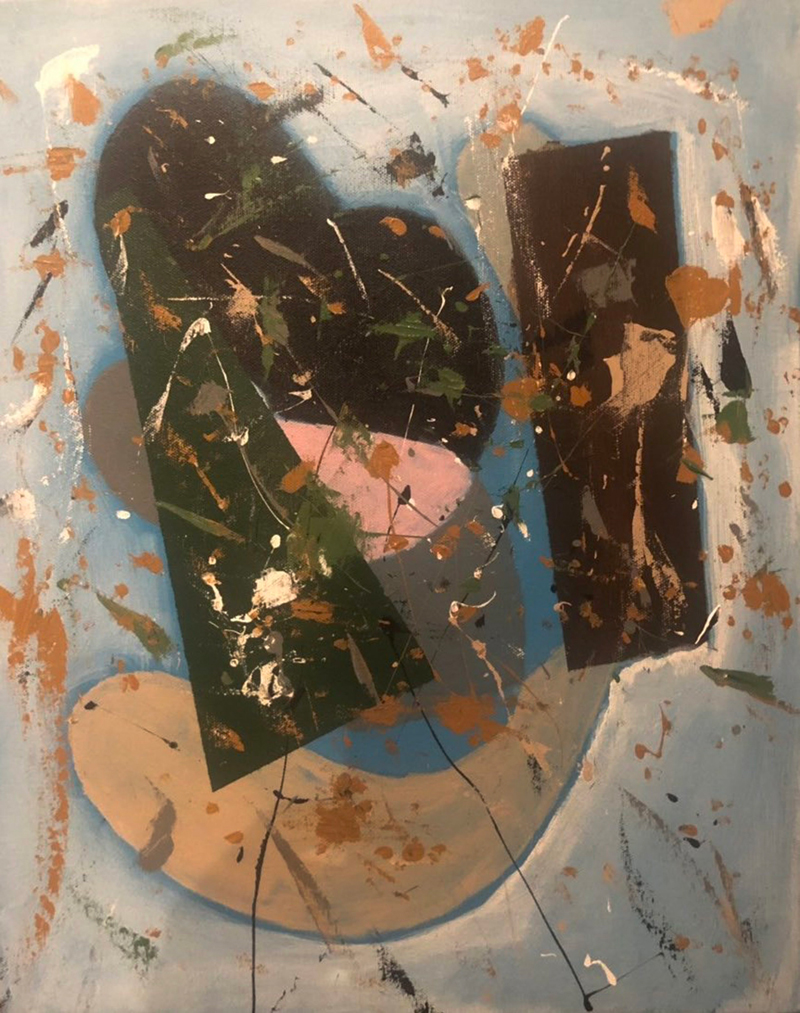 Painting by Japeth Aguilar
A young painter, Apuyan was a nursing major who taught art to kids at a small art center in Tiendesitas. His friend and collaborator, Robin Leung, introduced him to Nkemakolam at Secret Fresh.
Japeth Aguilar — a name that makes the rounds in the newspapers' sport sections as star player of Barangay Ginebra — is now pursuing a hobby in painting.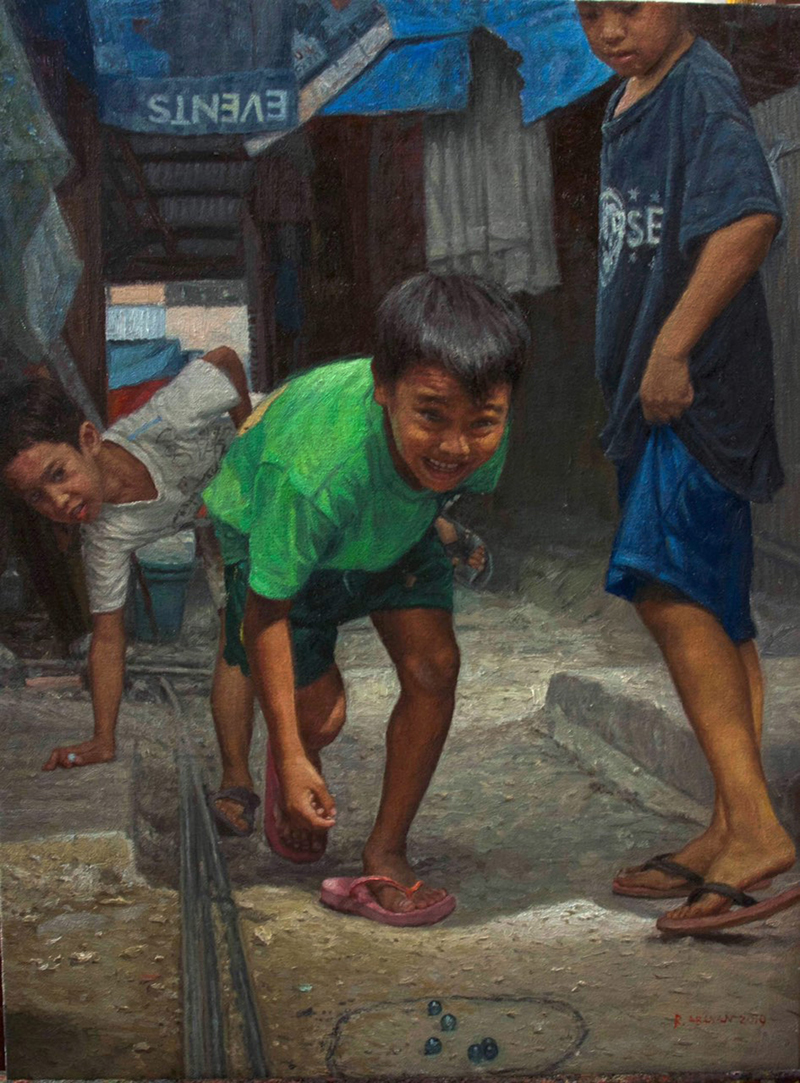 Painting by Ronilo "Maestro" Abayan
It's always a party at Secret Fresh. Nkemakolam, whose abstract works will also be exhibited, assembled this motley crew when owner Bigboy Cheng allotted him a slot in the gallery's lineup of shows. "Sabi ko, kung puwedeng isabay ako kay Maestro Abayan, kasi idol ko siya," he says.
What's more mind-blowing than Abayan's control of realist detail — you feel, in one of his paintings, a palpable agitation in the way the lady by the window holds up her sleeve while a cold light illuminates her face — is the fact that the painter had absolutely no formal training or mentoring in fine arts.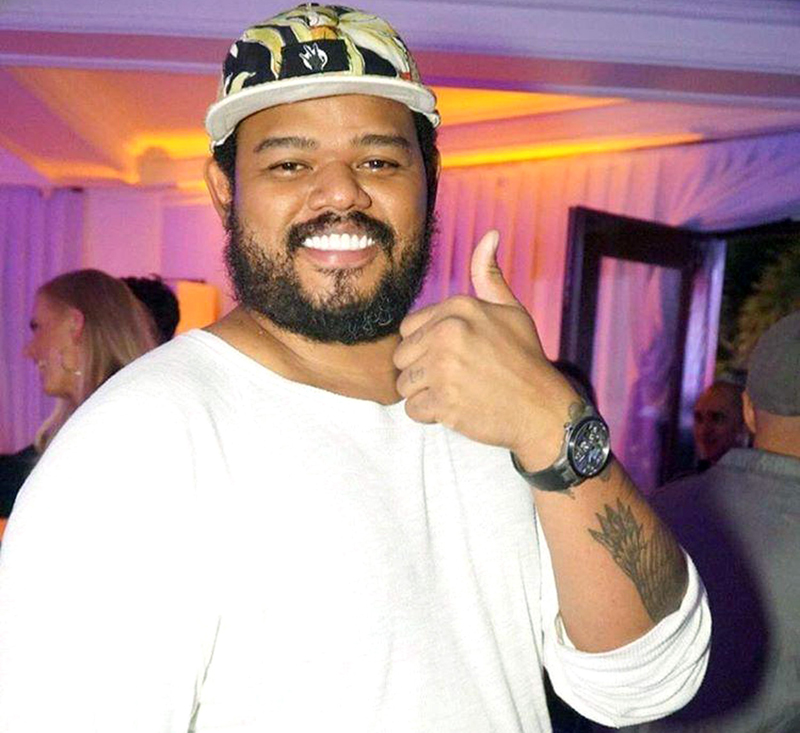 Former basketball player turned art enthusiast Jobe Nkemakolam rounds up three other artists for a show at Secret Fresh.
Spending a childhood in Bukidnon, Abayan began drawing landscapes and cartoons culled from magazines. Throughout numerous day jobs taken to pay the bills, he mastered portrait painting by practicing on his own. The extraordinary skill he acquired later on landed him commissions to make the portraits of dignitaries, like a court painter in the contemporary age. His portfolio currently includes portraits of heads of states and, to say the least, of the most polarizing figures in today's precarious political climate. Allotting Abayan a space in a commercial gallery would encourage him to pursue subjects and projects outside this closed circuit of commissions. Apart from his foray into painting portraits in gold — following the suggestion of Sam Verzosa — what is refreshing in this new collection are portraits of subjects as anonymous as Abayan once was: an Igorot residing in the Cordilleras, a Manobo he encountered in Bukidnon, brown-skinned children playing a game of marbles in an unknown street.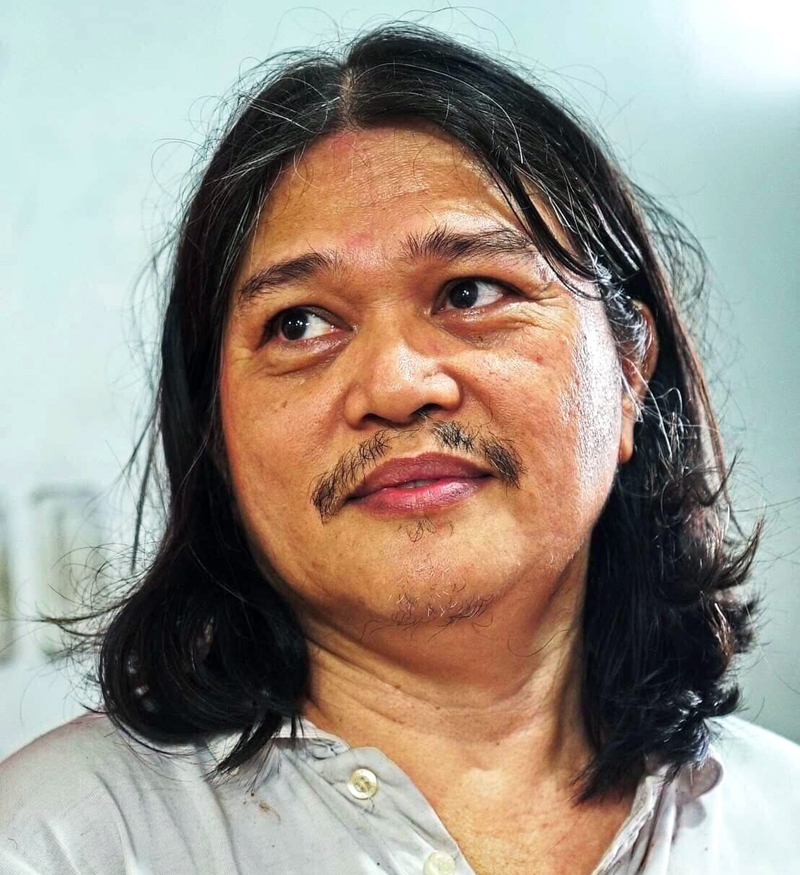 Maestro Abayan is celebrated for his lifelike renditions of landscapes and portraits.
It was also through Abayan that Nkemakolam learned basic painting techniques: slants of light, the right angle of shadows — all of which he would eventually abandon in favor of sharp abstract lines. Nkemakolam's chosen medium is oil paint, but his works convey none of the loose softness of oil applied with brush, but rather a surface that feels knifed, cut, and a canvas slashed through. In this obsessive repetition of slices and jabs, Nkemakolam works his surface the way one tills soil and jolts it to life.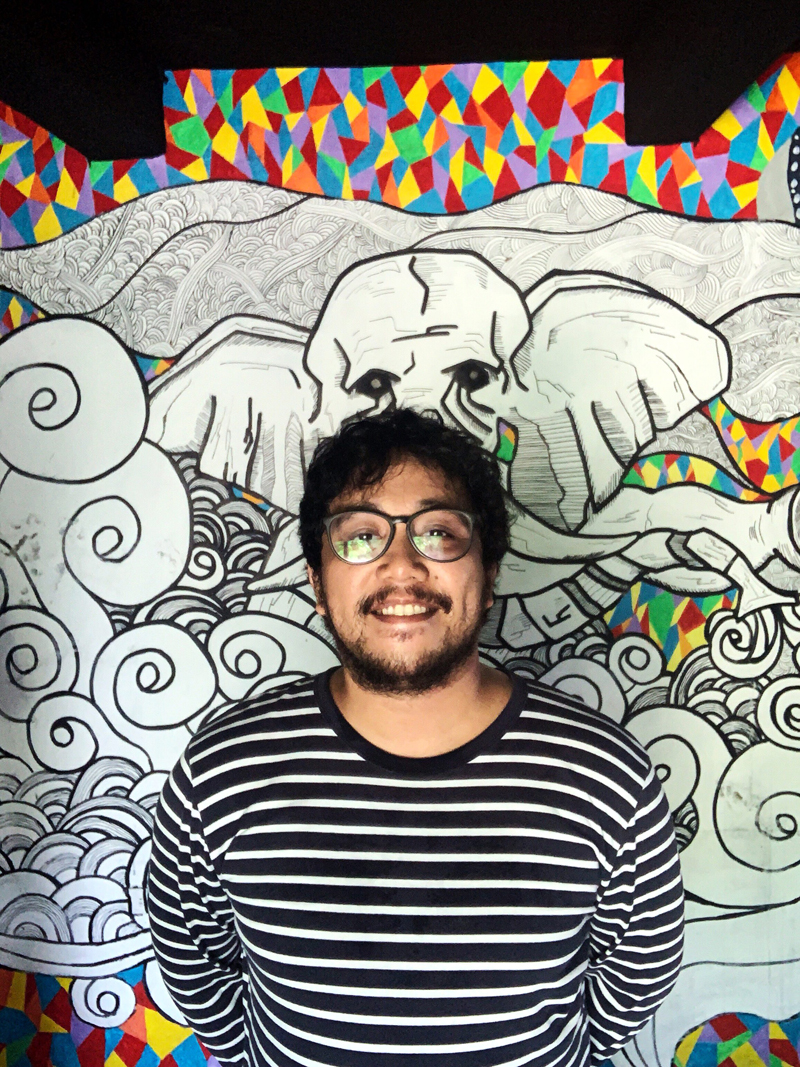 Peter Robert Apuyan draws inspiration from glitch effects in digital images. "I've always wanted to be a photographer or video editor," he says, "but I wasn't so good at taking photos so I applied the effects to paintings instead."
Apuyan's pieces carry out this same frenzy in another form. Fascinated by distortion, glitch effects, and after-image impressions, the artist wants his images to pulsate as restlessly as virtual space. Here, the premise is pop, in that he harvests readymade images, frequently from the photographs of collaborator Robin Leung or from Pinterest sites. The ensuing paintings, rendered in acrylic, play with vision and a bit of hallucination, throwing the viewer briefly into a strange trip.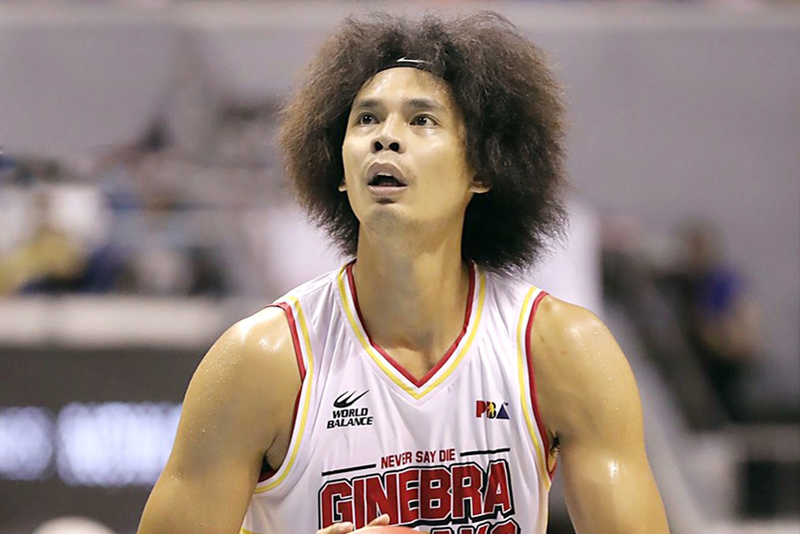 Japeth Aguilar, Barangay Ginebra star player, dabbles in painting. Photo courtesy of Paul Ryan Tan
Having these creatives together in one space allows room for experimentation. From glitches to frenzied fields of lines and stark realism, the exhibit rounds up four men from diverse backgrounds to show what else they could do with painting.
* * *
The four-man show, on view until July 5, is curated by Ruel Caasi.
Secret Fresh is at Ronac Art Center, Ortigas Ave., San Juan, Metro Manila. For information, call 655-7878.