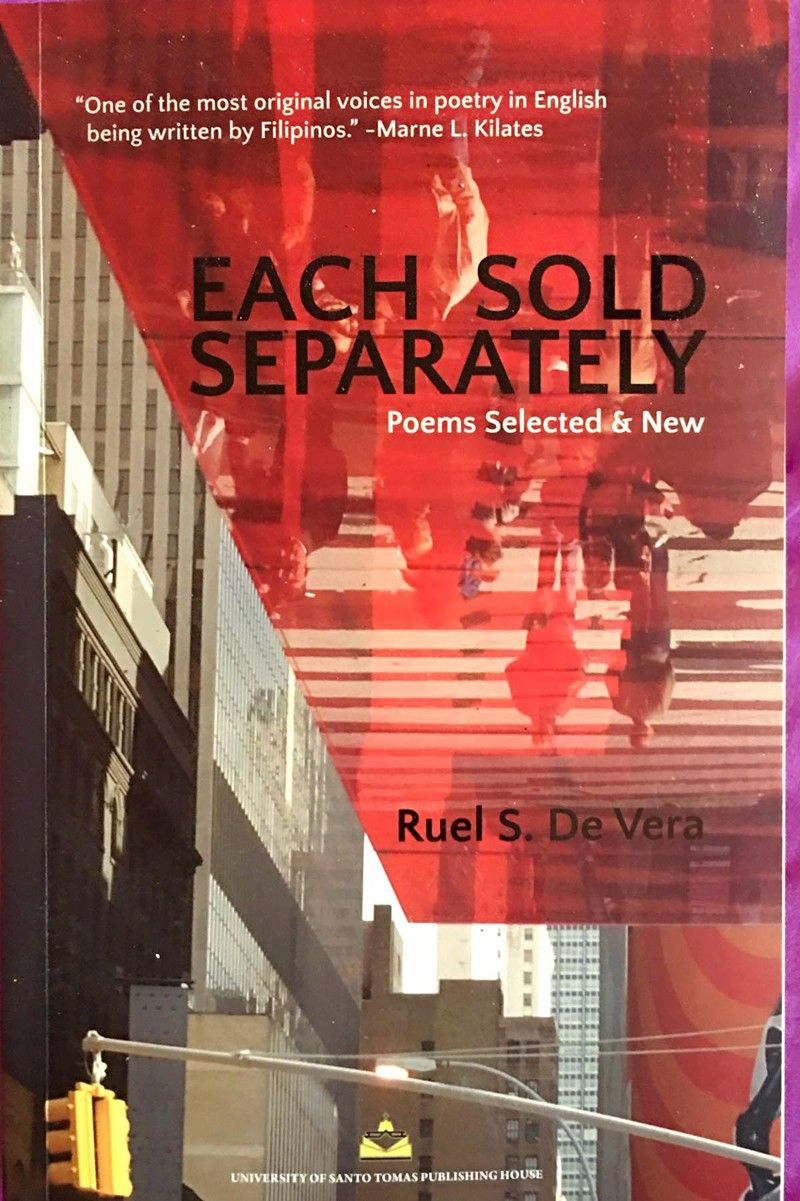 In the Introduction to this third collection, Marne Kilates writes: "The inclusion of poems from the first two books might indicate minimal output to some, but that is only because poetry must sometimes give way to Ruey's various interests and writing assignments."
Casual lyricism as memorable poetry
Ruel S. de Vera's Each Sold Separately: Poems Selected and New, published by University of Santo Tomas Publishing House, has only nine new poems added to his selections from two previous collections: The Most Careful of Stars (1996, Anvil Publishing) and Faulty Electrical Wiring (2005, Ateneo de Manila University ORP).
His output for well over two decades of writing verse may then be questioned. In the Introduction to this third collection, Marne Kilates writes: "The inclusion of poems from the first two books might indicate minimal output to some, but that is only because poetry must sometimes give way to Ruey's various interests and writing assignments."
Marne then cites these other "preoccupations" as including the production of a dozen other books either of sole authorship or as co-editor, "and special-subject poetry anthologies such as travel and hometown collections, biographies, and research, and two volumes of the famous Spirit Quest Chronicles, evidencing a busy writer's life undoubtedly, in all his twenty-four years in the trade."
Okay, we'll accept that, just as we've accepted, long ago, the lifetime output of exactly 13 poems that made up a celebrated lady poet-playwright's first and only handcrafted book of poetry, before she penned her 14th poem decades later.
Quality over quantity, right? So we'll take what Ruey de Vera offers, and appreciate the distinctive caliber of his poems rather than their arbitrary number.
Of the nine new poems, I like best the last two: "Vacant" and "Ode, Sydney." They're two of the seven poems in this section that centralize the "I" persona, which I normally don't favor.
But with "Vacant," the narrative serially partakes of the themes of what's missing and what has been altered, in all strangeness harboring irony, until the "I" takes action in the context of absences and alterations, before it proceeds to address time's juxtapositions by arriving at a weighty insight on temporal transactions.
Deftly, the final extended stanza and one-line coda wraps up the configuration of imagery that is at once on the fringe of surrealism as it is enmeshed in blatant reality, while a casual stab at ars poetica is also taken.
"Dragged screaming/ from that dim dreamslide/ I roam mornings long lost/ past the point of safe return./ Haven't been here long,/ Won't stay much longer, as the sharp words/ left behind have calcified/ into a fossil of fighting./ Yes, this is the price/ we pay for poetry./ Every familiar corner's a trap/ where songs go missing/ and what's left/ than sweet nothings./ All that's gone,/ brightest blight,/ loathsome little things./ this is the end,/ after all, after this,// nothing follows."
Both diction and tone are breezy, easy, casually lissome — belying the gravid concern of the moment's accounting and prestigidation.
"Ode, Sydney" shares the departure from De Vera's characteristically favored form of slender poems with short lines and single or extended stanzas. But that's not only why I prefer its jaunty lyricism. Beyond being a place poem, or a tribute to travel and fresh seascape, it brings the "I" to a bittersweet confrontation with the absence of someone dear and familiar.
"The next day,/ dark and early,/ I've become an outlaw/ past checkout time/ and the waves/ hustle past/ faster than the things/ I'd rather not talk about./ It's overcast/ everywhere.// But I'm thinking of you/ now because here/ love comes three hours/ earlier than I know./ The paths I've taken/ vanish instantly/ in the curdling water/ beneath me."
Time zones are cited off-hand, subtly slipping the reader into an awareness of distance and longing. Again, with seemingly ordinary language, the poet of honesty lays bare a song of acceptance.
"Too soon the hour,/ too far this noon./ I know I've got to go/ because I now know/ it's really true.// The nearby thought/ of your faraway eyes/ now taking over/ any and all/ available light.// In this or any weather,/ at this or another hour,/ you're guiding me/ all the way/ back home,/ undistracted/ and undisturbed,/ everything/ clearer/ than it's ever been/ before."
Thing is, since we also get to review the selections from his earlier poems, we may also arrive at the wish that De Vera assigns a larger share of his preoccupations to the writing of poetry.
"Beyond Patagonia 1520" and "Cementerio del Sur, Bogota" from his earliest collection, and from the second, "Knowledge, Carnal" and "Intimations of Intimacy" remain as memorable standouts, as does my old favorite, "Zamboanga (For Sheryll)," from which this excerpt alone should convince us that this poet ought to take time out from being time-zoned.
"Waking to a monsooned/ morning you do not recognize,/ you emerge from a land/ with a powerful name,/ where mountains spread/ their sinewy legs wide/ and where men's tongues/ burst into word and fire."