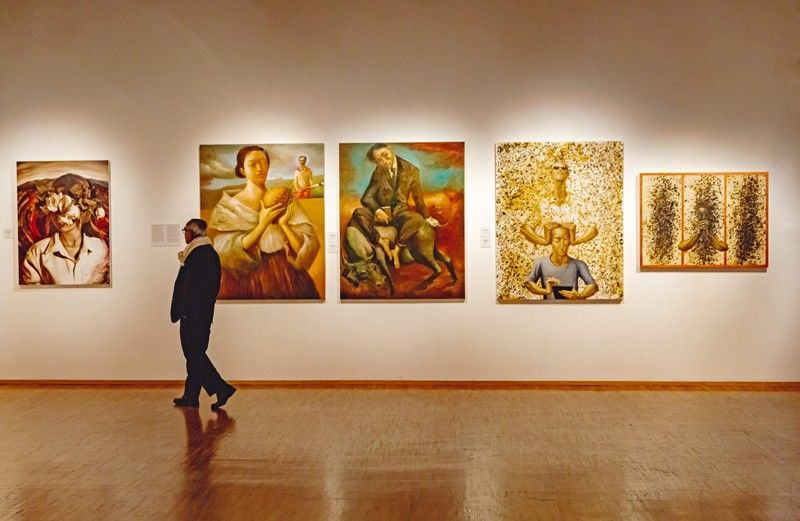 An installation view of Pintô International's "Living Earth" exhibition at Musica Arte Cultura (M.A.C.) in Milan, Italy.
Conversations with Leon Pacunayen's art in Milan show
MILAN, Italy — "Living Earth: Contemporary Philippine Art" opened in Musica Arte Cultura (M.A.C.) in Milan last May 6. A project of Pintô International, this exhibition put the spotlight on Leon Pacunayen, a Filipino artist active since the 50s, alongside a younger generation of 26 Filipino contemporary artists.
"Living Earth" is the first exhibition to show a survey of Philippine contemporary art in Italy. As a non-profit foundation, Pintô International aims to promote Philippine art and artists internationally. "Living Earth" in Milan is Pintô International's fourth benefit exhibition, having done projects both in Tokyo and New York. Pintô International strives to bridge together Italy and the Philippines through "Living Earth," to "open a door" and "to celebrate multiculturalism and cultural exchange" despite differences in history. It is only fitting that they choose Leon Pacunayen's work to be the starting point of "Living Earth" to bridge the two countries, especially as he has lived his life between both.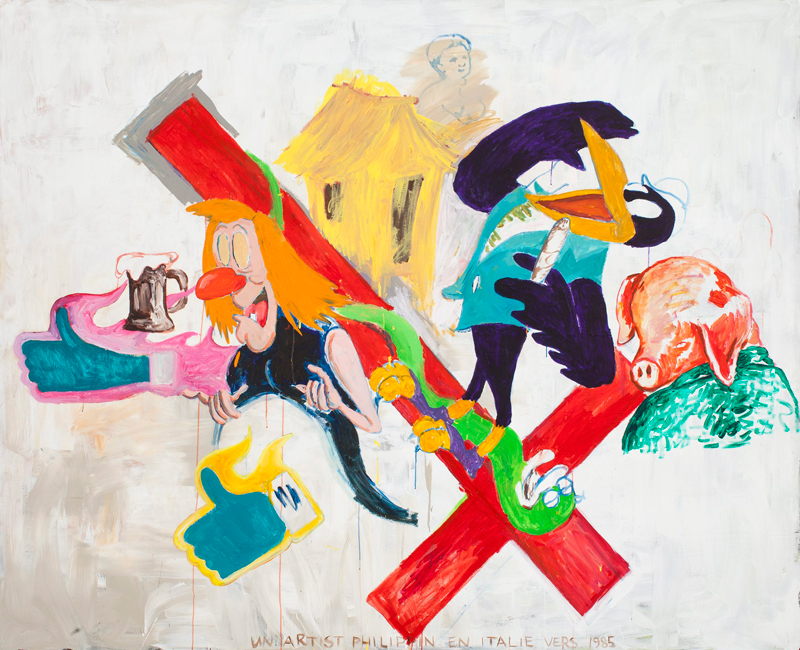 "A Filipino Artist in Italy" by Manuel Ocampo
Leon Pacunayen migrated to Italy in the 1960s. In the 1950s, he exhibited his work with the now-defunct Philippine Art Gallery, which at the time, served as the country's forerunner for modernist painting and sculpture. Pacunayen's work has mostly been a foray into watercolor on paper, with scenes of land and cityscapes blurring into each other through splatters of paint and ink.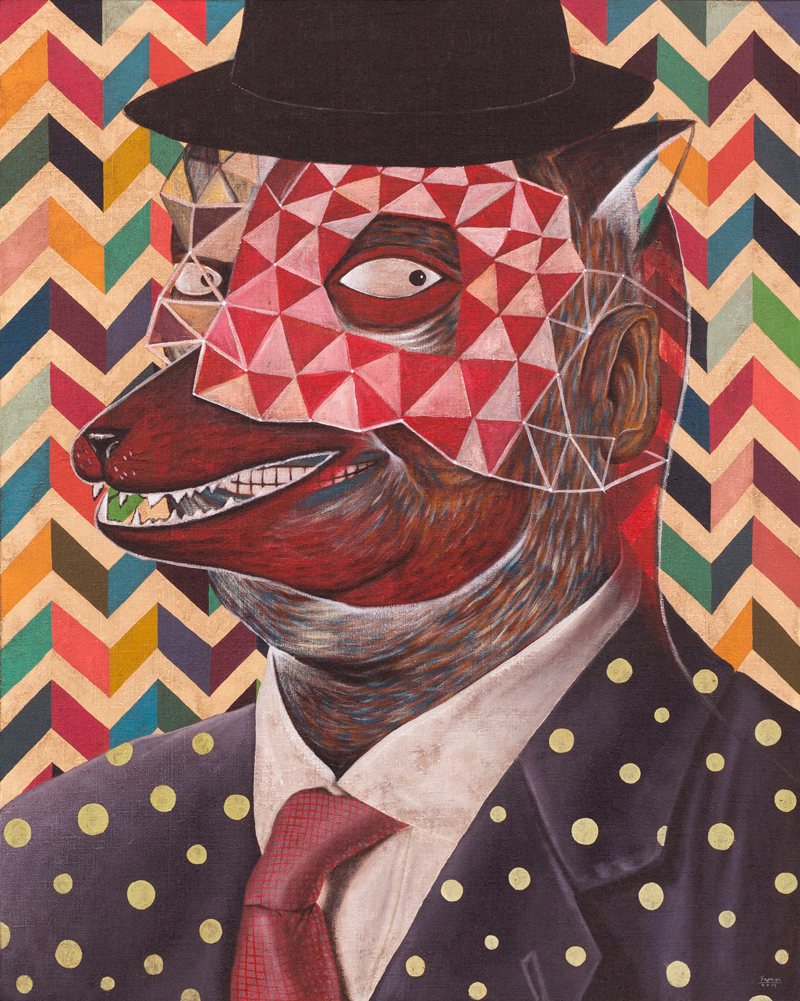 "Mr. Wolf" by Rodel Tapaya
"Living Earth" begins with Pacunayen's work. Perhaps what is most distinct about Pacunayen's work is that his scenes appear to be afloat, with a characteristic lightness despite the dark colors he employs. Often in earthy, monochromatic tones, he hazes over scenes with running colors, foregrounded by tiny details of houses and buildings. Moving through the gallery space, the viewers then come to enter a large room filled with portraits, landscapes, and color.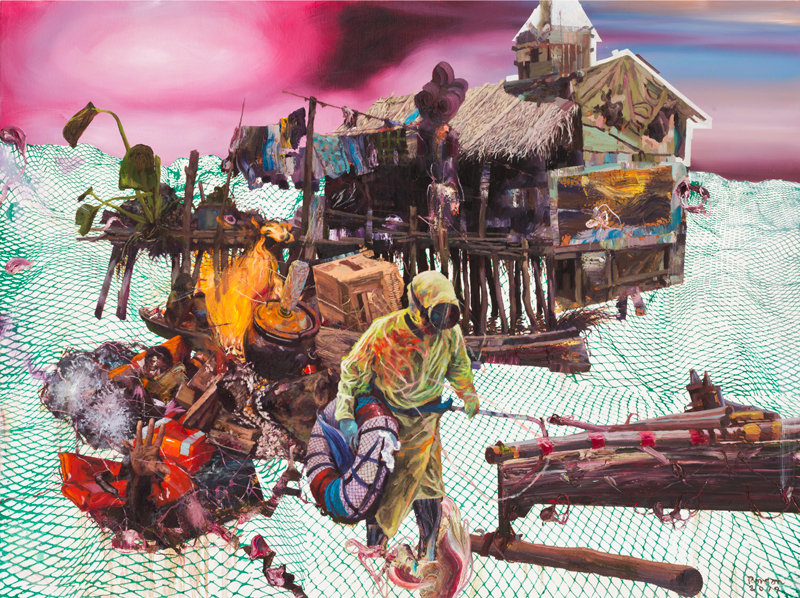 "Rainbow Spill 1" by Ronson Culibrina
Curated by Patrick Flores and Luca Beatrice, the chosen Filipino artists were asked to converse with Pacunayen's work. Much of the work echoed Pacunayen's landscapes, with paintings depicting mountains, cities, and traffic. Olan Ventura's work, "Middle Ground I" is a somber and hyperrealist painting of a shantytown on stilts, which uses Pacunayen's dark palette and foggy skies. Apart from form, some works on display also expose a dialogue regarding diaspora and Pacunayen's position as a Filipino artist having migrated abroad, such as Johanna Helmuth's "Whatever It Takes," which depicts a woman paddling through water on a raft with a luggage in tow.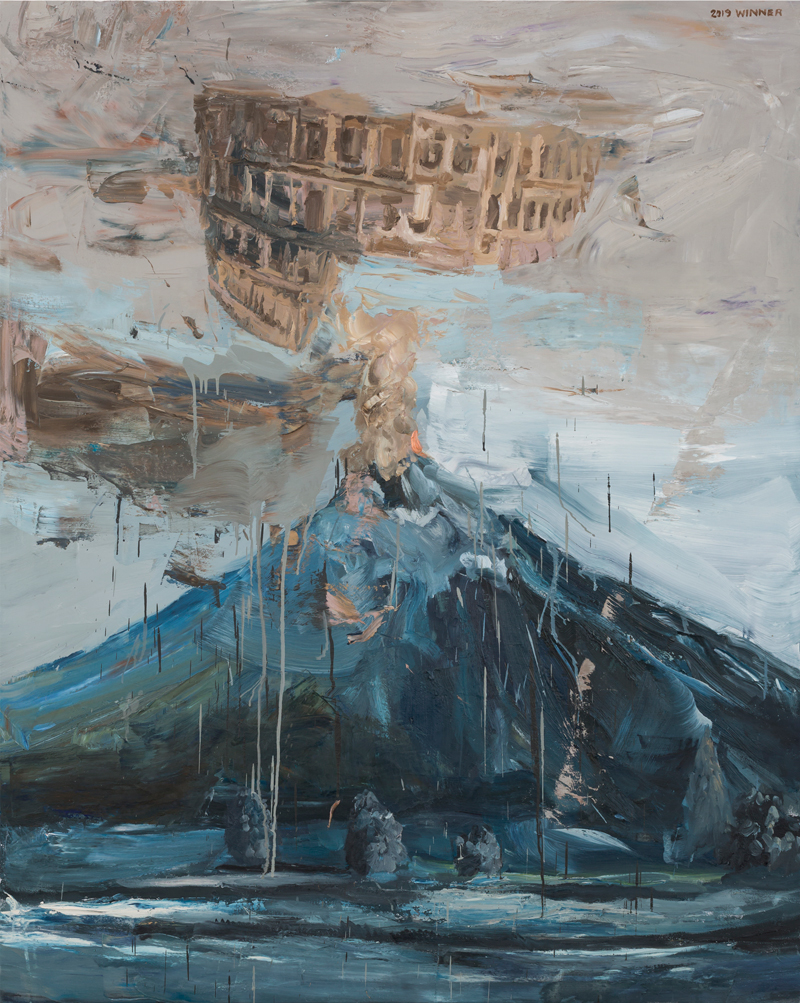 "Sueno" by Winner Jumalon
From Pacunayen's work to the 26 other artists, guests recalibrate their vision to an assault of image and color. The viewer is bombarded with image after image from artists of different sensibilities, with some stacked atop each other. Largely dizzying works by artists like Rodel Tapaya, Marina Cruz, and Raffy Napay put together in one room act as a foil to the simplicity and subtlety of Pacunayen's landscapes and perhaps reflect as well the overt differences and dynamism between modernism and contemporary trends.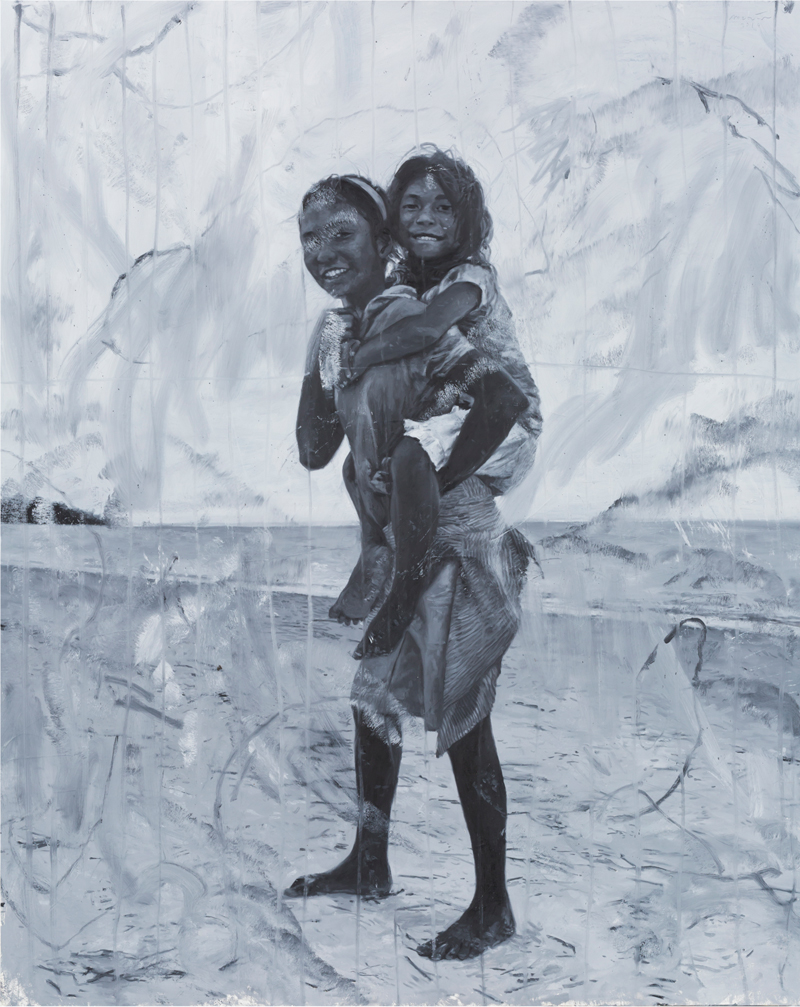 "Children by the Ocean" by John Marin
Pintô International's "Living Earth" is an ambitious act to provide Italy with a glimpse into Philippine contemporary art at the cusp of the 2019 Venice Biennale. The exhibition featured a mix of emerging and established artists including Gabi Nazareno, Manuel Ocampo, Emmanuel Garibay, and Elmer Borlongan. While most works were commissioned particularly for "Living Earth," also featured was "Nanay" (1999) by Mark Justiniani, this year's Philippine representation at the Venice Biennale.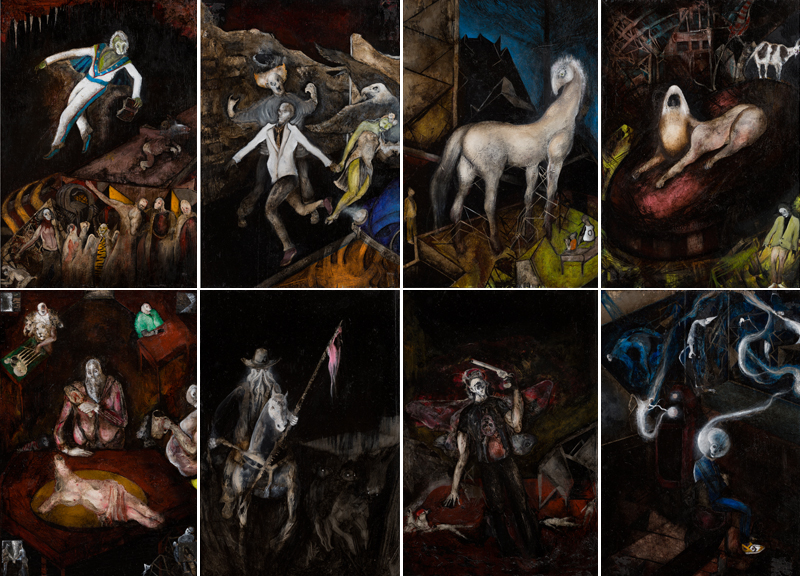 "Exquisite Toxins" by Igan D'Bayan
"Living Earth" was geared largely towards painting and wall-bound work, providing only a fraction of the diversity of Philippine contemporary art today. Despite this, Pintô International's dedication to its artists and intentions for a wider audience for the Philippines is clear and present, as they continue to work towards opening more doors in the future.