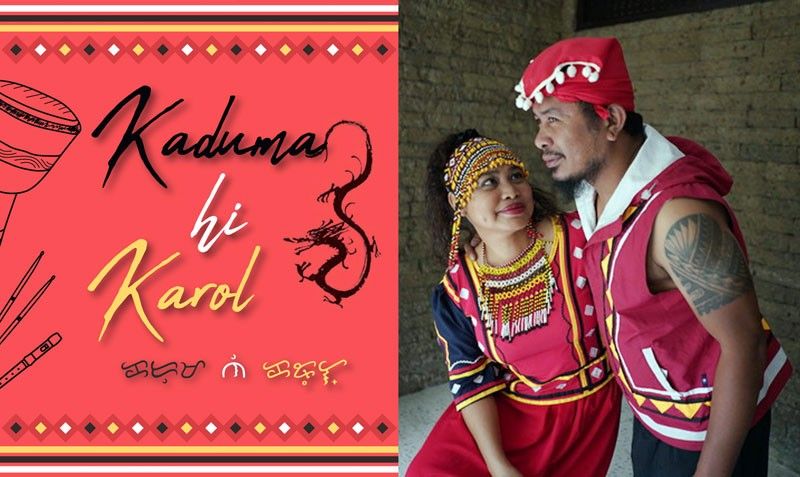 The couple Carol and Dandy Dowanlat collaborated on the music album.
Songs from the indigene's heart
The music album Kaduma hi Karol will be launched at 5 p.m. this Saturday, April 27 at the RCBC Plaza Courtyard, ushered in with an open jam session as a tribute to the late Bob Aves. Regarded as a genius of Filipino fusion-jazz-world music, Bob had generously helped and worked with countless Filipino musicians
Pronounced as "ka-du-ma ni ka-rol" or "ka-chu-ma hi ka-rol" or "ka-joo-ma ji ka-rol," the band name literally translates to "companion of Carol" in Lumad in Mindanao and "the 'other' of Carol" in the Banao-Cordillera tradition. "Karol" comes from Carol, which in English also means 'to "sing in joyous manner."
Carol Belo of the former Pinikpikan band teams up with husband Dandy Dowanlat of the Higaonon tribe in Bukidnon for this unique set of a dozen songs meant "to usher in a blend of contemporary pre-colonial heart songs of the Philippine indigenous."
The couple is joined by musicians from Manila, the Cordillera region and Mindanao "to cook up funk tribal grooves that celebrate life and creation."
The albun's executive producer is Boy S. Yuchengco of Water Dragon, Inc., with Ijhra Perez as production manager and Joel de Veyra as assisting coordinator.
Performers include Carol B.K. Dawonlay on vocals and percussion, Louie Talan on bass, guitars, taisho, percussions and programming, Jean Paul Zialcita on sinawali drum, bottle drum, congas and hand percussion, Rizalino Reyes on violin, Nonoy Alcalde on vocals and percussion, Alex Alcaraz on guitar, Ronald Tomas on flute and clarinet, and Reli de Vera on drums, with the special participation of Palilong Band and Memory Bello Lazo on bamboo and gongs.
The musical artists state:
"As composers, we express both hope and desperation, and joy and sadness through melodic words and chants. This album is a celebration of difference. We feel that this music project is timely, especially when the world continues to lean more toward 'selfies,' commonalities and intolerance rather than community, difference and acceptance.
"All our songs are prayers that celebrate the good and hope for the bad situations to change."
The songs' titles are a strong indication of how the musical artists concern themelves with contemporary issues while staying affiliated with what's most strongly felt by the native heart.
Babagabagin (Tagalog, "to bother") by Carol B.K. Dawonlay simply wants to bother those in absolute power and criticize any greedy warmonger.
In Wata ("child" in Maranao, but with lyrics in Tagalog),
D. Dawonlay expresses a child's longing for the ancestral land.
Iisang Dugo ("one blood" in Tagalog), also by D. Dawonlay, says that "we all have the same blood, but some people value worldly wealth more than fellow human beings."
Bugta ("land" in Higaonon) by D. Dawonlay decries how excessive mining makes wastelands out of mountains while plantations eat up indigenous homelands.
Hiraya ("inspiration," a Tagalog lullaby), co-written by Carol and R. Rodriguez, wishes that "the downtrodden and broken-hearted can still sleep well, dream, and wake up strong when the sun rises."
Baliti (Higaonon) by D. Dawonlay contends that if we respect the balite tree and its inhabitants, the more that we should respect fellow human beings.
Banog ("eagle" in Higaonon) by D. Dawonlay says that the eagle may soar high in the sky, but that the even those that fly still need the land to rest on.
Katribung Lawin ("fellow eagle") was Dandy Dawonlay's song for Carol before they even met, recalling how eagles quietly admire one another from a distance.
Hipanaw ("to wander in leisure" in Higaonon) is a collaboration between Carol and Dandy. "Hike in the forest, soak in the spring, climb the high mountains, rest on the river rocks under the midday sun, see the wooden bridge swinging and the grass dancing to the wind. Wander and feel better."
Saniblahi ("cross-generation") by Carol invokes the "Keepers of the Sacred" from one generation to the next.
Bakunawa ("Giant Serpent") by Carol relates how the sun unites with the moon, and God with the people.
Kulipan by Carol and M. Bello, inspired by a traditional chant from Banao-Cordillera, refers to an ancestor in Banao as well as an eagle's flight. It is also a prayer for peace to reign.
All the lyrics and melodies were by Carol and Dandy except for Hiraya by Prof. Rommel B. Rodriguez. Top-rate musician and music producer Louie Talan collaborated with the couple, with all the cuts recorded, mixed and mastered at Womb Works Studio by Talan and Patrick Tirano.
In directing the arrangements, Talan proves that a song can be good and sometimes even better when instruments are not always competing for space in limited time. Putting in unfamiliar sounds, he says, can also spark inspiration, and that "instruments and voices playing as their own unique characters can create beautiful harmonies and invoke trance."
These songs from the indigene's heart unfailingly throb with a thumping pulse close to the ground, even as they also soar to the skies for the reverential view.