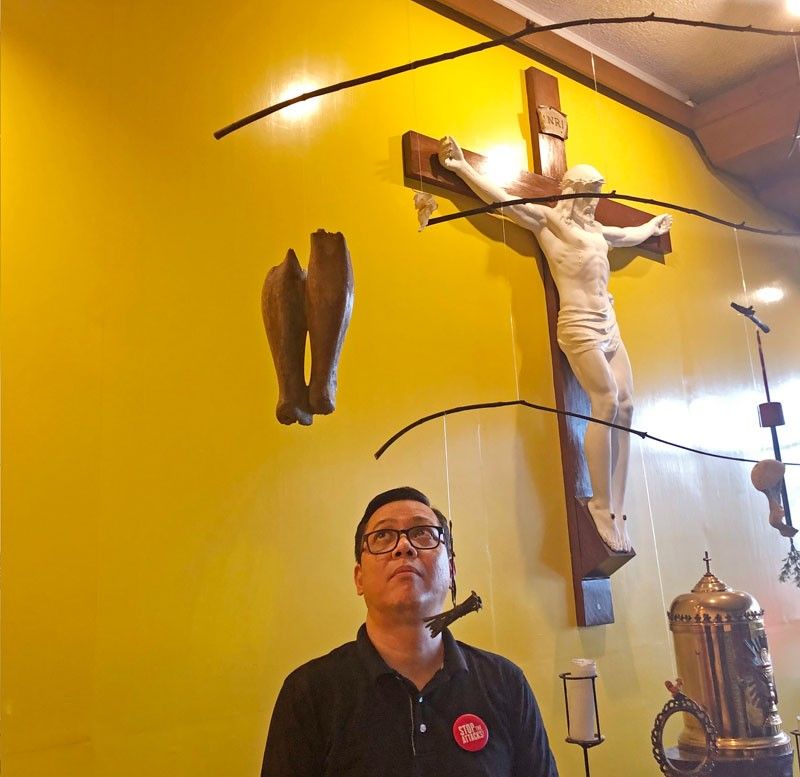 Prophet of bloom: Fr. Jason Dy is a Jesuit priest, an Ateneo art professor and a conceptual artist. His "Propesiya at Katuparan" — at the Jesuit Residence chapel in Ateneo — is a diptych of mobiles depicting Old Testament prophecies and their New Testament fulfillment.
Photos by Avee Navarro Tan
Fr. Jason Dy: The Parable of Dead birds & The red umbrella
This is about a man who walks around in a short-sleeve batik shirt printed with mysterious dead birds. He who clutches an equally mystifying red umbrella. And could talk to you for hours on end about blue pedicabs, silent concerts, as well as creating art in the valley of the shadow of death.
The man is a Jesuit priest, an art professor in Ateneo De Manila University, and an artist who comes up with conceptual wonders and impressive installations.
Fr. Jason Dy, S.J., recalls a time when life (or, in this case, a death in the family) intervened upon art and changed the course of an exhibition he was mounting during his masteral studies at Liverpool Hope University in the UK in 2014.
"My father died in the middle of my thesis, so I had to go home (to Cagayan de Oro)," says Fr. Jason. Back in the old house, he took photographs of the ancestral crib; of his feet standing on the floorboards, standing on cement; of an altar-installation filled with mementos of his half-Chinese father (orchids, candle, urn, a vase, and rock — since his father was "Petrus… Peter… hard-headed…"); and of his father's tools of the trade.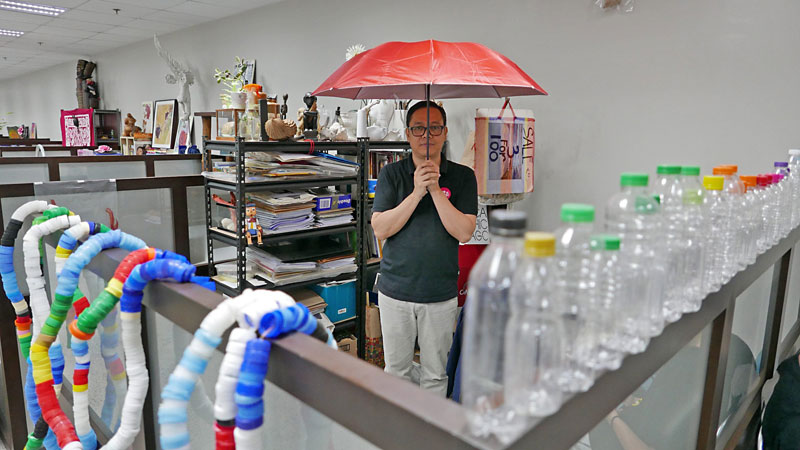 Red rain is coming down: Fr. Jason is usually spotted with a signature red umbrella — from his faculty office to galleries, from museums to thickly wooded areas.
The thesis advisor saw the photographs and told Fr. Jason how strong the images were and how he should explore them for his thesis. Thus, in the middle of the school term, the priest had to change direction.
"During my father's wake, the circus came to town," he shares. "But it had a different feel to it." Fr. Jason took nine photographs of the perya enveloped in darkness. The series of photos became "The Circus Came When We Buried Our Father" — with colors withering in the swallowing blackness, the mirth taking a quiet exit into the void.
"It had a resonance in me — this search for light. The entire (thesis) exhibition was dimly lit, because I wanted to see the shadows cast upon the space by visitors." All these elements became a source of catharsis. Fr. Jason explains, "My father and I were not close. He didn't even approve of me becoming a priest. He wanted me to be an engineer, to set up my own construction business, because he was into machines. Perhaps my father had a different way of showing his love. There was even a time I wanted to have the same kind of father my classmates had." Fr. Jason's mother became the bridge to everything else.
Jason Dy was ordained in 2010. It was with the Jesuits where Fr. Jason's art really developed, with the brothers encouraging him to cultivate his "talent by taking art classes and workshops, visiting and joining art exhibits, and making book illustrations and layouts."
One of his most memorable art projects was when he worked with 15 pedicab drivers of Maisan Compound, Barangay 655, Intramuros, Manila as part of the Manila Biennale 2018 with its theme "Open City."
"Procesión de los Camameros (Procession of the Caretakers)" was borne out of Fr. Jason's contemplation about religious processions in a time of war.
"The primary component is the procession of the pedicabs around the historical and cultural area of Intramuros as a re-enactment of the Marian procession that was either aborted or pushed through on Dec. 8, 1941 during the Japanese invasion of Manila. This promenade investigates the communal faith in times of conflict. In contemporary times, we have the War on Drugs."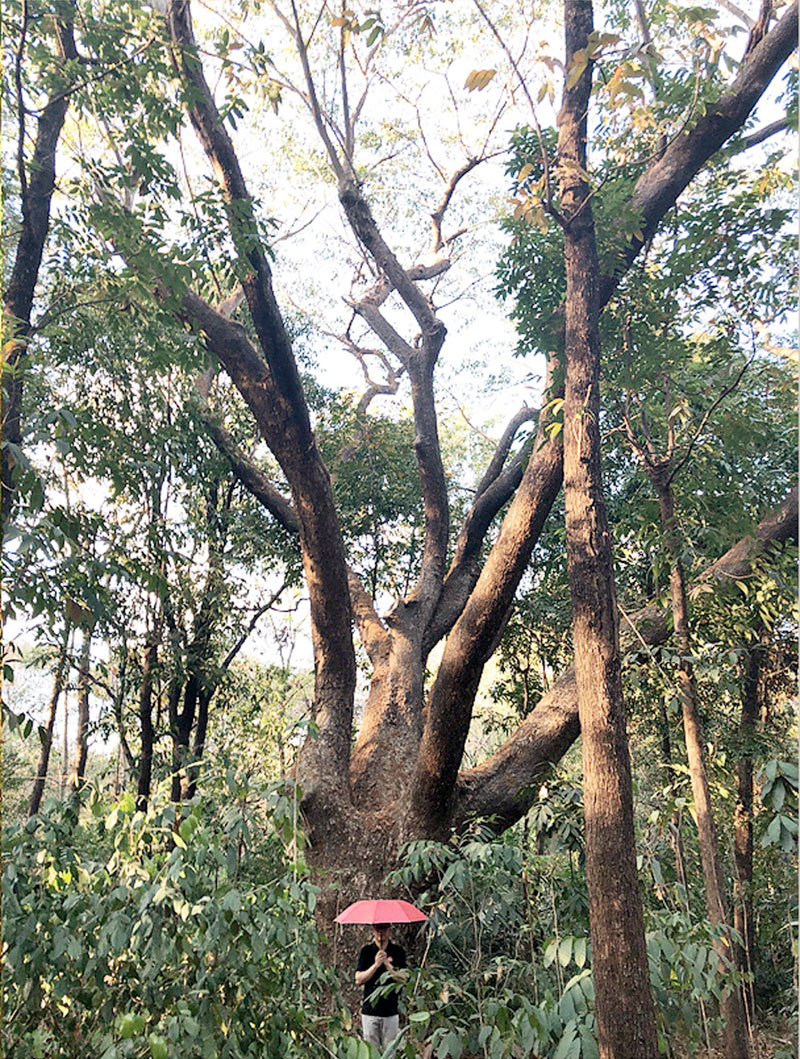 For this initiative, what the priest did was to engage with pedicab drivers and their families. "When I visited them, I found out that no matter how small their houses are (with no toilet nor kitchen, numbers one and two had to be done in a public toilet for P5 or P10, respectively) still they have altars to the Black Nazarene, Our Lady of Perpetual Help, or the Sto. Niño in their homes — and I wanted to bring them out. I gave them a vitrine where they put their religious artifacts." So that not only were they peddling, doing their daily work, and taking tourists around Intramuros, they were also in the act of procession.
The pedicabs were painted blue, their covers and upholstery changed. The pedicabs drivers were given uniforms, participated in training and seminars. Fr. Jason even organized an excursion for the families to Daranak Falls in Tanay, Rizal. "When they rode the air-con bus, sang in the videoke, had their packed lunches, they said, 'Oh, Father, we finally feel like tourists!'"
Another participatory art project that Fr. Jason undertook was not as festive. For his "Kanlungan ng Awa (Sanctuary of Mercy)" project for the Kristong Hari Parish along Commonwealth Ave. in QC, the priest installed an altar composed of found scrap-wood (the aesthetics of the shanty, leaning toward vernacular architecture). "Inside, there is gold lining, because I believe that Divinity resides in the mundane." The ceiling is filled with clouds of prayers handwritten by parishioners and placed inside plastic bags filled with air (a display aesthetic borrowed from the practice of putting goods inside bags at Commonwealth Market). "Human breath is also part of the work. Rua or spirit, the breath of life." Plus his own adaptation of the "Stations of the Cross" on the walls — photographs of ordinary people in the midst of grief, hardships and daily toil — which was also exhibited at Lopez Museum (printed in giclée prints) and currently on view at the Ateneo Bellarmine Field.
"I listened to their stories, did some counseling," explains Fr. Jason. He points to a photograph of a woman named Charity carrying her child. "Sabi niya, 'Father, 'yung baby ko may butas sa tiyan, nakalabas ang bituka… kapang kelangan nyang dalhin sa ospital, dinadala ko siya kahit na umuulan or wala akong pera — kasi pinagkatiwala siya sa akin.' That word 'pinagkatiwala' really got me." This represents Station XI: Sina Maria at Juan sa Paanan ng Krus.
One Station depicts a cancer-stricken woman who has to carry the cross of hermodialysis for the rest of her life. Another Station — which is supposed to depict the women of Jerusalem weeping over Jesus — shows the wake of a man who committed suicide and the three woman grieving inconsolably (his daughter, his wife, and his mother) while bearing flowers, the man's picture, and a lamp. Those women were in dire need of illumination.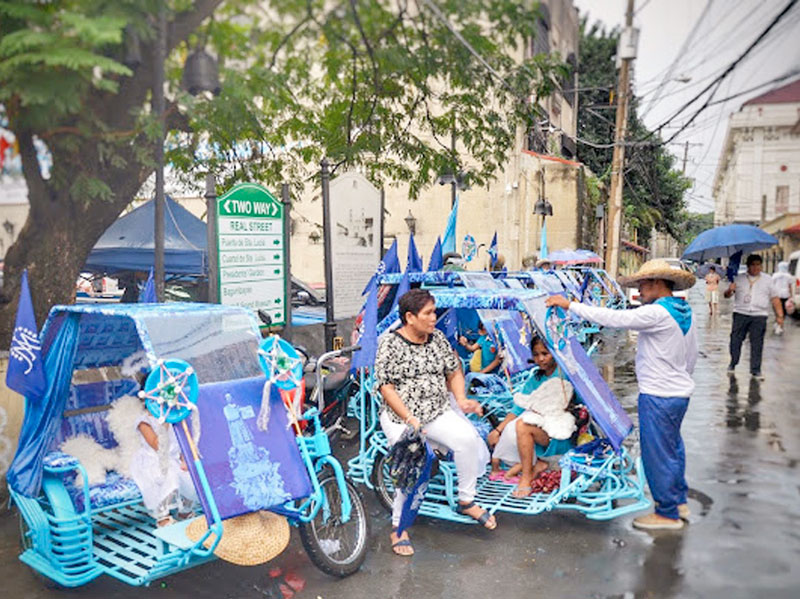 Blues power: Pedicabs at the Manila Biennale. Photo by Fr. Jason Dy
Coming face to face with the disheartening and dispiriting is part and parcel of Fr. Jason Dy's practice. Not all art is collector-friendly and cottage-industry-ready, or keeps cash registers ringing in chichi art fairs. Some of the most compelling artworks are being done by Filipino artists that involve real people with real-world concerns; not just the goddamn muse with 10,000 variations.
"There is a religious dimension to my work," explains Fr. Jason. "I use, say, the Station of the Cross as a narrative or a framework with which I see what's around me. But my starting point is not religion; it's the situation of people, of society. My works are not devotional; they are triggers. Something to move you."
So, why does he wear that custom-made dead-bird batik polo of his? He says the birds stand for the victims in society: dove (for the innocent), canary (for children), hanging parrot (for women who are abused), and the sparrow (for the common people).
"When violence becomes an everyday occurrence, it becomes domesticated; it is as casual as the shirt you wear," he shares. "But there is also the act of removing the clothing, which is like taking violence away from the system." A red umbrella — Fr. Jason's way of shielding himself from the rain of blood — completes the ensemble.
"It's my own attempt of pursuing life in the midst of death," Fr. Jason Dy concludes. "That's the Catholic, the priest in me. That despite everything, there is always hope, optimism and redemption."
* * *
Father Jason Dy has upcoming show at Vargas Museum in June and will curate a show at Ateneo Art Gallery titled "Yellow Ambiguities."